Description
You are warmly bidden to register for this event, and RSA Fellows are encouraged to bring guests. The meeting, which will comprise a Presentation and a Q&A Session, will be held under the Chatham House Rule, shown below. The RSA thanks Scottish Borders Council for consent to use the Council Chamber for this meeting, and to publicity partners for relevant promotion assistance.
Will Dowson became Agent for Scotland in 2010. He joined the Bank in 1995 and was a Senior Manager in the Bank's Foreign Exchange Division before joining the Agency Network. He has held a range of analyst and management positions in the Banking, Financial Stability and Markets areas at the Bank. Will has a BSc in Business Studies and an MSc in Finance, both from the University of London. His outside interests include sailing and walking.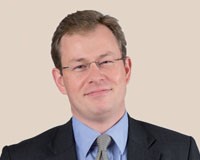 If you have any questions, or to let us know of any access requirements or reasonable adjustments you have, please email the RSA team: networks@rsa.org.uk.
* When a meeting, or part thereof, is held under the Chatham House Rule, participants are free to use the information received, but neither the identity nor the affiliation of the speaker(s), nor that of any other participant, may be revealed.
The Council HQ is accessible, and the Council's Accessibility Statement is available on its website.
On signing up for this event you may automatically be added to the mailing list for this Network. If you do not wish to receive future emails from this network, please let us know.
By registering for this event you agree to the sharing of your name, organisation & title and email address with the Fellow(s) and/or partner organisation(s) hosting this event. Attendees also agree to the sharing of your name, organisation, and email address with other delegates at the event so that they might contact you through MyRSA. If you do not wish this information to be shared, please let us know by emailing: networks@rsa.org.uk.