Description
LIMITED TO 12 PEOPLE
Calling all amateur wildlife photographers! Fancy the chance to photograph Exe Estuary wildlife from the vantage point of a boat with tuition and exclusive use of our Hide before heading out on the water?
This new event will be hosted by Jo King who is a prizewinning and published wildlife photographer with a passion for bird photography.
Starting at Bowling Green Marsh in Topsham, the RSPB's window on the wild, Jo will talk about how to make the most of light and her thoughts on composition. After a practical session at the hide and a short break for lunch, the group will take a 15 – 20 minute walk into Topsham with an additional practical session overlooking the estuary en route. At 1:30pm the group will board Sea Dream 2 for a 1½ hour cruise and an opportunity to get close to the amazing winter birds that make the Exe Estuary one of the world's greatest wetlands.
The price includes:
Wildlife Photograpghy Tuition
Complimentary tea or Coffee
Exclusive use of The Lookout (Bowling Green Marsh Road), Topsham
A private avocet cruise to put your new skills to the test.
*please bring a packed lunch
Booking essential. Day timings are as follows:
10.30am-11.15am - Wildlife Photograpghy Tuition
11.15am-12pm - Photograpghy Session In The Lookout
12pm-12.30pm - Time for Lunch
12.30-1pm - Second practical session enroute over estuary.
1.30-3pm- All Aboard! Lets put your skills to the test for 1.5hr wildlife cruise on the Exe leaving from Trouts Boatyard, Topsham
RSPB Prices
Adult Member - £60
Adult Non-Member - £75
Numbers on board are strictly limited to 12 participants - allowing excellent vantage points and plenty of room for tripods etc.
We advise that you wear layers on board as it can be very cold during the winter months. Please also bring all camera equipment with you. We recommend you use a minimum 300mm lens for best results, though you'll still get some great shots whatever camera you use!
Please note that dogs are not permitted on board, apart from Guide Dogs and Hearing Dogs.
How to Get There:

Bowling Green Marsh can be found allong Bowling Green Road, Topsham. See Event Map and our website for more detials by clicking HERE. Full directions will be included with your confirmation email.
We highly recommend catching the train into Topsham Station to save on tricky parking and carbon emissions. The Topsham train station lies on the Exeter-Exmouth line and has links to Exeter St David's and Exeter Central (connection to both north and south national train routes). One of the stops on the Exeter-Exmouth line is Digby & Sowton Station. This station lies on the outskirts of Exeter, near the M5 junction, and has free parking facilities onsite and nearby. Train Times and Tickets can be bought here (https://www.thetrainline.com/train-times/digby-and-sowton-to-topsham).
If you do need to drive, then there is extremely limited street parking in Topsham. There are a few pay and display car parks but as Topsham is a quaint village and popular destination these often fill up very quickly. It can then take considerable time to find suitable parking and may be a fair distance from the boatyard and The Lookout.
If you fancy a short walk, then Darts Farm Shopping Village (home to RSPB Darts Farm Shop) is walkable in around 20 mins it has ample parking along with a Farm Shop and restaurant. See the map below for walking routes - we recommend the purple route as it takes in the beauty of the reserve on your way to The Lookout (Pink dot). The Boatyard (red dot) is the finishing location.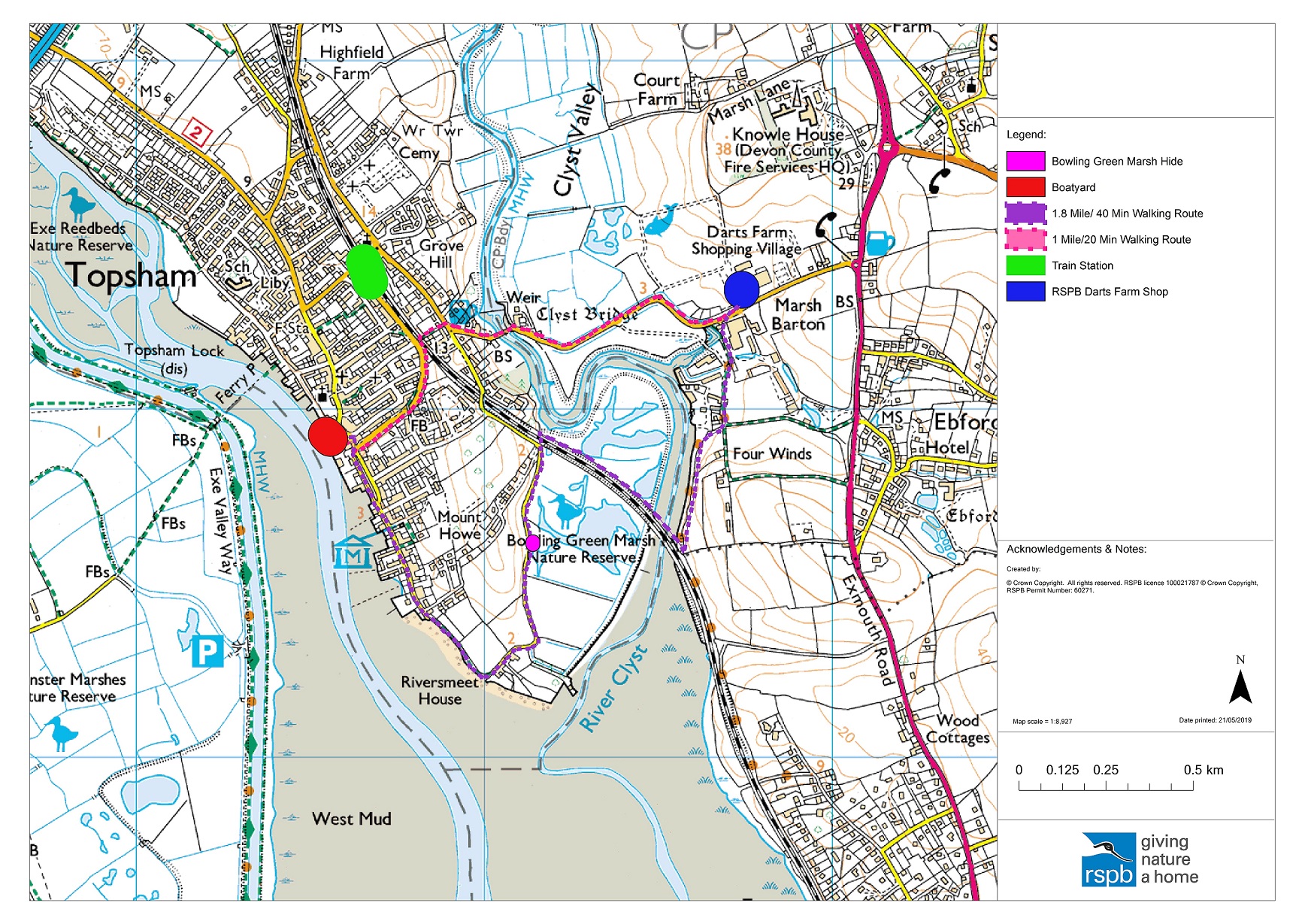 The boat departure (the the event finishing point) can be found at Trout's Boatyard, Ferry Road, Topsham is situated between the Lighter Inn, on the Town Quay and St Margaret's Church steps. Topsham is easily accessible by bus, rail, bicycle or car.
BY BUS: Number 57 (Exeter/Exmouth service) to Georgian Tea Rooms (start of High St). 'T' bus (Exeter/Topsham service) stops at The Quay.
BY BICYCLE: Exe Estuary Trail is part of National Cycle Network Route 2. (some on-road cycling).
IMPORTANT: We respect your privacy and will not sell your personal data to any third party.
Any personal data you provide here is collected and used only for the purposes of booking this event. Your details will only be used by this event's RSPB co-ordinator and will not be shared with anyone else.
Image: Rosemary Despres (rspb-images.com)