RSVP : Business Boosting Brainstorming Breakfast

Thursday, May 16, 2019 from 8:00 AM to 10:00 AM (BST)
Event Details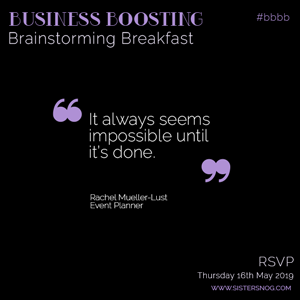 You are cordially invited
Memorable events don't just happen. Organising and hosting takes planning. Whether it's a conference, fundraiser, seminar, workshop or gathering of likeminds at a power-pow-wow. 

You might have three weeks to plan. Or an entire year, Success lies in the details and attention to detail. Every event has three stages. Before. During. After. And should factor in a series of what happens if scenarios. The key to success is a clear purpose, watertight plan, check list and clockwork schedule. 

If you want to know the basic structure of running a successful event and what should be considered to avoid blunders, RSVP today and book May's #bbbb. 
A mini questionnaire will be sent out to all Sisters to help steer-&-shape the brainstorm. The feedback, findings and insights will be shared at the Business Boosting Brainstorming Breakfast #bbbb.

Venue
Business Boosting Brainstorming Breakfasts are held on the Mezzanine floor at The Fable. Once upon a time it was a 15th century London dwelling house. Today it's anything but ordinary, with an aesthetic that's truly extraordinary. This unique venue is a veritable jewel box brimming with sparkling crystal, candelabra, trinkets, treasures and unexpected surprises. Inspired by enchanting fairy tales and the wit-&-wisdom of Aesop, it even has a collection of story books. And numerous quotes from the likes of Chanel and Alice in Wonderland laden the wall. From the vintage typewriter, to the leather bound books, every little detail tells a story. Expect to be entranced and enthralled as you start your the day in a make-believe setting that ignites creativity and encourages productivity.

Getting there
The Fable is accessible via the following transport links:
Tube stations : Farringdon/Chancery Lane/St Paul's/Barbican
Train stations : Farringon/City Thameslink/Blackfriars
Snow Hill bus stops : HT & HS - Routes 17, 45, 63, 172 & N63
City Thamelink bus stops : HL & HK - Routes 4, 11, 15, 17, 26, 76, N11, N15, N21, N26, N199, N550, N551
Car parks : Snow Hill NCP/Smithfield Central Market/Cardinal House
Brainstorming Breakfast format
08:00 - 08:15 : Coffee & connecting
08:15 - 08:45 : Breakfast is served
08:45 - 09:00 : Typeform questionnaire feedback
09:00 - 09:45 : Business boosting brainstorm
09:45 - 10:00 : Insights & light-bulb moments
10:00 - 11:00 : Sisterly 1-2-1s (optional)

Who can attend?
Sisters-in-Waiting. Sisters. Big Sisters. Really Big Sisters. Body Doubles (if you're a Kitten Heel member and you're double booked).

Sister Snog likes to say thank you
As a thank you for helping to keep the membership fresh-&-refreshing, Sisters who introduce another Sister to the Tribe receive a £75 gift voucher to dine out, do brunch or be an early bird and start the day with a power breakfast at any of the new Ivy brasseries which are popping up all over London and the Home Counties. 
KILLER HEEL MEMBERSHIP
CANCELLATION POLICY : SISTER SNOG REQUIRES AT LEAST FOUR WORKING DAYS' NOTICE TO CANCEL AN EVENT BOOKING. THE NOTICE NEEDS TO BE BY EMAIL TO violetsistersnogger@gmail.com AND BE ACKNOWLEDGED BY SISTER SNOG. OTHERWISE AN INVOICE FOR FULL PAYMENT FOR THE EVENT WILL BE ISSUED.
KITTEN HEEL MEMBERSHIP
REFUND POLICY: PAYMENT IN FULL IS REQUIRED TO SECURE AND CONFIRM THE BOOKING. ONCE PAYMENT HAS BEEN MADE SISTER SNOG DOES NOT OFFER REFUNDS. MEMBERS WHO ARE UNABLE TO ATTEND MAY SEND A SUBSTITUTE I.E. ANOTHER SISTER OR THEIR BODY DOUBLE.  
CANCELLATION POLICY: SISTER SNOG REQUIRES AT LEAST FOUR WORKING DAYS' NOTICE TO CARRY A BOOKING FORWARD TO ANOTHER EVENT. THE NOTICE NEEDS TO BE BY EMAIL TO violetsistersnogger@gmail.com AND BE ACKNOWLEDGED BY SISTER SNOG.
Interested in discovering more about Sister Snog?
1. Visit www.sistersnog.com to get the full scoop.
2. Call Hela on 07714 218699.
3. Click to send an email with your phone number & someone from Snog Towers will call you.
4. Follow #snogtowers on Twitter, Instagram, Pinterest and LinkedIn.
5. Become a fan on Facebook.
Save This Event
When & Where

The Fable
52 Holborn Viaduct
EC1A 2FD
United Kingdom


Thursday, May 16, 2019 from 8:00 AM to 10:00 AM (BST)
Add to my calendar
Organiser
Welcome to the world of Sister Snog
Sister Snog is a remarkable club for successful business women who want to stop networking and start connecting. If the shoe fits join the tribe and grow your business one connection at a time. It attracts smart, sassy business women who are looking for a refreshing way to connect with decision makers of a similar make-up and mind-set. It's a magnet for entrepreneurs, empire builders and those at the top of their game in corporate land, who are who are running or working for an established business, that's been trading for at least two years.

Face-to-face gets seriously social

Sister Snog is the face of face-to-face marketing with a finger on the social media pulse. Members can attend more than 25 sparkling business events a year. And they have access to each other morning, noon and night via Social Snog. A private social network where everyone in the tribe can interact with each other.

A Taste of Sister Snog

So, if you have a sense of adventure, a hint of humour and are curious about the world of Sister Snog, let's talk. Book A Taste of Sister Snog. A 60-minute racey-pacey session with one of the Directors. If there's a perfect fit you'll be invited to join. Then you have seven days to accept the invitation. And pay the annual membership fee. If after your first event there's a change of mind, on either side, the fee will be refunded. In full.*  That's a promise.
*Less the cost of any event attended for Killer Heel Membership and provided that the member has attended their first event within one month of joining.