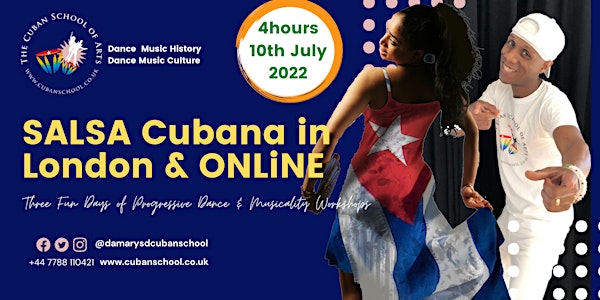 Rueda de Casino/Timba/Salsa Dance & Musicality Workshops by DCubanSchool
Location
Evoke
Seven Sisters Road
#Unit A
London
N4 1FS
United Kingdom
10th July 2022 PURO SABOR CUBANO is BACK - 2022 !!! - Back by Popular demand !!! Much More than Dance Steps
About this event
PURO SABOR CUBANO is BACK -
10th July 2022 !!! - By Popular demand !!! 
Calling all intermediate /advanced Salsa Casino students
Much More than Dance Steps, The Pure Expression of Cuba Dance & Music in UK, by TOP Cuban Dance Teachers
As part of DCubanSchool - Puro SABOR-CUBANO Dance, Musicality & history Workshops, we are excited to present a set of this 4hours intense workshop this 2022 with members of DCubanSchool Damarys Farres, Anier Jova and other guests artists
LIMITED PLACES!
Starting with this exciting 4hours Dance & Musicality workshop.
Also available as a gift voucher, as a present idea :-)
☀️ PROGRAMME 2022
Sun (10.07. 22)
including Musicality, Choreography & Rueda moves
Q & A
13.00 - SOLID FOUNDATION: Get a solid SALSA / CASINO Foundation * Intro, steps, musicality, concept, building up with a selection of music, etc with Styling tips
14.00 - PARTNER WORK - *Leading & Following technique plus Casino Figures taught properly, including Paseos, Setenta with variations (71/72/73 ) , Bayamo, Enchufla with Variations, Ella y Yo etc (PARTNER exercises including MUSIC interpretation, Choreo & FREESTYLE )
15.00 - STYLING / SOLO Footwork plus BODY ISOLATION TECHNIQUE - (male & female) Where to Style. What & What no to do, including body isolation technique, shines, turns, and proper explanation of Cuban dance Style and Solo Callejero Routine (Street Footwork)
16.00 -RUEDA de Casino
👉 Note: You don't need to book for all workshops, but we advised for better understanding and progression that you do, or when possible
====
For the full Programme contact us: https://www.cubanschool.co.uk/contact.html
====
☀️ THE VENUE
Mirror dance studios - Evoke, is on Seven Sister Road, 3 minute walk from Manor House exit 1
☀️ PRICING
£35 x ALL 4hours WORKSHOP- For returning DCubanSchool students
£ 40 x ALL WORKSHOPS
£45 ALL WORKSHOPS - on Door
£15 - per workshop in advance/ More on Door and a week before the event.
Students in FULL Time education with NUS - Discount available
👉 ojo: You need to show your valid NUS on the day or will ask to pay full price.
ANOTHER PAYMENT METHOD
Direct transfer info
Name : Cuban School of Arts
Branch : HSBC
Sort code : 40-02-17
Account:#21570412
REFERENCE: Please write as reference:
👉 PSC plus workshop & name
Remember to email us and/or text us after making the transaction
No refunds unless we need to cancel the event
++++FOR FULL PROGRAMME CHECK WEBSITE +++++
Notes: Please bring your Dance Shoes (male & female) Partner/Rueda & Styling workshops
☀️Further PSC workshops
Please check the dates - most workshops are on Sundays, but Programme, Venue and Times can be different, so please check our website for updates. Remember you don't have to attend ALL workshops to join us. You can book from 1hour class to up to the 3 dates we have for you currently. You don't need to bring a partner and unless stated, workshops are Open to ALL. We, however, recommend the 2-3hours set workshop to better benefit your progress.
Please remember we will be following covid procedures so we all feel safe
PERFORMANCE OPPORTUNITIES note: We currently looking for 10 couples for our SON Project, you would need to commit to our Courses Programme and attend a minimum of 3 to 4 rehearsals to participate in our Flash Mob and other Performances ( Contact us for further info )
We are planning a RUEDA Xpress plus workshop in the next couple of months. Follow us on Instagram or join our Facebook group for updates
.Other events
Interested in SON? -Check the link: 👉https://www.eventbrite.co.uk/e/son-cubano-in-london-5wks-structured-dance-course-by-dcubanschool-tickets-213711415597
Interested in AFRO-CUBAN & Rumba? - Check the link: 👇🏾https://www.cubanschool.co.uk/ase-ile-afro-lab--december.html
DCubanSchool of Arts run regular progressive Dance classes, workshops, private one to one and group classes in Dance, Music & Spanish language, as well as Cultural holidays to Cuba & Cape Verde. We specialised in Cuban, Latin & Afro-Cuban Caribbean rhythms and culture, for further info please contact us.
** The Cuban School of Arts all right reserved
+44 (0) 7788 110421