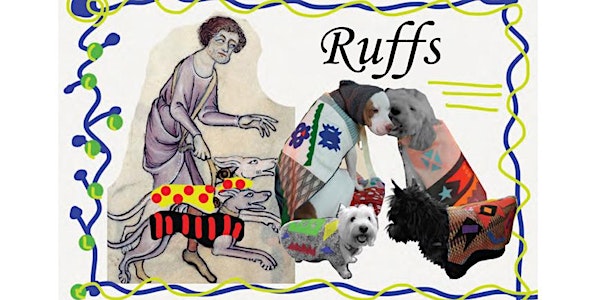 Ruffs Medieval Dogs Photo Shoot
Location
Beacon Green
Beacon Green
Arbroath
DD11 1PU
United Kingdom
Ruffs Medieval Dogs Photo Shoot and make a dog coat demo
About this event
As part of Arbroath2020+1
We invite you and your dog to take part in Arbroath
"Ruffs"
Sunday 4 July from 2pm- 4pm
Book your 30min time slot
A medieval themed fashion photo shoot in the park featuring 'Fur'bulous dogs in home crafted, show-stopping regal coats. Is your dog the king or queen of the house? Now's the chance for them to look the part!
Taking part is absolutely FREE and your dog will be photographed on an astonishing luxurious throne, then featured on our wall of fame.
All photos will be shared on Arbroath festival website so join in and feature in the 'Ruffs' best in show gallery.
You will need to: Pick up a free easy to make coat on the day to get creative at home and send us in a photo for our wall of fame.
If you havent made a coat and still want to take part then book a slot and come and choose a couture coat from the dressing up box.
All handling of garments will need to be done wearing disposable gloves provided.
All dogs must be kept on a lead and all humans need to stay 2 meters distance apart.
Get all the styling tips you need and a HOW TO demo from artist Mandy McIntosh! (in person, socially distanced and outdoors)
Or book a slot and come and choose a couture coat from the dressing up box.
We would love you to get involved in this tail-wagging home sewing project and craft a coat for your stylish pooch.
For instructions, top tips and inspiration mood boards and a great video tutorial. All you need to couture your show stopping coat for Arbroath2020+1.
Check https://arbroathfestival.com/programme/ruffs-dogs-in-the-park/
We have a limited number of easy making kits to give away.
So book a slot and come and pick up a kit on the day!
Each kit has all you need to create a dog coat with minimal sewing required.
To request a kit before 4 July contact us either email: pippa@hospitalfield.org.uk
or DM @Arbroath2021 or
Ring Hospitalfield and leave your contact details: 01241 656124
If you have a some experience of making and sewing but no dog, please get in touch and we can perhaps pair you up with a pooch! If you dont require a kit but need some guidelines and a starting point, do also check the url.
Are you from a far flung kingdom? And still want to join in but cant be in Arbroath in person…. we welcome you take part remotely as doggy diplomats and dignitaries! Get in touch, keep us posted on how your getting on and your dog can still join the wall of fame.