Festival titans Rum Buffalo launch their new single at the breathtaking Wilton's Music Hall.
About this event
Woodburner is proud to present:
Rum Buffalo's 'Slumtown Nightmare' Single Launch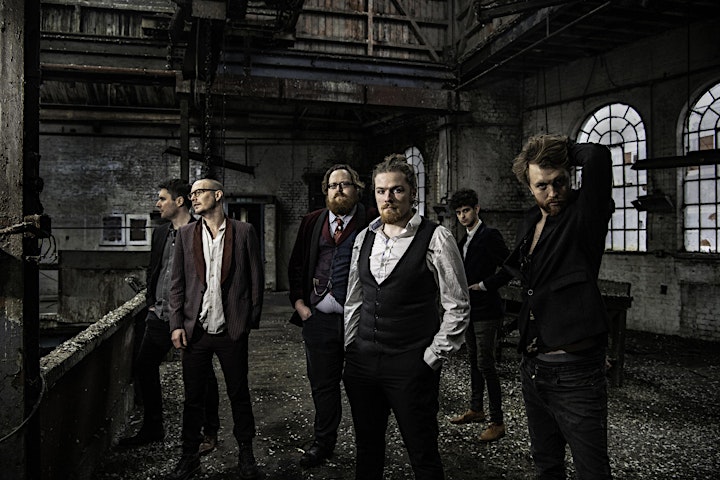 Rum Buffalo fornicate with rhythm and melody. Mingling many genres, they infiltrate swing and moody blues with filthy synth and epic horn lines to rock the party like no other act.
Since their formation, their jetpowered live show has stormed the UK live music scene, performing to 10,000 on the Truth stage at Glastonbury as well as Boomtown Fair, Shambala, Wilderness, Buskers Bern and dozens of other festivals. Their unique performances border on the surreal, with three-piece horn section, vaudevillian costume, and fire performance brought together by flamboyant singer, guitarist and front-man, Jake Stevens.
Their powerful sound features a unity of purpose which is impossible to resist, as the band perform Houdini-esque musical contortions in perfect unison.
The 8-piece band have toured the world, with performances in Iceland, Switzerland, France, Turkey and Malta, along with a string of gigs in New York City, which included a show at Manhatten's Rockwood Music Hall.
Rum Buffalo come to Wilton's to celebrate the launch of their new single in all the splendour of London's oldest music hall, joining forces with dancers, choreographers, light artists and walkabout performers to create an unforgettable evening.
"Surprising, perspiring, inspiring. This is everything British indie should be" - Fred Olafsson, Secret Solstice, Iceland
TICKETS
£10 - 1st Release
£12 - 2nd Release
£15 - 3rd Release
£18 - 4th Release
Organizer of Rum Buffalo's Slumtown Nightmare - Single Launch