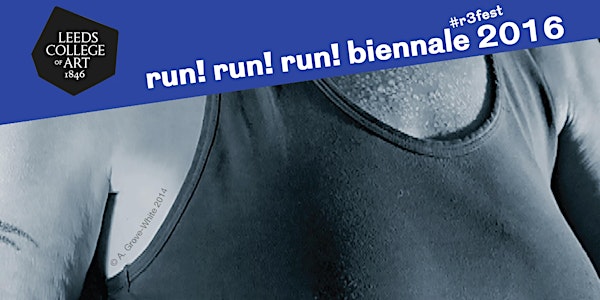 RUN! RUN! RUN! Biennale 2016 #r3fest: Performance/Cardiff
Location
National Indoors Athletics Centre, Cardiff
Description
RUN! RUN! RUN! Biennale 2016 #r3fest
Join 3 female artist-researcher-runners Dr Kai Syng Tan, Annie Grove-White and Dr Carali McCall in 3 energising events in 3 cities exploring running as a metaphor and methodology for us to think about the body, gender, ageing, the city and borders. Sponsored by Leeds College of Art. Brought to you by RUN! RUN! RUN! International Body for Research.
How does running (dis)connect people with their bodies? November 24 / Cardiff: Performance. 6-9pm. National Indoors Athletics Centre. Cardiff Metropolitan University CF23 6XD. We begin with performances and screenings with international performance maker Eddie Ladd, artists Carali McCall and Anna Brazier, followed by discussion chaired by Dr Andrew Filmer (Aberystwyth University). Last but not least, a presentation and readings by illustrator / lecturer Amelia Johnstone (Cardiff Metropolitan University) and writer Catrin Kean, followed by discussion chaired by Annie Grove-White. Click here for directions!
---
COME COME COME join us in the Leeds and London too:
How does running (dis)connect people across borders? November 21 / Leeds: Discussion. 2-4pm. MA Creative Studio Leeds College of Art Blenheim Walk, LS2 9AQ 2 – 4pm Drawing on the current (anti)migrant crisis, global endurance athletic activities and artist Jun Nguyen-Hatsushiba's seminal performance Breathing is Free: 12,756.3 (ongoing since 2007, an attempt to physically experience world refugee crisis by running the diameter of the earth, 12,756.3km), we ask: how does running (dis)connect people across borders? Presentations and discussions with academics, artists and friends from the running community include: Stephanie Case (Free To Run, an NGO for running for women and girls in Afghanistan), Dr Debbie Lisle (Queen's University Belfast), Dr Doug Sandle (Fields of Vision), Dr Karen Throsby (University of Leeds), Dr Lisa Stansbie (Leeds Beckett University), and Sarah Brown (Leeds Art Gallery). Book your free tickets here.
How does running (dis)connect people with the city? November 23 / London: Screening. 6-8pm. Exhibition Room. Pearson Building (Department of Geography) University College London Gower Street, WC1E 6BT. Following films by Jenny Baines, Musquiqui Chihying, Veronique Chance and Joe King a discussion chaired by geographer Dr Alan Latham (UCL) will take place. Respondents include writer Simon Freeman (Like the Wind), artist Jo Volley (Slade School of Fine Art, UCL) and representatives from charities A Mile In Her Shoes (a running group for homeless women) and Headway East London (a charity supporting people affected by brain injury) Book your free tickets here.
RUN! RUN! RUN! Biennale 2016 draws on the success of its 2014 predecessor, which was run by Dr Kai Syng Tan with Dr Alan Latham. Held at the Slade Research Centre, #r3fest 2014 was applauded by the Guardian for its 'positive atmosphere', and by artists and academics for its unusual focus on running as an arts and humanities discourse, and its innovative format.
Queries: kaisyng.tan@leeds-art.ac.uk
JiscMail signup: https://www.jiscmail.ac.uk/cgi-bin/webadmin?A0=RUNNING-CULTURES