Sales Have Ended
Ticket sales have ended
Sorry - ticket sales for the Run To Pegasus have now ended. Please contact us on 01271 859211 to enquire about a reserves list or cancellations.
Sales Have Ended
Ticket sales have ended
Sorry - ticket sales for the Run To Pegasus have now ended. Please contact us on 01271 859211 to enquire about a reserves list or cancellations.
Description
To commemorate the 75th Anniversary of D-Day and to honour the men who spearheaded the entire invasion, we are repeating a remarkable and highly succesful event which we first staged in 2009.

On 4th June 2019, a group of 186 sponsored runners will set off from the site of Tarrant Rushton Airfield in Dorset and make their way into the New Forest and down to Portsmouth, covering 62 miles in 24 hours.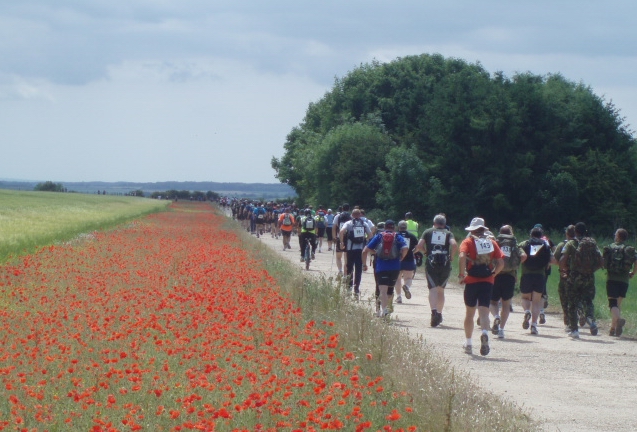 On 5th June, once in Portsmouth, the group will then board a Brittany Ferry to Normandy, before making their way along the Caen Canal towpath to Pegasus Bridge, arriving on this iconic spot 75 years since men of the 2nd battalion, Oxfordshire and Buckinghamshire Light Infantry began their now legendary assault to seize the two bridges and secure a vital road inland for the troops landing on the beaches.
Later on 6th June 2019, the entire group will make their way to the site of another bridge, 10 miles away where The Veterans Charity will unveil a plaque dedicated to the men of 22 Platoon who landed there in no4 glider which went off course. The thirty men of 22 Platoon had a very difficult time trying to reach their objective of Horsa Bridge. They faced instense enemy resistance and flooded fields for almost the whole 10 mile march back to rendez-vous with their comrades. Three men lost their lives during the 24 hours and the platoon, together with approx 15 other troops who they gathered along the way, made it to Ranville on 7th June with several casualties.
We need 186 runners to enter for this event in order to replicate the full 'Coup de Main' force (including Glider Pilots and RAF Halifax Bomber pilot crews). Each runner must raise a minimum of £1000 sponsorship for The Veterans Charity.
If you would like to be a part of this remarkable event, please register as soon as possible as entries are on a first-come, first-served basis and are limited to 186. Once entries reach this number, a waiting list of 15 reserve places will be compiled in case of anyone withdrawing from the event. In the event of a place becoming available, it will be offered to the first person on the waiting list.

The registration fee is £75 and secures a place on the event and is non-refunable. If you are unsuccesful in obtaining a place on the event, your entry fee will be refunded to you.

All participants are responsible for booking their ferry crossing and additional accommodation (we are providing a basic camp area for tents on 6th and 7th June) whilst in France.The crossing will be on the 5th June at 22:00 from Portsmouth to Caen with Brittany Ferries. Failure to book a place on this sailing will mean you will not be able to particpate in the event. Proof of your ferry booking will be required by the event organisers 6 weeks before the event.

All participants MUST ensure that they are booked on the appropriate ferry as directed by the organisers. You must be fit and able to cover the distance in the time required and agree to raise the minimum of £1000 sponsorship for The Veterans Charity.Deadline for fundraising is 30th September 2019.

By registering for the event, you agree to pay any shortfall in sponsorship to The Veterans Charity. ALL funds raised as a result of participation in the Run to Pegasus must be for The Veterans Charity.

---
ANNOUNCEMENT!

To ensure that the Run To Pegasus is open to those who may not have the time or experience to undertake the training and full challenge and following feedback from military reserve units, we have decided to open up relay entries for the RUN TO PEGASUS.
Relay entries are open to teams with each person completing sections of the run (you may also decide to split the UK route in half and change at the half-way stop point in Lyndhurst).

Relay teams must have their own transport to complete pick ups and drop offs along the route. Relay teams are required to have one person on the route at all times including the French section of the Run To Pegasus (3miles from Ouistreham to Pegasus Bridge and we would also like you all to participate in the 10 mile walk from the River Dives to Pegasus Museum on the afternoon of 6th June). Please ensure that you book your ferry crossings as soon as possible. You may wish to book to bring your team vehicle across as well. The outward ferry crossing that all participant MUST be booked onto is the Brittany Ferries 22:00 sailing on Wednesday 5th June from Portsmouth to Caen.

Relay entries cost £50 per person with each participant being required to raise a minimum of £250 sponsorship for The Veterans Charity. Relay participants will receive the same level of support as those taking part in the full run.