Description
The TrailFest RunHIGHER Series kicks off with Monday evening hill runs in the Kilpatricks above the River Clyde. (additional date for this run are 6th August).
Vital Statistics
Distance:

10.2km

Ascent: 426m

Pace: Approx 10-12min/mile over the route with plenty stops to re-group and chat and take photos. Aiming for around 2 hours on the hill.
This is a hill run for:
Runners with some trail experience wishing to try hill running.
Runners keen build skills ready for some longer / higher runs on Munros and Corbetts.
Runners wanting to gain an introduction to navigation techniques and tools or consolidate knowledge.
This run is not suitable for:
runners looking for a fast pace etc. – we will be walking the steeps before running the flats and downhills

runners who have never ran 10km on undulating trails before
runners who are not able to maintain the pace described above (try our Improver trailruns to build up your trail skills and fitness)

beginner trailrunners (try our 5km Beginner trailruns)
Directions/Travel
Car: park at Kilpatrick Braes Car Park, 25 Mount Pleasant Dr, Old Kilpatrick, Glasgow G60 5LT
Train: leave Glasgow Central at 17:57 to arrive at Kilpatrick at 18:33
Route Description
Starting at the meet at the Kilpatrick Playing fields besides the railway station where there is sufficient parking, we will gather around 18:45 ready for a prompt departure at 19:00.
The initial route will take us past the gas works and along the tarmac road leading up onto the Kilpatrick Braes themselves.
Once across the cattle grid, we will start the first steep climb where the pace will drop to a fast walk as we start to ascend. Reaching the tree line, there will be a short section of flat before continuing the ascent with a run / walk / run where appropriate.
A great but all too short ridge run will follow before the short descent onto the track leading to Loch Humphrey.
Once on the track, a steady paced run will take us past the Loch before we go off piste to follow the trod that leads over the unnamed summit (on OSGB 1:50k maps) of Berry Bank . The next descent takes us to the northern tip of Greenside Reservoir.
Round the edge of the reservoir (avoiding the old fence line posts) and over the dam leading onto the second long climb of the route up to the summit of The Slacks. Here we will stop for another photo opportunity. A short bog trot leads to the long descent back to the tree line, tarmac road and ultimately to our starting point.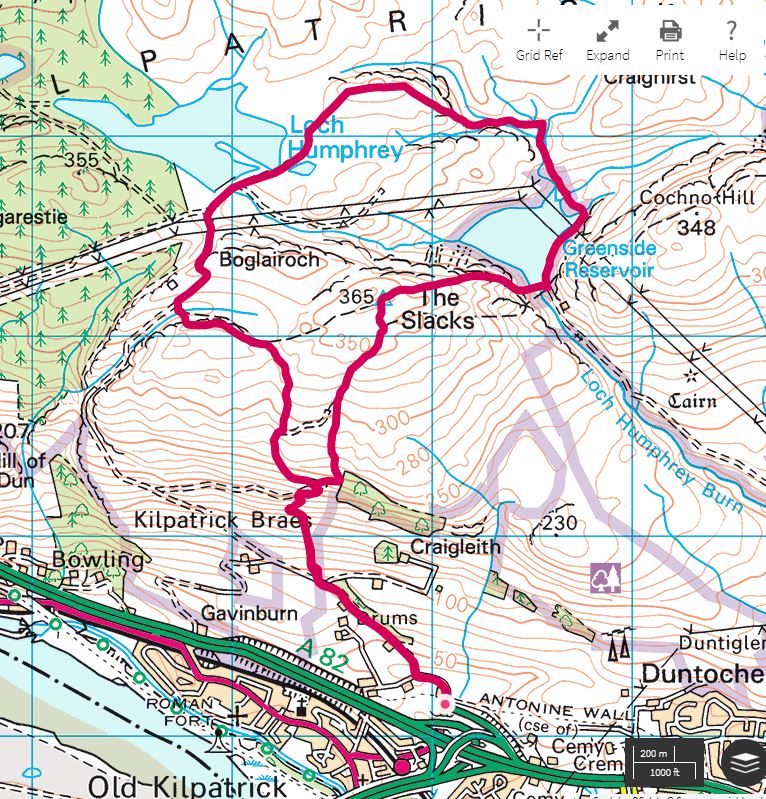 What to wear/bring
Trailshoes – mandatory (the more aggressive/studded the sole the better). Something like Salomon Speedcross are ideal and if you have shoes such as Inov8 X-Talons / Mudclaws even better.
Hat/buff, gloves - mandatory
Waterproof jacket – mandatory
Waterproof trousers - mandatory
Charged mobile phone - mandatory
Food & water - runners are required to carry the appropriate amount of food and water to suit the individual. We strongly advise you carry some extra food as an emergency supply e.g. 2 or 3 bars stashed in your bag.
Survival bag - these are not mandatory, but we strongly advise carrying one in your running bag at all times, especially when accessing open hill.
Map and compass - these are not mandatory, as we will be guiding the group, but it's good practice to carry them. We're happy to offer map reading tips on the run.
We will email all attendees a few days before the run to suggest any specific kit to suit the weather forecast.
We will hold a kit check prior to the run to ensure everyone is suitably prepared. Sorry, but no mandatory kit = no run. Please don't make us have to make that awkward call.
This run will be lead by a qualified Mountain Leader.
The Important Small Print
The terms and conditions below are to ensure the safety and enjoyment of everyone participating in this TrailFest run.
The format of this TrailFest run is based on a led, group run with regular stopping to re-group, take in the view and be social. Note; this is intended as a run, not a hike.

TrailFest reserve the right to refuse your participation on this run should it be deemed by TrailFest that you are not fit and/or healthy enough to complete the full route with the group as outlined above, or if you do not have the mandatory kit required for this run.

All of our runs are for adult runners only: no under 18s and no dogs.
If you've any queries, please see our FAQs page on the website: www.trailfestscotland.com, or drop us a line: rundirty@trailfestscotland.com
Looking forward to running with you!
Team TrailFest
#RunDirty