Event Information
Location
Battersea Park
Battersea
London
SW11 4NJ
United Kingdom
Runna are hosting the first ever Marathon in Battersea Park solely focused on raising awareness for Mental Health.
About this event
On Sunday 15th May, we'll be heading to Battersea Park to raise awarness around mental health by running a total of a matathon and we want you to join us!
You can join us by:
- Run a marathon over the course of the week
- Join us on-the-day for some social laps, 5k, 10k or half-marathon
- Run a full-marathon on the day
This is more than a casual run, this is a chance to calm the mind, flood the body with endorphins and show how running can positivly impact our mental health. This event will be to raise as much money for the charity Big Moose. Big Moose use their funds to directly pay for an individuals therapy.
Details for the day:
Start time for Marathon: 08:30am
Start time Half Marathon: 10:00am
Start time 10k: 10.30am
Start time 5k: 11:00am
+ rolling start for 'free runners'
Once you've signed up, join our Strava Challenge to record your distance for the week.
We will have lots of amazing sponsors on the day providing FREE food and drink and the entry tickets are FREE. We would love you to support the cause so please feel free to donate on checkout.
So lace up those trainers, say goodbye to judgement and come join us for a truly special day for an amazing cause.
More info to come, keep an eye out on emails and socials.
For more events check out www.runna.com/events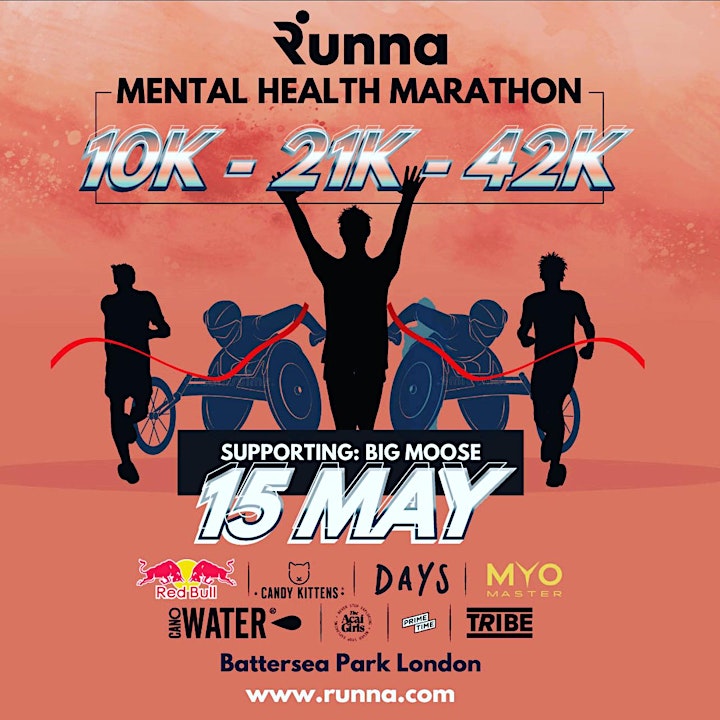 Date and time
Location
Battersea Park
Battersea
London
SW11 4NJ
United Kingdom