Running a creative business | Half-day training workshop
Description
Creativity comes instinctively to your business, but are your processes and operational systems more complex and time consuming than they need to be? Are they hindering the full potential of your agency by slowing down your team?
The processes you put in place when you set up shop might not be appropriate to your business of today. By taking a fresh look at the operations that underpin your agency, you could avoid paperwork and admin overload, drive efficiencies, increase creative output, and ensure you bring the right level of rigour to instil clients with confidence, to help your business grow.
Join us for a half-day workshop, delivered by business systems expert Chris Lever, who will help you to move on from cumbersome business management methods. Embedding processes and systems that make space for your creativity will deliver a smoother running business.
This workshop will cover:
How to audit and review the effectiveness of your current systems
Establishing which business management systems work for you
Setting the right structures to maximise the flow of creative ideas and communication within your business
Assessing ownership and delegation of the operational workload to enable the creative process to run smoother and to free up your time
Developing a revised business operations plan that works around your other commitments
You'll gain:
An individualised plan to upscale your operational systems
An understanding of how to refine and streamline your operations to reduce the number of hours your team spend on everyday processes
Knowledge to move your business forward in its business and financial reporting
The ability to ensure consistency across your business procedures to assure your clients of your professionalism 
You'll be confident in how to refine and streamline your operations to give your agency the time and space to take on more projects, focus on clients and creativity, and to grow. Don't let your team get overloaded with spreadsheets and timesheets - take back control of your systems. Book today.
Speaker
Chris Lever, Founder/Director, Agency DNA Limited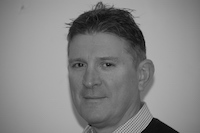 A former agency CFO with 25+ years' experience within the sector, Chris' expertise is in creative business management and planning systems. Since founding Agency DNA in 2008 he has been wholly dedicated to the aim of raising the standard of business management and planning systems within the creative sector.
When booking please provide the name of the person who will be attending the event - we will use this for their delegate badge and materials.
Additional information
Prices Include VAT.
*DBA member traveller rate:
To make our workshops more accessible to those based outside London, we are offering a discount to individuals whose offices are located more than 60 miles from the DBA office (EC1V 9HX). If this includes you, please book using the rates above. We will then contact you to verify your postcode.
To see if your office is located more than 60 miles please click here.
All DBA events and training courses are subject to standard terms and conditions which can be read in full here.
If you have any queries please contact email bookings@dba.org.uk or call 020 7251 9229 to speak to our Programmes Team.
Event image: © Dreamstime.com