Description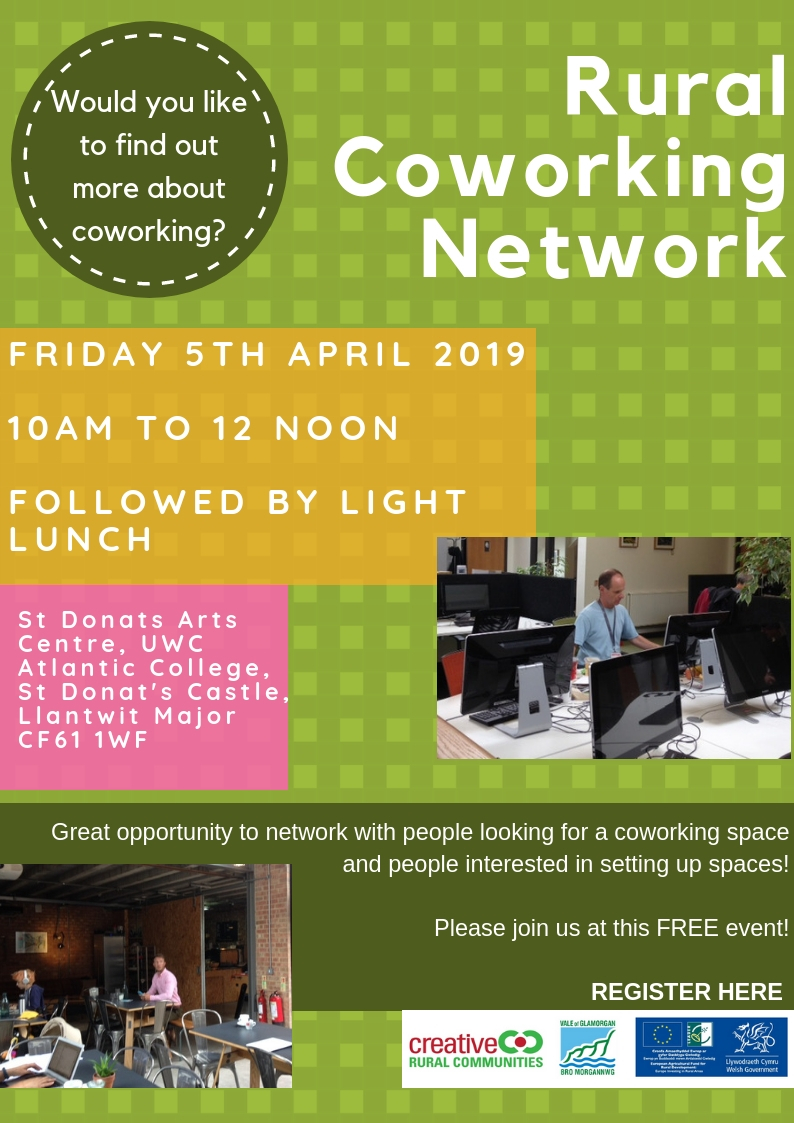 Rural Coworking Network
Would you like to find out more about coworking? Are you interested in setting up a coworking space? Would you like to work in a coworking space in the rural Vale?
Coworking has become popular in urban areas and increasingly so in rural areas. Creative Rural Communities are involved in a transnational project called Colabora, working with partners from across Europe to explore the economic benefits of creating coworking spaces in rural areas and gain a greater understanding of best practice in terms of both setting up and running coworking spaces.
Join in with our European partners to learn more from Gareth Jones, founder of Welsh Ice and Town Square and Sarah Pepper, Director of Creative Cardiff, Cardiff University.
Great opportunity to network with people looking for a space and people setting up space!
Anyone interested in coworking in the rural Vale of Glamorgan is welcome.
Date : Friday 5th April 2019
Time:
10am - Reception and Registration
10.30 to 12:00 - Speakers and Discussion
12 onwards - Light lunch
At : St Donats Arts Centre, UWC Atlantic College, St Donat's Castle, Llantwit Major CF61 1WF
Refreshments will be available.
Free
Further information is available create@valeofglamorgan.gov.uk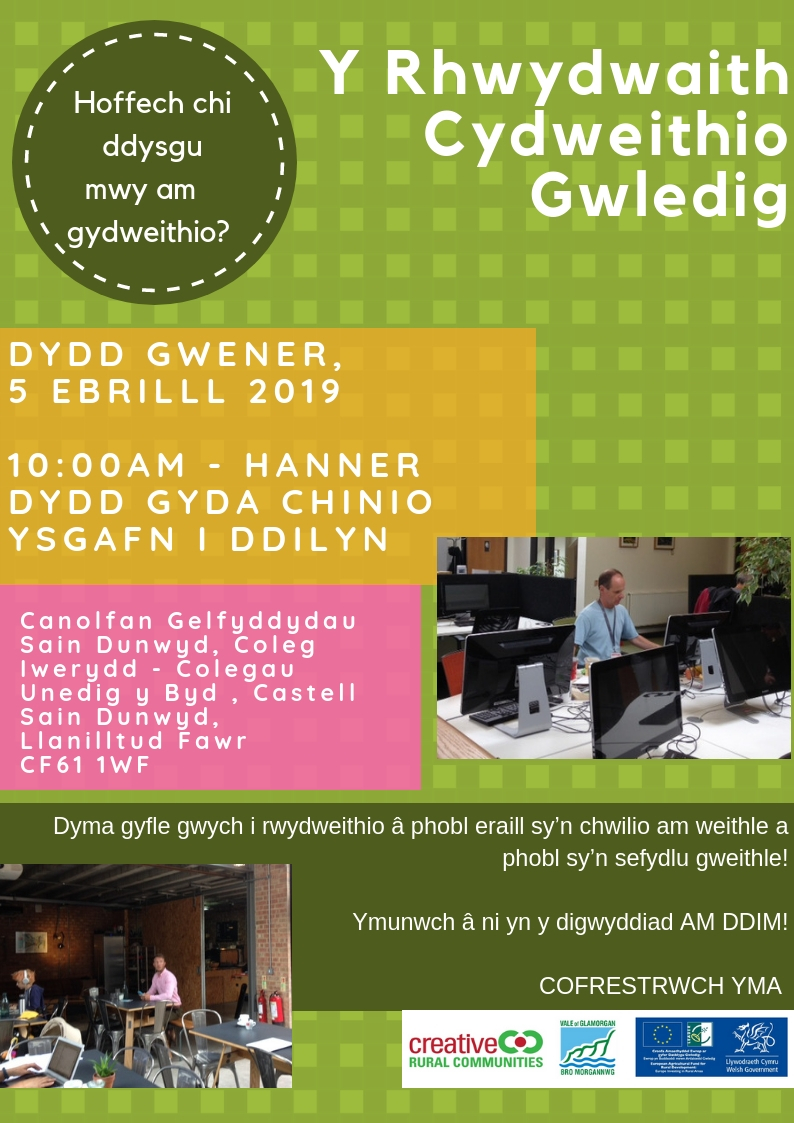 Y Rhwydwaith Cydweithio Gwledig
Hoffech chi ddysgu mwy am gydweithio? Oes diddordeb gennych chi mewn sefydlu gweithle a rennir? Hoffech chi weithio mewn gweithle a rennir yn y Fro Wledig?
Mae cydweithio wedi dod yn boblogaidd iawn mewn ardaloedd trefol ac mae'n dod yn fwyfwy poblogaidd mewn ardaloedd gwledig hef yd. Mae Cymunedau Gwledig Creadigol yn bartneriaid mewn project rhyng-genedlaethol, Colabora, ac yn gweithio gyda phartneriaid ledled Ewrop i ystyried y buddion economaidd a geir o greu gweithleoedd a rennir mewn ardaloedd gwledig a meithrin dealltwriaeth well o arfer gorau o ran sefydlu a rhedeg gweithleoedd felly.
Ymunwch â'n partneriaid Ewropeaidd i ddysgu mwy gan Gareth Jones, sefydlydd Welsh Ice a Town Square a Sarah Pepper, Cyfarwyddwr Caerdydd Creadigol, Prifysgol Caerdydd.
Dyma gyfle gwych i rwydweithio â phobl eraill sy'n chwilio am weithle a phobl sy'n sefydlu gweithle!
Croeso i unrhyw un â diddordeb mewn cydweithio yn ardal wledig Bro Morgannwg.
Dyddiad : Dydd Gwener, 5 Ebrill
Amser: 10:00am - Hanner dydd gyda chinio ysgafn i ddilyn
Lleoliad: Canolfan Gelfyddydau Sain Dunwyd, Coleg Iwerydd - Colegau Unedig y Byd , Castell Sain Dunwyd, Llanilltud Fawr CF61 1WF
Bydd lluniaeth ar gael.
Am ddim
Cofrestrwch yma.
Dewch i ddysgu mwy!
Mae rhagor o wybodaeth ar gael gan create@valeofglamorgan.gov.uk