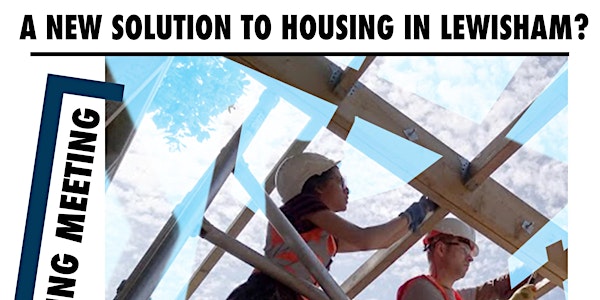 RUSS Housing Meeting vol. 6: A New Solution to Housing in Lewisham?
Event Information
Location
RUSS Ladywell Self-build Community Space (RUSS Community Hub)
12 Church Grove
London
SE13 7UU
United Kingdom
Everyone has the right to a decent, safe and genuinely affordable home. Come to this FREE meeting to hear how RUSS is addressing this need
About this event
In "Big Capital: Who is London for," Anna Minton makes explicit the links between the sheer wealth at the top and the housing crisis, which does not affect just those at the bottom but the majority of Londoners who struggle to buy properties and pay extortionate rents.
Estates all over London, from east to west and south to north, are tipped for demolition in a process that advocates describe as 'estate regeneration' and critics condemn as social cleansing. Affordable housing, once characteristic for Elephant and Castle in the London Borough of Southwark, is currently being replaced with a forest of luxurious towers that form the core of £2.3 billion urban regeneration scheme that will render the area unrecognizable.
Elephant Park, the main development at the heart of regeneration replaced the Heygate Estate, a 1970s social housing estate, which at the time of its demolition in 2014 was home to 1,194 social-rented flats. The banners trumpeting the regeneration of the neighbourhood advertise Elephant Park as part of a greater plan of delivering 1,481 affordable housing to the local community of Elephant and Castle. In reality that statement is largely misleading as the costs of Elephant Park's affordable housing split between social rent and shared ownership is 37 per cent higher than social rents in the former Heygate Estate. Down the road in Elephant and Castle, Notting Hill Genesis and Southwark Council are working in partnership on the regeneration of the Aylesbury Estate -a vast estate of about 2,700 homes. In order to move forward with the scheme, which involves demolition of the existing buildings, the council had to buy out the residents who had previously bought their homes from the council under Thatcher's right-to-buy policy.
How can we change it so that housing becomes about people rather than profit? I'm glad you asked. Community Land Trusts all over the UK are fighting rapid gentrification by putting housing in community ownership, with homes sold or rented at a rate linked to local wages and membership open to anyone with a connection to the area. It's a radical model that effectively takes housing out of the property market and pegs it to the labour market instead. We at RUSS believe that people-powered housing is the answer to the UK's largest housing crisis.
Join us for the first Housing Meeting of 2020 held at our newly SELF-build RUSS Community Hub in Ladywell, Lewisham.
Invited speakers:
* Anna Minton, writer, journalist and Reader in Architecture at the University of East London. She is an author of wildly acclaimed Ground Control (2009) and Big Capital: Who is London for? published by Penguin in 2017, two weeks before the Grenfell Fire. The Royal Commission's Fellow in the Built Environment between 2011 and 2014, she is a regular contributor to the Guardian and a frequent broadcasters and commentator. She lives in South London with a partner and their two sons.
* Anthony Comber-Badu, freelance photographer, filmmaker and producer working in Accra and London. Activist and member of the Aylesbury Leaseholders Action Group, he was recently involved in the production of the original VR documentary Common Ground which explored the notorious Aylesbury Estate, home to thousands of South Londoners, and a concrete monument to the history and legacy of social housing in the UK. The Aylesbury Estate is undergoing a massive regeneration scheme that will see big changes to the community of thousands that live there and call it home.
* Anurag Verma, Chair of RUSS Board of Trustees. Anurag studied architecture in India and worked in Germany before moving to London for further study. He lives locally and is an associate director at Latitude Architects. He is passionate about RUSS's innovative 'model' for delivering affordable self-built homes and wants to see it replicated widely across London and other cities. He has a keen eye for detail and believes he can play a key role in ensuring the Church Grove scheme is delivered in an innovative, efficient and cost-effective manner.The discussion will be moderated by Monika Milewska (RUSS, C40 Cities Climate Leadership Group).
ALL ARE WELCOME
Date and time
Location
RUSS Ladywell Self-build Community Space (RUSS Community Hub)
12 Church Grove
London
SE13 7UU
United Kingdom