Event Information
Location
WeWork Moorgate
1 Fore Street
London
EC2Y 9DT
United Kingdom
Description
At London New Tech we meet monthly to showcase new technology from London and around the world followed by networking. 5-7 presenters show demo of their technology and answer questions (5+5min).
London New Tech June 2017 #LNT33 is very special and is called Russian Tech Day. We do it in collaboration with #Rutech that creates bridges between Russian and international tech communities, and helps Russian Tech companies expand globally. We will bring brightest tech startups from Russia in partnership with DIT UK and TLA Russia.
Special guest:
Kirill Makharinsky - founder and CEO of Enki.com, the fastest-growing learning platform for professional coders. Previously he co-founded Ostrovok (the largest online travel company by revenues based in Russia) and Quid (a leading research and analysis tool). His companies have raised over $100m and hired over 400 people.
Alex Berezovsky - founder of Wonder a technology sharing platform that brings you hands-on experience with upcoming tomorrow's technology products such as holograms, robots, drones and more. Previously, founder and CEO of LETO digital innovation agency.

Russian startups:

EasyLaw - bot that automatically extracts legal information extraction for contract analysis & drafting
SolidSoft - AI cybersecurity solution for webapp protection at business logic level
Kinian - B2B service technology to automate and optimise the process of customer service helping retail and financial companies communicate with its customers at the right time and in the right place
Brandquad - product content management platform for vendors and retailers that improves product's time to market
Eyemove - app with machine learning and AI that reveals early signs of neurological diseases (dementia, Alzheimer's and Parkinson's diseases) by analysing the movements of the eyes during the diagnostics
Copter Express - educational drone kit for school students and production of industrial autonomous drones
ATGRPH - mobile app that allows you to get a real online autograph from celebrities using gamification
ZooLife - application that enables people to remotely watch, feed, play, and take care of different animals around the world

*subject to changes or updates
Agenda:
6:00 - Doors open
6:30 - Intro
6:35 - Guest speaker
7:00 - Startup pitches
8:00 - Networking & Drinks


Kindly sponsored by our partners:
IXcellerate is an unparalleled carrier neutral data centre operator in Moscow, which is comparable to the quality of datacentres in America and Western Europe. IXcellerate offers pure-play co-location designed to meet the standards of financial institutions, multinational corporations, international carriers and major content operators.
CIS London & Partners LLP is a London-based law firm boasting a team of legal professionals trained in England and Russia. This enables CIS London to translate complex legal matters from the two jurisdictions for the firm's clients from Europe and the CIS region alike.
Summerhouse PR is boutique public relations agency based in Hertfordshire, with a creative and versatile approach. Summerhouse PR offers a comprehensive range of media services including; media relations, digital and social media, crisis, issues and event management. Previous industry ares include: consumer technology, wearables, 3D tech, healthcare and consumer rights.
WeWork is a coworking space that provides shared workspace, community, and services for entrepreneurs, freelancers, startups and small businesses.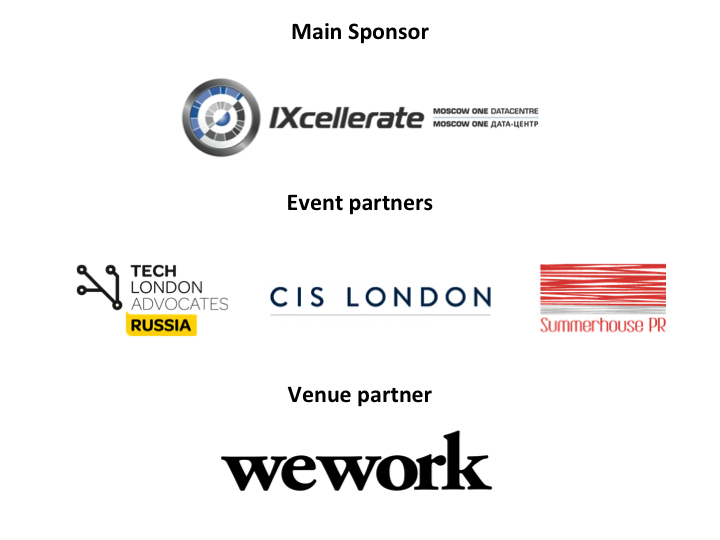 Date and time
Location
WeWork Moorgate
1 Fore Street
London
EC2Y 9DT
United Kingdom