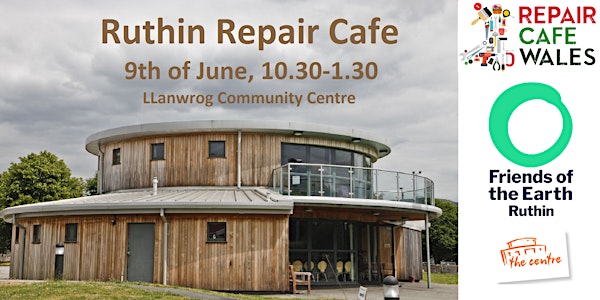 Location
Llanfwrog Community Centre
Mwrog Street
Ruthin
LL15 1LE
United Kingdom
In general, repair cafés are pop up events held on regular dates where the local community can get their broken household items fixed.
About this event
We had our first repair cafe in Ruthin right before the first lockdown back in February 2020 and could hardly wait to go on. It's been a long time but here we are again!
Repair café events reduce waste, teach skills and build community resilience.
The events are run by volunteers who will try to fix anything that is brought to them. Typical items include electrical goods, technology, ornaments, clothes, bicycles for basic maintenance & guidance, jewellery and more! (Except Microwaves as they are too dangerous.)
Bring along your broken or damaged item and our volunteer repairers will try to fix it, for free (donations welcome). You can enjoy a cup of tea or coffee at The Centre's cafe, and chat to your fellow neighbours while you wait. We'll even show you how it is done too if you like! The best way to reuse and recycle there is.
For insurance purposes, when entering the venue everyone has to fill the digital repair form for each items they want to be seen by our volunteers.
This repair form gathers information about you and the item(s) so please make sure to read the full Privacy Policy here beforehand to save us time. You don't need to book a ticket for each items but we can't guarantee that all of your items will be seen.
Number of people limited at maximum of 30 at all time!
Got any questions? Just drop us a message on Facebook or Twitter, and we will do our best to ensure a repairer is available to fix your item.
More fixers are always welcome – come along even if it is just to find out what is going on, and tell your friends!
See you there!
Please read through our house rules
All repairs carried out at the Repair Café (RC) are performed at the visitor's own risk. The advice and repair service is conducted by volunteers and there is no charge but donations are welcome to cover costs including the purchase of tools and equipment and the development of the service.
All visitors are required to complete and sign the Repair Form for record keeping purposes before any repairs can be contemplated.
Visitors are expected to remain with the volunteer(s) while the repair is being carried out in order to see how the repair is being done and to pick up new skills. Items should not be left with the volunteer(s) and collected at a later time but where the repair itself makes this necessary neither the organisers / leaders of the Repair Café, Repair Cafe Wales as an organisation nor the volunteer(s) can assume any responsibility for safe-keeping.
The fact that the repairs are being undertaken by unpaid volunteers reflects the allocation of risks and limitation of liability: neither the organisers / leaders of the Repair Café, Repair Cafe Wales as an organisation nor the volunteer(s) are liable for any loss that may result from advice or instructions concerning repairs, for the loss of items handed over for repair, for indirect or consequential loss or for any other kind of loss resulting from work performed in the Repair Café. The limitations set forth in these house rules shall not apply to claims declared justified on the basis of liability arising by virtue of applicable consumer protection legislation which cannot be lawfully superseded.
Any use of new materials such as leads, plugs, fuses, zips, etc. will be paid for separately by the visitor. Any work initiated in the Repair Café but continued outside of the Repair Café's hours is completely at the discretion of the volunteer(s) and the agreement they make with the visitor.
The Repair Café, Repair Cafe Wales as an organisation and the volunteer(s) offer no guarantee for any repairs carried out with or without their help and are not liable if any repaired items do not work properly at home or break down again in the future.
The Repair Café, Repair Cafe Wales as an organisation and the volunteer(s) take no responsibility in any form whatsoever for any item, repaired or otherwise, once it has left the premises where the Repair Café session is taking place.
Volunteers are entitled to refuse to repair certain objects and are not obliged to reassemble disassembled appliances that cannot be repaired.
Visitors to the Repair Café are solely responsible for the tidy removal of broken objects that could not be repaired.
Neither the organisers / leaders of the Repair Café, Repair Cafe Wales as an organisation nor the volunteer(s) in personal capacities or otherwise are liable for any accidental damage that may occur to either visitors' goods (including vehicles) or personal effects during visitors' time at the sessions.
To avoid unnecessary waiting times during busy periods, a maximum of ONE item per person will be examined. Should time allow, extra items may be considered for examination and assessment.
Visitors to the Repair Café are responsible for ensuring their electrical items have been PAT tested by a qualified individual at the Repair Café.
PLEASE NOTE: Dangerous tools and equipment are present and sometimes used in repairs. Parents must exercise control over, and be responsible for, the behaviour of their children whilst attending the Repair Café.
What we do and don't do
We are a group of enthusiastic amateurs who want to reduce landfill and share our fixing skills. We are not a repair shop, so we appreciate it if we can show you how to fix your item or even get you to do it while we advise! We…
Need to have time to repair your device. If you arrive within an hour of us closing we may have to decline the repair.
Need to keep our volunteers safe. So if something is dangerous or dirty, we may decline to repair it.
For safety and to avoid competing with local business, we don't repair:
Microwaves
Welding
Clothes alterations
Adult bike repairs (though we can carry out an M check)
Safety equipment
White Goods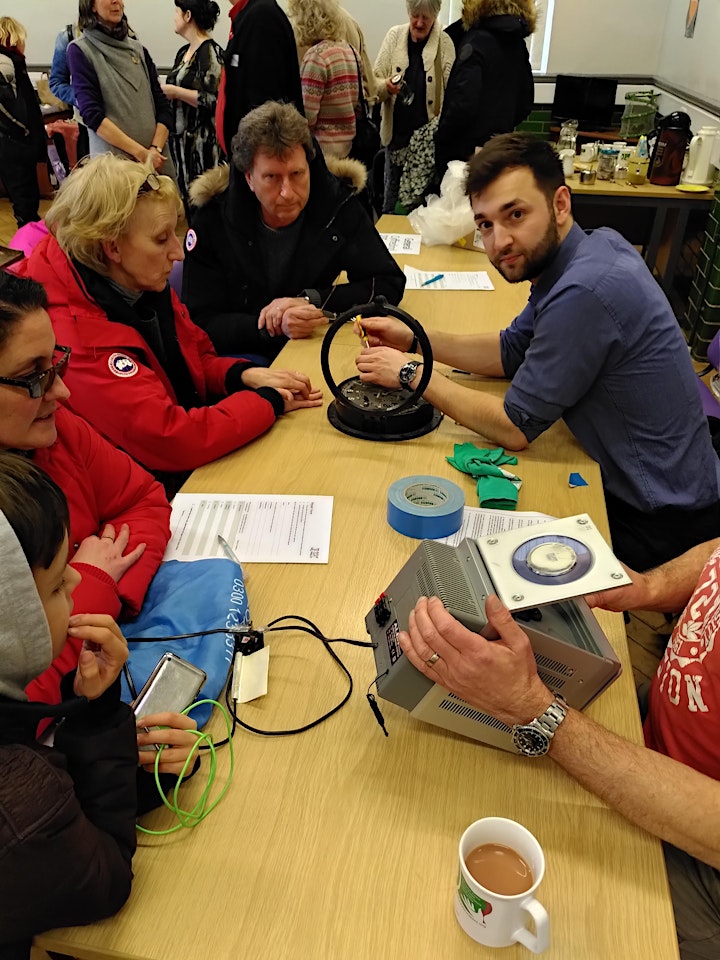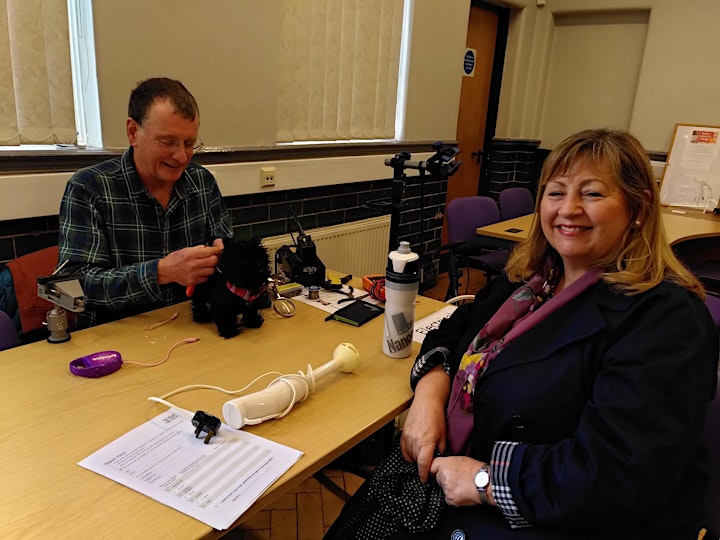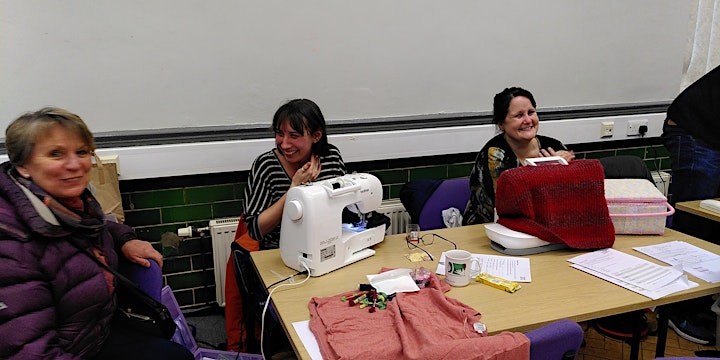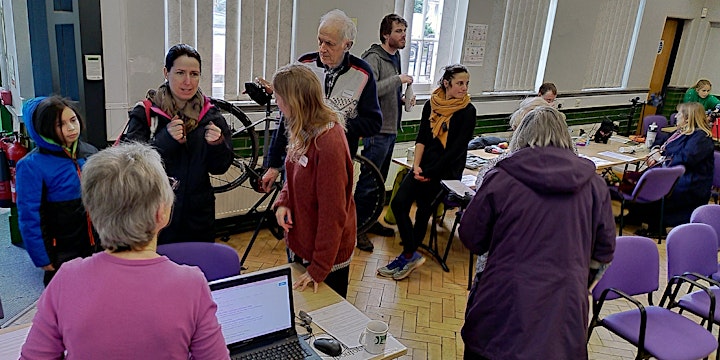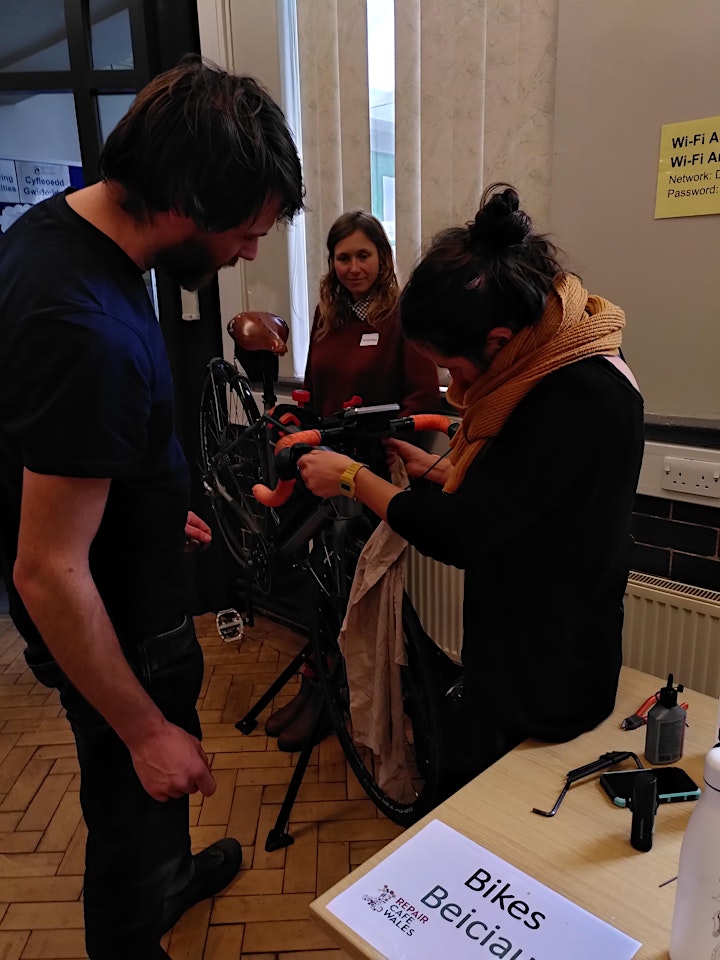 Drosi Bikes at Ruthin Repair Cafe 2020