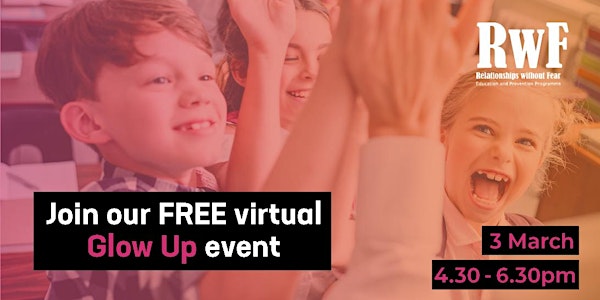 Join us on 3 March for a FREE and exclusive look at our Relationships without Fear early intervention programme!
About this event
Calling all teachers in Staffordshire, Cheshire and Derby!
Did you know that 1 in 5 children in your class will be experiencing domestic abuse at home?
It's time to educate your pupils about healthy relationships, and we can help…
We're Glow, and we're on a mission to create a community where no one, no matter their background, identity or circumstances feels vulnerable within their relationships. We work to end abuse at the source and bring education and prevention together to make a lasting impact.
Join us on 3 March from 4.30pm to 6.30pm for our 'Glow Up' virtual event, where you can take a free and exclusive look at our Relationships without Fear specialist early intervention programme.
We'll have guest speakers, activity demonstrations and an in depth look at how the programme can benefit your school.
What is Relationships without Fear?
There are 130,000 children in the UK living in homes with domestic abuse where there's a high risk of murder or serious harm. Thousands more live with less serious domestic abuse every day. That's why we launched Relationships without Fear in 2002, to teach children and young people about healthy and unhealthy relationships. The programme aims to break the cycle of domestic abuse by helping children understand healthy relationships and what to do if they experience domestic abuse, either at home or in their future relationships. There's also support for teachers and youth leaders.
How much does the programme cost?
We deliver the Relationships without Fear programme from £1.94 per child* for six weeks of invaluable relationship education that could save a life.
How do I get in touch?
Book your FREE space today via Eventbrite or contact educationandprevention@findtheglow.org.uk for more information.
*based on a class of 30 pupils.