Rygbi Cerdded bob Dydd iau 3yp-4yp yn Whitland RFC. Walking Rugby every Thursday 3pm-4pm in Whitland RFC
About this Event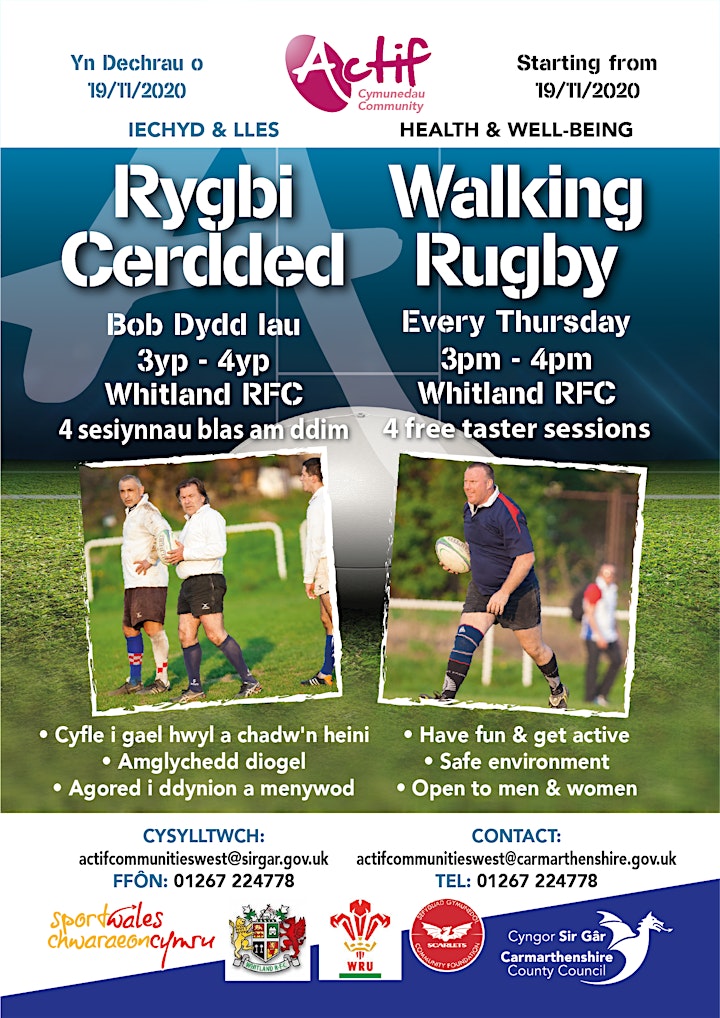 Walking rugby sessions will be taken place in Whitland commencing the 19th of November between 3-4pm, these sessions will run weekly. We welcome anyone of the age of 18+ who is looking at starting exercising or getting back in to exercise using the game of rugby to keep it fun. Sessions are open to any ability, both male and female.
If you have any questions please contact: Ltynan@carmarthenshire.gov.uk
Bydd sesiynau rygbi cerdded yn cael eu cynnal yn Hendy-gwyn ar Daf, gan ddechrau ar 19 Tachwedd, rhwng 3 a 4pm. Bydd y sesiynau hyn yn cael eu cynnal bob wythnos. Rydym yn croesawu unrhyw un dros 18 oed sydd am ddechrau neu ailddechrau gwneud ymarfer corff, gan ddefnyddio rygbi i gael hwyl. Mae'r sesiynau ar gyfer dynion a menywod o unrhyw allu.
Os oes gennych unrhyw gwestiynau, cysylltwch â: LTynan@sirgar.gov.uk