Sales Have Ended
Ticket sales have ended
Ticket sales have now ended. Please do add your name to the waiting list. You will be contacted prior to event release re: the next ceremony. You are also welcome to subscribe via: www.soundseva.com, Facebook: SoundSeva or Instagram: Sound_Seva.
Sales Have Ended
Ticket sales have ended
Ticket sales have now ended. Please do add your name to the waiting list. You will be contacted prior to event release re: the next ceremony. You are also welcome to subscribe via: www.soundseva.com, Facebook: SoundSeva or Instagram: Sound_Seva.
An in-person meditation with Sacred Cacao to celebrate summer's alchemy and the beauty of who we are.
About this event
We are a circle of 6 to observe safe distancing requirements (See 'Safety' below).
If sold out, please put your name on the waiting list by following the ticket link. If you miss out, you will be contacted regarding details of the next ceremony and given first refusal before it goes public.
Gift vouchers for SoundSeva online or in-person events are available upon request. Contact me on: shashay@soundseva.com.
Refunds are available if the event is cancelled/postponed.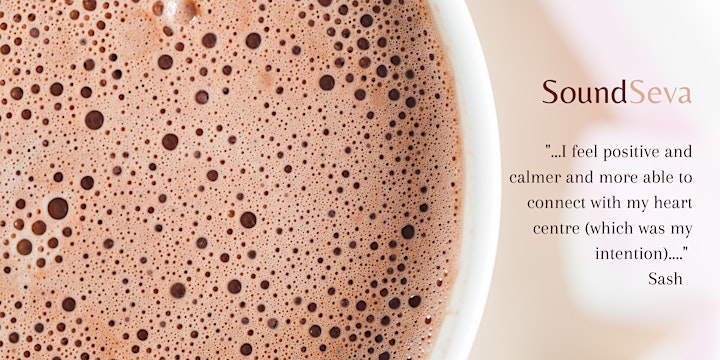 Cacao...what is she good for?
Sacred Cacao (raw chocolate) is non-psychoactive and contains essential minerals, B vitamins, vitamin E , flavonoids with anti-oxidant properties and neurotransmitters that have everything to do with feeling 'loved up' and 'blissed out':
Theobramine and Histamine Arginine (natural Viagra) help the heart and circulation.
Endocannaboid (the body's natural cannabis), Dopamine, Anandamide and Phenylethylamine invoke 'bliss', 'feel good', and 'love' states.
Also useful for: circulation, memory, menstrual and menopausal issues, energy, blood pressure, inflammation and pain-relief. I can personally vouch for her effectiveness with menstrual cramps!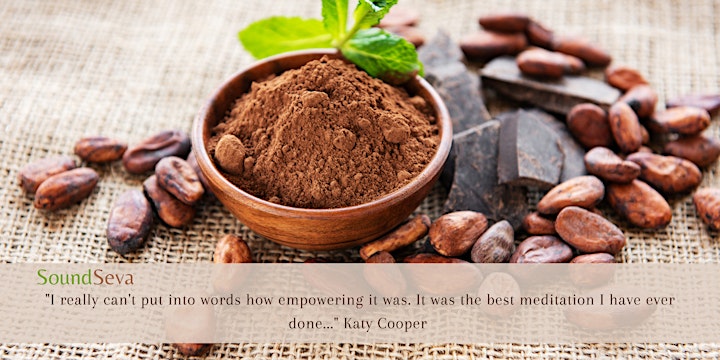 I refer to Sacred Cacao as 'she,' because she is deeply feminine in her nurturing and creative qualities. She opens up when we commune with her sacred essence. Meditation is enhanced with her clarity-inducing and heart-opening qualities.
I have worked with Sacred Cacao for 7 years and she continues to reveal more layers of herself. I have witnessed countless individual experiences as well as my own where Cacao's offerings of visions, insights and guidance have triggered profound healing trajectories and turning points.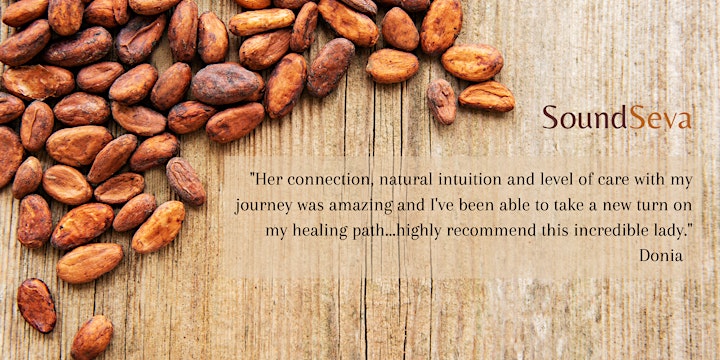 Sacred Cacao stimulates creativity supporting us to set new goals and intentions. She helps us to view ourselves and others through a loving and compassionate lense, so is helpful for resolving internal and external conflicts. Ultimately, she connects us with our innate divine wisdom and guidance, hence she was known as 'Medicine of the Gods' by the Mesoamericans. She can truly help us to navigate life.
What to expect
Non-denominational prayer is integral to every SoundSeva ceremony. SoundSeva prayers express humility and honour for life, the elements and the Divine. This is an experiential workshop that empowers you to develop a relationship with Sacred Cacao plant medicine. We will drink her tea and commune with her essence in meditation. Soft instrumental sounds, such as voice, singing bowls and lap harp intuitively hold your space and guide your journey. Guidance card readings help to focus your meditation and asssit you in navigating the months ahead.
This will be a candlelit space of community, healing and sharing. 3-hours of ceremony ensures a relaxed pace providing respectful space for Cacao to embrace and guide you.
This will be a seated ceremony that asks us to be present with open hearts and minds. Chairs can be provided if requested.
Feedback from a previous New Moon Ceremony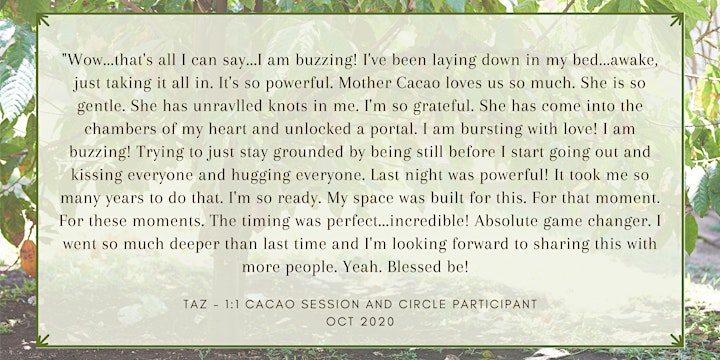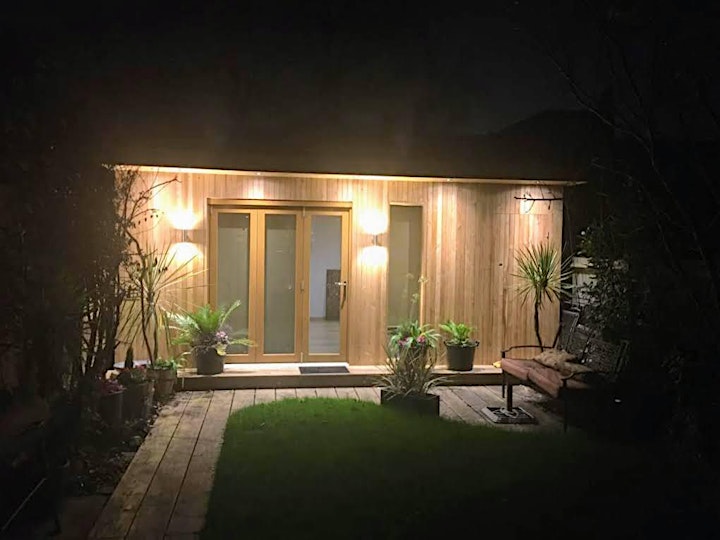 The Venue
Bija Garden is a beautiful purpose-built garden Yoga studio in West London. It is a private undisturbed space, perfect for holding a safe container for Cacao explorers! FREE ON-STREET PARKING AVAILABLE.
If your heart stirs towards this ceremony, book early to avoid disappointment as only 1 space is available.
Safety
Bija Garden is steamed, cleaned and sanitised, with a moisturising sanitiser offered + temperature check required upon arrival. Given the all clear, masks may be removed when seated.
Advance bookings only.
For more information about me, Jasvindar Kaur, see below or visit my website.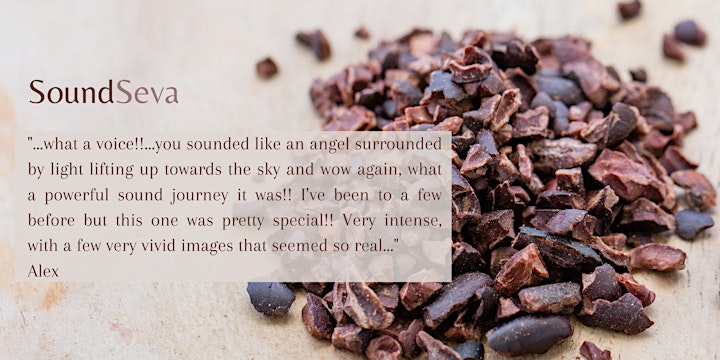 DISCLAIMER
Please contact me before booking if you are pregnant or breastfeeding and/or if you need to avoid chocolate due to a medical condition; e.g: you're taking MAOI-based/ seratonin-enhancing anti-depressants. If, due to a condition, you are unsure whether this event is appropriate, seek medical consultation. You are also welcome to contact me with queries. Please cancel if you or anyone that you have been in contact with has suspected or actual covid symptoms. Please contact me directly in this instance for refund or deferral arrangements.
Organiser of Sacred Cacao Ceremony - A Rainforest Heart Song
Jasvindar Kaur of SoundSeva facilitates solo and collaborative ceremonies with gentle plant medicine, instrumental sounds, Yoga and Art. She is dedicated to empowering others within a safe and well-held space. She has 30 years of academic and work experience of managing trauma and psycho-social needs alongside her own personal development and spiritual practice. She walks a shamanic path in that she endeavours to walk with the Divine in all ways and is driven by her passion that the world needs each of us to realign with our authentic selves so that we can 'be the change we want to see.' She believes that Mother Nature's transformational gifts can help us with this evolving grace.
All are welcome regardless of beliefs and experience. 
Please see SoundSeva website for more information.