Sacred Nature. Jonathan and Angela Scott: the Big Cat People
Sacred Nature. Jonathan and Angela Scott: the Big Cat People
Wed 30 November 2016, 18:30 – 21:30 GMT
Description
Image © Jonathan & Angela Scott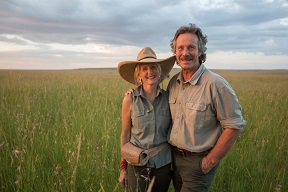 In a career spanning 40 years, Jonathan Scott has become one of the most loved and recognised wildlife celebrities in the world, presenting shows such as the long-running and enormously popular Big Cat Diary on the BBC. Jonathan is a gifted writer, as witnessed by the recent publication of his autobiography The Big Cat Man (Bradt) and happy to admit that Angela is the real photographer in the family. Her sense of artistry is lovingly revealed in her many stunning images in Sacred Nature: Life's Eternal Dance (HPH) a large format book conceived by Angela and designed by their son David. Jonathan and Angela are the only couple to have individually won the Overall Award in the prestigious Wildlife Photographer of the Year Competition. They recently completed filming a TV special on their life as conservationists and photographers in the second series of Tales by Light for National Geographic.
Please join us for this very special fundraising evening that documents the Scott's adventures, primarily in the Maasai Mara and the Serengeti National Park in Tanzania, the last place on earth where you can see so many wild animals roaming free. 
Featuring stunning, award-winning photography from their books and a clip from their Nat Geo TV special, the talk will highlight the beauty of the natural world and examine man's role in both protecting and destroying some of the last truly wild places on the planet.
                              Event Generously Supported by Our Sponsors: