Sacred Sound Inspirations Autumn Equinox Gong Meditation Epping 2021
A gong and sound bath meditation
About this event
We are delighted to be able to share the sounds of the gongs.
Before booking please understand that as we hold this event in the public Council Offices certain procedures have to be put in place due to the 2021 Lockdown regulations. On arrival you will be asked to provide a contact telephone number and your name and a copy of this information will be left with the Council Reception Office and held for a period of 21 days, after which time they will be securely destroyed.
We hope that you will enjoy good health leading up to this event but if on the day of the sound bath you experience any of the following symptoms, we ask that you contact us and cancel your booking:- 1. Have you had the recent onset of a new continuous cough? 2. Do you have a high temperature? 3. Have you noticed a loss of, or change in, normal sense of taste or smell? Because of the new regulations in place we have had to hire a larger hall within the premises and take less numbers so social distancing requirements can be put in place. Please as such we ask that should you have to cancel due to the aforesaid symptoms that you let us know as soon as possible so we can endeavour to fill your place. In gratitude for your kind consideration. For those coming along, the hall is on the ground floor of Epping Hall and is very large, and there will be plenty of room for you to enjoy the sonic magic safely and without concern.
We invite you to celebrate the Autumn Equinox with us and allow the sounds of the gong to support you to embark on a mystical, deeply meditative journey. Participants lie on a blanket or yoga mat and are bathed in the powerful and transformative sounds of the gong. We use a variety of Paiste Symphonic and Planetary gongs taking the current astrological influences into account, as well as crystal and Himalayan singing bowls, drums, shruti, voice, and many other instruments. Please bring a mat to lie on, blanket to cover you and a pillow or cushion. The effect is immensely relaxing and healing on all levels. Relax, Retune & Rejuvenate! Participants should arrive from 19:45 hrs. Doors close at 19:55 hrs.  Again because of the new regulations the main entrance door will be locked after this time and there will be no entry to the building. Tickets for this event are £17 per person. Numbers will be restricted, therefore it is essential to book tickets and pay in advance of the day.
FAQs
CAUTIONS and CONTRAINDICATIONS 
Although Sound Healing is very therapeutic and relaxing, there are some conditions when either cautions should be exercised or possibly a total contraindication. If you have any queries about any of the following please message us before booking a ticket.
Tinnitus – the sounds may aggravate existing tinnitus, although many tinnitus sufferers attend a gong bath without any adverse effects (caution only)
Menieres Disease
First Trimester of Pregancy contraindicated and thereafter if at risk, otherwise ok to receive.
Advanced stages of cancer
Those who have pacemakers fitted unless with doctor's approval. 
Epilepsy 
Recent Hip/Joint Operations, Metal Implants (we have found that if the implants have been in situ for a number of years it is rare to experience any problems). 
Severe Osteoporosis
Severe Mental Health Illnesses
What are my transport/parking options for getting to and from the event?
There is a carpark close to the venue. Epping is on the Central Underground line and is served by many bus routes. Please note that due to the new restrictions, attendees must not park directly outside the building but use the carpark or neighbouring roads.
What can I bring into the event?
Please bring something to lie on (blanket/yoga mat), a blanket for covering and a cushion for your head. You may wish to bring some water for hydration.
What happens if there is another Lockdown?
We will to the best of our ability always honour our sonic commitments. The only thing that will prevent us from doing so is Government Dictate with a further Lockdown. Should this happen then we will of course refund you the full price of your ticket.
How can I contact the organiser with any questions?
Please message Sarah at info@reikidrum.co.uk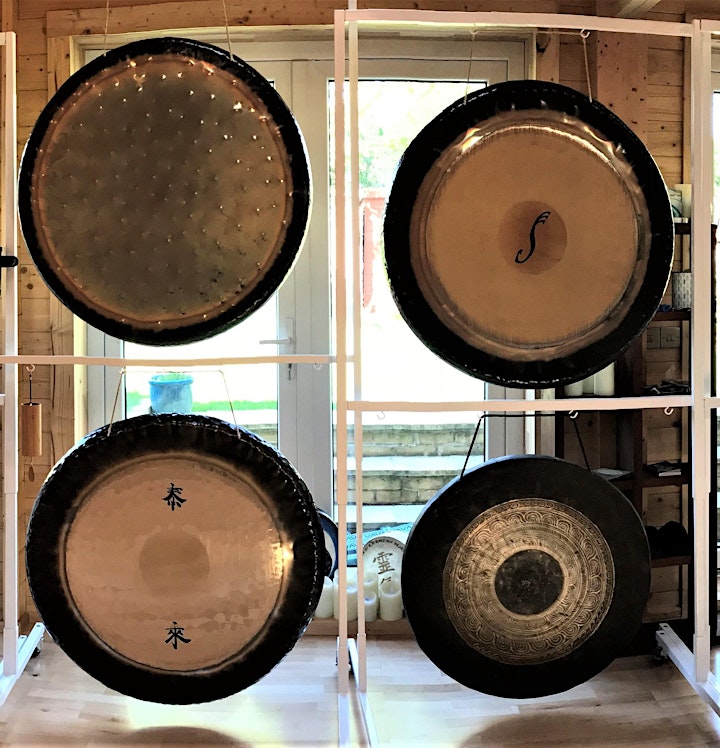 Organiser of Sacred Sound Inspirations Autumn Equinox Gong Meditation Epping 2021
REIKI DRUM & Sacred Sound Inspirations is run by Sarah Gregg, a Sound Healer, Reiki Master Teacher and Natural Therapy Practitioner.   Sarah holds regular community sound events in different locations within the UK which include Gong Baths and the unique Sonic Exploration Events.  Other sound and healing related workshops include CMA Accredited Gong Master Training, Introduction to the Gong, Reiki Drum Practitioner Training, the popular Sacred Sound & Light Immersion and The Ancestral Resonance Process - Honouring The Ancestors for the Celtic New Year residential.  Sarah works with the Voice through toning, chants and mantra, as well as gongs, drums, crystal and Himalayan bowls, shruti, monochord and many other instruments.  The REIKI DRUM branch of the organisation provides training in Usui Reiki, Reiki Drumming,  Karuna Reiki and Kotodama Workshops. Sarah also facilitates Munay-Ki Initiation Rites workshops.