Safe Families are making an amazing difference to the lives of vulnerable families. Find out about the support and befriending they offer.
About this event
Safe Families is a charity that works with 38 local authorities around the UK including Birmingham. Safe Families offer hope, belonging and support to children, families and care leavers. We believe that no one should face life alone. We exist to create relationship and connection because everyone deserves to belong.
Hear about the amazing work that they do, and how you can connect families- or get involved. Could you get alongside someone in your community who needs support? You can sign up to become a volunteer for Safe Families here.
We'll also give an overview of the Early Help Support available across Birmingham, so you have a good awareness of resources available for families.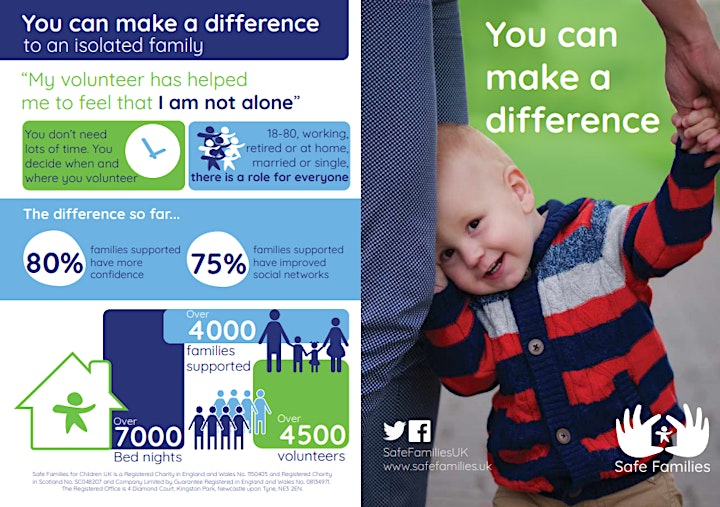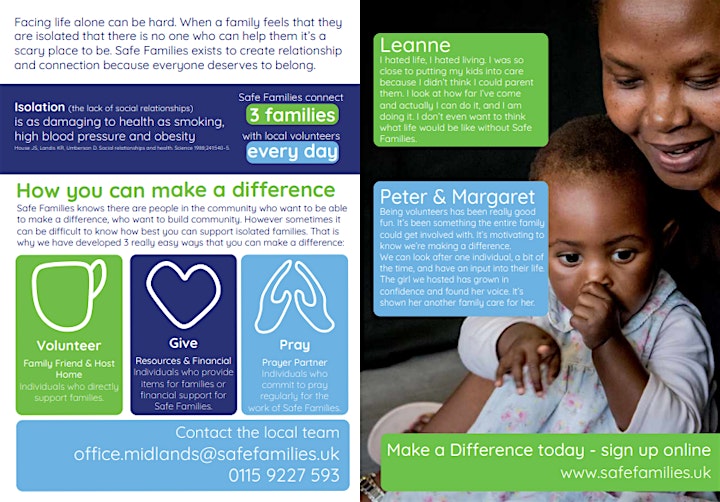 Organiser of Safe Families-Making a Difference for Vulnerable Families
On behalf of Birmingham Children's Partnership, Northfield Families are offering Early Help support to children, young people, and their families in the Northfield Locality. We work with pregnant mums and their bumps, and can continue to offer support all the way up to 25 years. We can help with parenting, financial matters, mental and emotional support and even help to locate leisure activities nearby. Here are some examples of things we can help with:
Emergency grants of up to £100 towards food and fuel costs
Food parcel delivery
Fuel vouchers
Free access to parenting courses
Referrals to baby banks and services
Benefits, housing, and employment advice
Referral & signposting to mental and emotional health services
Signposting to other supportive and recreational services via our community connectors
Training for professionals and members of the community- so that everyone working with children and their families is able to access the information that they need to support the families that they are working with.
Training and webinars for parents and the wider community- so that people can hear first hand about what's available to them, and expand their knowledge and understanding of topics.
Not what you are looking for? Just ask... we'll see if we can help!
Northfield Families is working closely with Birmingham Pathfinder and Barnardo's to offer a range of holistic support geared specifically to each family's needs. Barnardo's, as part of the Birmingham Forward Steps partnership, is able to offer a range of support to families with children under 5 years old, you can find out more here: https://bhamforwardsteps.co.uk/
The Birmingham Pathfinder works with schools to develop a collaborative approach to Early Help support for families. If you would like to find out more about the range of free support, supervision and training opportunities available, please contact Rob McCabe directly via email at: rob.mccabe@birminghamchildrenstrust.co.uk.
Do you want to connect to some support ahead of the webinar or workshop? Then please get in touch:
Northfield Families Team: northfieldfamilies@northfieldcommunity.org or call: Mon-Wed 07516 918 133 Thurs-Fri 07951 346 327
Alternatively, you can use the postcode checker to identify which locality will best support the family. You can connect a family to a range of support via the Family Connect Form (click on the link to access Via Birmingham City Council website).
Families can also self-connect to support via Family Connect Form- Self Identification
Helen Morris, Community Connector: h.morris@northfieldcommunity.org or 07402 842 716