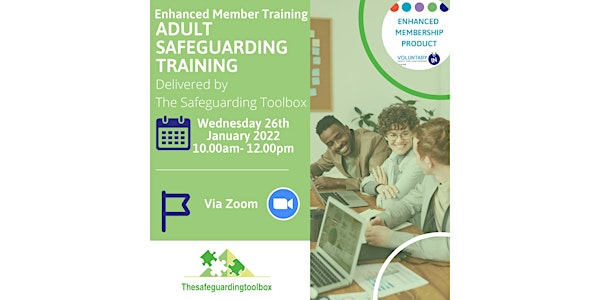 Safeguarding Adults Training - Delivered by The Safeguarding Toolbox
Safeguarding Adults Training - Delivered by The Safeguarding Toolbox
About this event
VIN is pleased to host the The Safeguarding Toolbox 2 hour training session on Adult Safeguarding between 10am and 12 noon on Wednesday 26th January 2022 via Zoom.
This course provides a relevant and concise update on Adult Safeguarding, including what's involved, how legislation works in practice and how concerns are reported and communicated. It is ideal for those who are new to the subject or require a refresher.
Please note that this session is for Enhanced Members only who have purchased VINs Enhanced Member Product: Click here for costs and an application form
About the Trainer:
Angela Haylock is the owner of The Safeguarding Toolbox and has worked in the voluntary sector for over 27 years, delivering all aspects of Safeguarding training since 2008. She currently works part time at Voluntary Action East Cambridgeshire and is also an Exams Invigilator. Angela is registered to work with vulnerable children and adults.