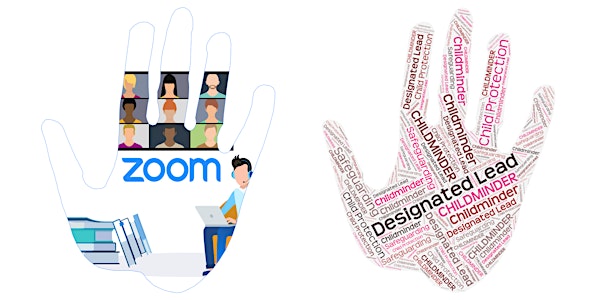 Safeguarding Children: CHILDMINDER Designated Safeguarding Lead (Z682)
Refund policy
Contact the organiser to request a refund.
Eventbrite's fee is nonrefundable.
Sales Have Ended
Ticket sales have ended
Ticket Sales for this event have now ended, please check out our Eventbrite page to view and book our other courses:- https://www.eventbrite.co.uk/o/early-learning-and-childcare-service-17452958459 We release more courses and additional dates every term.
Safeguarding Children: Childminder Designated Safeguarding Lead For: Leicestershire Childminders only
About this event
Safeguarding Children: Childminder Designated Safeguarding Lead
For: Childminders in Leicestershire only
We strongly advise any Childminder/prospective Childminder who has not previously undertaken any Safeguarding CPD training to attend 'Essential Awareness' prior to attending this DSL training course.
This course is being offered at the highly subsidised rate of £15.00 to acknowledge and support your current potential financial issues due to the Covid-19 pandemic.
Delivery Information:
This course will take place via Zoom platform, Zoom platform is accessible on PCs, tablets and smartphones, however please ensure your device has been updated to the latest version/software, some users are experiencing issues caused by out of date software/operating system. If you use a phone/tablet the quality and accessibility of videos and functionality of the PowerPoint may be affected; for the best experience we advise you use a laptop/desktop PC.
The direct link to join the live session will usually be included in the ORIGINAL confirmation email sent from Eventbrite when you complete the booking – this confirmation email is sent to the email address you enter for the ticket holder. Please check with the person who will be attending the session that they have received this email and can see the link to join at least 2 days prior to the session at this point please contact eytraining@leics.gov.uk if you cannot find/see the link to join. Subsequent emails sent from Eventbrite are reminders only (may not include the link to join).
All delegates must logon and 'join' the live session 10 minutes prior to course commencement, this is to ensure the course starts on time and without disruption. It is delegates responsibility to ensure they can see, hear and be seen and heard before the course start time. Trainers will be on hand to trouble shoot, help/support login, check camera and audio function etc for 10 minutes prior to course commencement. Trainers must take a register before the course starts, therefore once the session has started you may refused entry due to the disruption this causes for other learners.
We are aware that the device you use may be different to the name of the person the ticket was originally booked for (Jeff's iPad), to support the trainer in completing the course register can we please ask all delegates to type your name and the name of your place of work into the comments area to help the trainer identify who is attending the course (Childminders please add CM to the end of your name). Each ticket bought is for only one person and they must access the training on an individual device, it is not suitable for delegates to share a device.
All learners will be expected to attend by video call as standard, with cameras on during the delivery. Courses are interactive so please expect to contribute and take part in full.
By signing up to this course you are providing your consent to the email address you provide at the point of booking being shared with the training provider to enable the trainer to contact you regarding this specific course only
Delegates must join both sessions below:
Introduction Session Wednesday 8th June 2022 6:30pm – 7.30pm
Main Session Wednesday 15th June 2022 6.00pm – 9.00pm
You will also need to complete pre-training and post-training reading and activities
Aims and Objectives:
Children rely on adults to keep them safe. As a childminder you have a responsibility to ensure children achieve the best life chances, the designated lead is an essential role for a childminder in supporting children to achieve this outcome.
This training will give you greater confidence and awareness to recognise, respond and refer if you have any concerns about a child's welfare. You will also explore your role in working with parents and other professionals to keep children safe.
This training will equip you with the knowledge to successfully meet your safeguarding responsibilities and supports the development of the necessary skills and competencies to effectively fulfil the role of Designated Safeguarding Lead as defined in the Leicestershire & Rutland Safeguarding Board's (LSCB) competency framework.
Leicestershire County Council's Early Years Inclusion and Childcare Service recommends for best practice that all Leicestershire Early Years Providers and Practitioners including Childminders and Out of School Clubs follow and adhere to The Safeguarding Children Competency Framework
This training is delivered by trainers who have worked as childminders and understand the uniqueness of working as a childminder.
Learning objectives:
By the end of the training childminders will:
Have developed skills and knowledge to put into their role into practice
Understand the importance of early intervention
Know local procedures for making a quality referral to social care
Be able to audit their safeguarding practice
Trainer:
Hempsalls
Booking and Cancellation Policy
For all courses and events, this includes both free training and events, and those with a booking charge:
• Places can still be cancelled, with refunds offered, up to 7 days prior to the course/event taking place if you know that you are unable to attend, you do this on Eventbrite. If you need to cancel your place on ANY course and you inform us at least 7 days in advance of the course we may be able to offer you an alternative date within the same term. The name of the delegate (the name on the event ticket) can be changed at any time by logging into your Eventbrite account and navigating to 'Tickets' which can be found by hovering over your avatar.
Unfortunately, we are unable to offer any refund of booking fees made if you cancel a place after the 7 days cancellation offer has ended.
• If a delegate from a provision/childminder Does Not Attend (DNA) and we have not been informed this will be noted as DNA. To ensure the service is able to continue to offer subsidised training and this cost isn't passed on to everybody, we have made the difficult decision to freeze those places to providers who continue to not attend preventing others to access the training.
Any provision/childminder who has a record of 3 DNA's within a period of 3 months will not be able to book onto any Early Years Inclusion and Childcare Service training or event advertised on Eventbrite for a period of 3 months from the last DNA. This freeze on access to training can be lifted immediately by the provision/childminder paying the cost of the event missed, in most occasions this cost will be considerably higher than the amount paid at the point of booking. Up to the maximum of £40.00 course.
Please note the freeze applies to the provision (nursery/pre-school etc) not the individual practitioner, therefore providers will not be able to book any training/events during the freeze period. If safeguarding or paediatric first aid certificates are due to expire you will need to source these from an alternative provider.
• We know that sometimes delegates find it difficult to access virtual training. We will do our best to support you to join the event. Delegates who contact us in these circumstances not be recorded as DNA and if possible an alternative event will be offered.
If support is unable to be offered due to the session taking place out of normal office hours or a continuation of technical difficulties, you must still email or call and leave a message at the time that you cannot access the live event so it will not be recorded as DNA.
Thank you for your support in this matter as this will enable us to continue to offer a wide range of training opportunities at a competitive price for all during the pandemic.