Safeguarding Children for School Governors and Trustees
TTS and CSEP have come together to provide this essential Safeguarding Children for School Governors and Trustees facilitated by Jeff Kayne
About this event
KCSIE 2022 is tightening the requirement for all governors not just the safeguarding governor to attend safeguarding training. This should be strategic to help them understand and carry out their specific roles. So why not send your school governors and trustees to this Saturday morning training session which is tailored to the role and duties of a school governor and trustees. It will fulfil the requirement and help them to carry out their duties as critical friend and driver of school improvement.
This course will cover:
What is Safeguarding
The Role of the Governing Body
The Role of the Committee
The Chair, Vice Chair and Safeguarding Governor
Policies and Procedure
Safeguarding Concerns
Safeguarding within the curriculum
Technology and online safety
Evaluating effectiveness and offering challenge
Allegations against professionals
Safer Recruitment/SCR
Each Delegate will receive:
Certificate for CPD
Comprehensive Course Hand-out
This essential training will be delivered by Tailormade Training Associate Jeff Kayne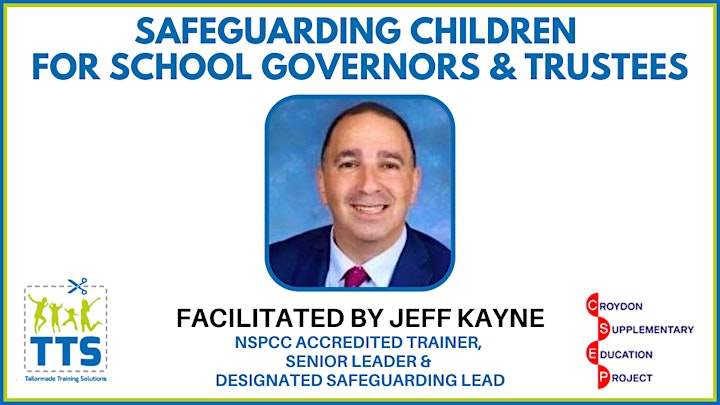 Jeff Kayne is an NSPCC Accredited Trainer and Senior Leader and Designated Safeguarding Lead with over 20 years' experience in education. He has held positions of responsibility in both the maintained and independent sectors and is currently DSL at an independent school in East London (1450 pupils, age 4-18) where he leads a team of 10 Deputy DSLs.
Jeff firmly believes in the importance of creating a robust culture of safeguarding and child protection in schools to ensure that keeping children and young people safe is 'everyone's responsibility'. Additionally, he believes that contextual safeguarding, listening to the voice of children and young people and adopting a child/young person-centred approach are the foundations upon which high impact systems, policies and procedures can be built. Jeff has considerable experience of all aspects of safeguarding and child protection especially in terms of current issues, such as self-harm, suicide prevention, mental health and peer-on-peer abuse.
Jeff has extensive experience of working closely with Governors including – but not limited to – delivering training, presenting and writing reports, preparing the governing body for Inspection and ensuring that information is shared in a timely and effective with respect to the most serious safeguarding and child protection incidents. In addition to his work in his current setting, Jeff has previously served as a Governor in a special education setting and has recently formalised a partnership with a local state primary school to add capacity to their provision of mental health support. As a full-time DSL is a large setting, Jeff is ideally placed to assist other settings with safeguarding audits in order to ensure policies and systems are consistent in their application in different settings.
Having completed the National Professional Qualification for Headship and the three levels of coaching courses offered by Graydin, Jeff continues to strive to develop his practice and help support others. He has extensive experience of delivering training and is currently working towards his NSPCC accreditation as a safeguarding and child protection trainer.
Prior to teaching, Jeff represented Scotland at Rugby at U18, U19 and U21 levels.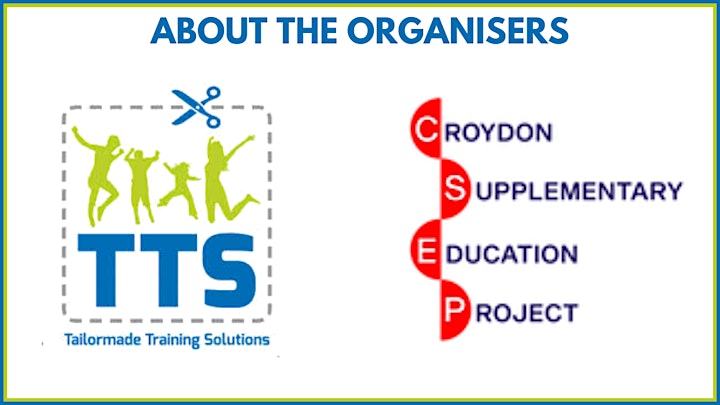 Tailormade Training Solutions, founded in 2009 by Susan Taylor has established itself as a leading Child Protection and Safeguaring Training and Consultancy with a wide range of clients including local authorities, schools, charities, fostering organisations, early years providers etc.
Croydon Supplementary Education Project is a leading educational hub providing help and support to BAME young people and all cultures and communities. We help with study skills, revision techniques, exam preparation, and help with school subjects and projects.