Aimed at newly appointed Designated Safeguarding Leads or those wishing to revisit the foundations of their role and responsibilities
About this event
DSL safeguarding training delivered by experienced safeguarding practitioners. These interactive sessions will be conducted online in small groups, allowing you the opportunity to ask questions, effectively learn at your own pace and adhere to DfE and KCSIE Guidance.
Course description
Aimed at newly appointed Safeguarding Leads or those wishing to re-visit the foundations of the role. We will equip you with practical everyday skills to confidently protect children, take appropriate action, and accurately record your responses to concerns. You will demonstrate an awareness of the emotional element of safeguarding and identify additional measures your own establishment can take to strengthen its safeguarding culture.
Key features
Interactive 'live' online sessions with a wide range of activities and tools for practical application
Comprises three modules (see timings below) leading to final assessment and certificate of achievement
Delivered by experienced and highly qualified safeguarding practitioners using real-life scenarios
Key benefits
Easy online access to high quality CPD accredited* courses that ensure compliance with the statutory DfE guidance and KCSIE**
Provides you with the skills and confidence to undertake all aspects of your role as a DSL
Enables you to develop and improve your safeguarding practice and keep children safe more effectively
Details
Course title: Safeguarding Children in England ; a practical approach
Duration: Module 1 - 1 hour 45 minutes, Module 2 - 2 hours, Module 3 - 1 hour 45 minutes
Available start dates:
28th September 2021 / 23rd November 2021
please contact us for other dates in the future
Suitable for: Currently suitable for Education Professionals in England
Cost: Group sessions £245 + VAT per person/ For individual or bespoke sessions please enquire safeguarding@myconcern.co.uk or 0330 660 0757 (select option 3 for Training)
PLEASE CHECK JUNK MAIL FOR CONFIRMATION EMAIL AND COURSE INFORMATION ONCE BOOKED
This course comprises of 3 modules, which takes place over a 3 week period the dates are:
Cohort #2
Module 1 - 28th September, 3:30pm - 5:15pm
Module 2 - 5th October, 3:30pm - 5:30pm
Module 3 - 12th October, 3:30pm - 5:15pm
If these dates do not meet your requirements and you are interested in a specially tailored or private group session please contact us on safeguarding@myconcern.co.uk and we can provide a quote.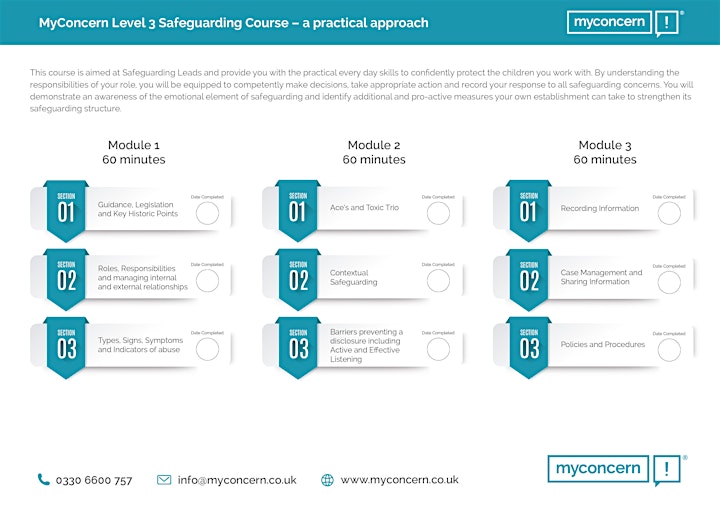 Further course details
Course aim
To gain the knowledge, skills, and practical approaches to report, manage and refer safeguarding concerns appropriately. To confidently and efficiently protect the children you work with.
Course objectives
MODULE ONE, 1 hour 45 minutes
1.) Identify key legislation and guidance underpinning safeguarding children in England
2.) Describe the role of the Safeguarding Lead
3.) Explain the categories, signs and indicators of abuse and neglect
MODULE TWO, 2 hours
1.) Define the impact of Adverse Childhood Experiences (ACEs) on behaviour and development
2.) Describe Contextual Safeguarding and other types of harm that may affect children
3.) Identify the barriers preventing a disclosure and factors that make children more vulnerable to neglect
4.) Demonstrate the skills required to effectively listen to, report and manage a disclosure
MODULE THREE, 1 hour 45 minutes
1.) Understand the importance of good recording and sharing information in relation to safeguarding concerns and allegations
2.) Demonstrate good working practices between your establishment and statutory agencies
3.) Explain your organisational safeguarding policies and identify any steps your own organisation can take to strengthen the safeguarding arrangements
Date and time
Location
Refund policy
Organiser of Safeguarding Children in England; a practical approach C#2