FREE Panel discussion on Safeguarding LGBT+ people in South Asian communities, and the 'conversion' practices they are exposed to.
About this event
Many LGBT+ people from South Asian Communities are encouraged, or even forced, to undergo so-called "conversion therapy" in an attempt to make themselves acceptable to their families, friends and local communities. This has devastating affects on their mental health and wellbeing, and can lead many to consider suicide.
The British government have pledged to ban so-called "conversion therapy", however it is yet to be seen whether it will include protections for those who are faced with threats of being sent abroad to undergo these degrading and harmful practices.
Chaired by Laks Mann, founder of Gaysians UK and hosted jointly by the Ozanne Foundation and Naz and Matt Foundation, the event will explain the various forms that these devastating practices can take, the impact that they have, and what needs to be done to ensure that LGBT people are protected from this abuse.
Speakers include Matt Mahmood-Ogston, Saima Razzaq, Dr Jagbir Jhutti-Johal, Jayne Ozanne and Laks Mann.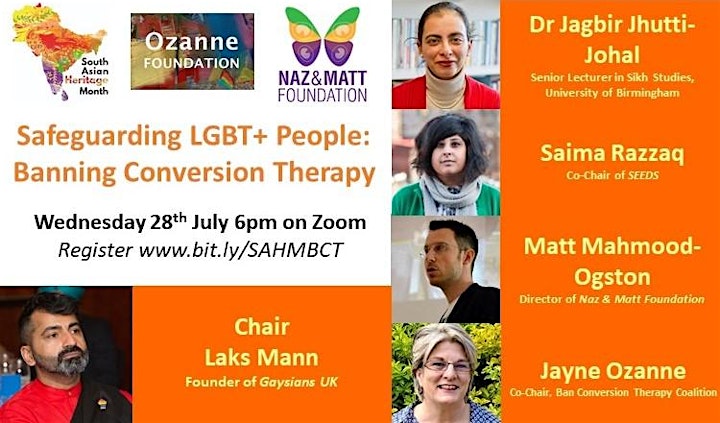 Organiser of Safeguarding the South Asian LGBT+ Community - Banning Conversion Therapy