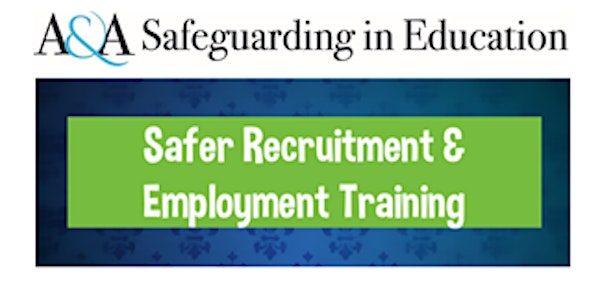 Safer Recruitment & Employment Training (Accredited) 16th & 17th June 2022
Refund policy
Refunds up to 30 days before event
Eventbrite's fee is nonrefundable.
Safer Recruitment & Employment training for school leaders,governors & trustees provided by accredited Safer Recruitment trainer Adrian Over
About this event
Background and Wider Context
In July 2018, the DfE published updated multi-agency statutory guidance Working Together to Safeguard Children. Statutory guidance for schools and FE colleges 'Keeping Children Safe in Education' (KCSiE) was updated in September 2020. Both guidance documents highlight the importance of safer recruitment in the safeguarding arrangements of all agencies that provide services for children and young people including schools and FE colleges.
Safer Recruitment training has been available for some years, both as an e-learning package and as a face to face course. Since 2013 the DfE-approved Safer Recruitment Consortium has been responsible for regularly reviewing and updating the training materials and creating a vehicle to ensure that good quality training continues to be available to schools, colleges and other services for children and young people.
The Safer Recruitment Consortium consists of NSPCC, the Lucy Faithful Foundation, the National Association of Special Schools (NASS) and Child Protection in Education (CAPE), a forum for professionals who support child protection and safeguarding activities across a range of education and similar settings.
Updated material takes account of new information about the behaviour of sex offenders; strategies to safeguard young people from abuse in schools, colleges, early years and other settings; and the detail of pre-employment checks including DBS checks as set out in Keeping Children Safe in Education. There is also greater emphasis on the overriding importance of developing and maintaining a culture of vigilance in schools such that it is arguably more appropriate to refer to safer recruitment as safer employment.
Based on an understanding of offender behaviour, the training enables delegates to:
• identify the key features of staff recruitment that help deter or prevent the appointment of unsuitable people
• consider policies and practices that minimise opportunities for abuse or ensure its prompt reporting
• help participants begin to review their own and their organisations' policies and practices in recruitment with a view to making them safer
PLEASE NOTE
• There is no designated timescale for refreshing this training. However, in view of the number of updates since 2014, it is recommended that governors and school leaders involved in recruitment consider refreshing at intervals of no more than three years.
• This is not a comprehensive workshop on staff recruitment and selection.
• Delegates are asked to note that it is a requirement of the Safer Recruitment Consortium to place safer recruitment and employment messages in the context of key safeguarding information. Although the course does address the process of recruitment and doing everything possible to ensure that only suitable adults are permitted to have contact with children, delegates need to be prepared for significant discussion about the wider safeguarding context.
The course will run from 9am until 4pm on Day 1 (registration 8.45 - 8.55 for a prompt start) and will include 2 refreshment breaks of 15 minutes each and a 45 minute lunch break - recognising that training online requires people to be able to walk away from the screen and refresh for significant periods in order not to feel overloaded.
Day 2 will run from 9am until 1.30pm with a 30 minute break in the middle -