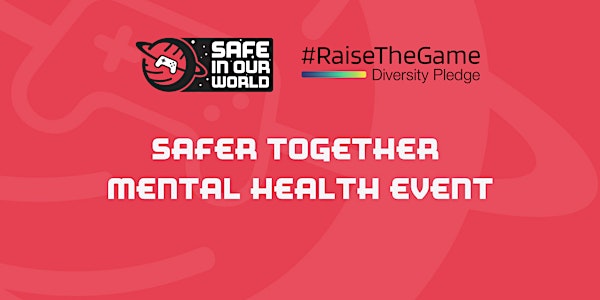 Safer Together Mental Health Event
Join us for an online event all about discussing mental health matters like Imposter Syndrome and the efforts being made to support people.
About this event
#RaiseTheGame is delighted to be partnering with Safe In Our World (SIOW) on this upcoming virtual event around mental health.
Our panellists will discuss the impact of Imposter Syndrome on people and the efforts being made to normalise the conversation around mental health within the games industry.
Our Panellists:
We are excited to bring together a panel of experts from various organisations, these include:
Dr. Amiad Fredman, Founder of Digital Doc Games and Clinical Board Member for SIOW.
Antonela Pounder, Director of Global Community at 505 Games and SIOW Ambassador.
Shahid Kamal Ahmad, Director of Crescent Code.
Suneet Sharma, Legal Executive at SEGA Europe, Leadership Team Member at Out Making Games and SIOW Ambassador.
The panel will be chaired by Gina Jackson OBE, Trustee for SIOW.
Upcoming Fundraiser:
SIOW will talk about their May Fundraiser Campaign that will be taking place from May 1st - 31st May 2021. Giving attendees more information on what the fundraiser is about, the reason behind it and how people can get involved!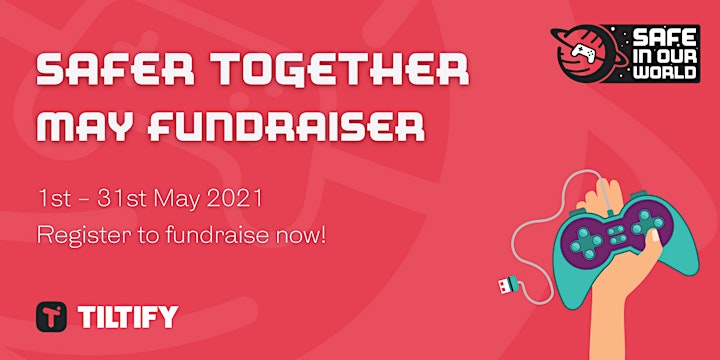 Evening Fun:
Though this event ends at 5:30pm, that doesn't mean the fun has to stop as SIOW will also be hosting their very first gaming community night at 8pm BST on the same day (Thu, 29 Apr 2021).
This activity will take place through their Safer Together Discord, where they will gather together people to play a range of different games with each other to have a fantastic time.
Technically you could think of this as the official networking session for this event 😁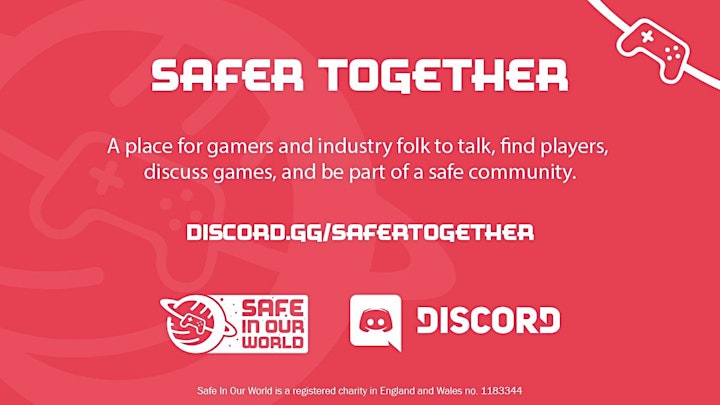 Event Info:
Event Commences 4:00pm BST | Introduction and May Fundraiser Campaign Talk: 4:05pm BST | Panel starts 4:15pm BST | Audience Q&A 5:10pm BST | Event ends at 5:30pm BST.
Tickets are free and attendance is open to all members of the games industry. We encourage you to share the event details with anyone who may be interested in attending.
The event will be password protected, registrations will be verified and access information will be circulated to registered attendees only. This is to safeguard all participants and to ensure all registered attendees have access to the event.
After the panel has concluded there will be a Q&A session. If you would like to submit questions prior to the panel this can be done between a week before the event using Slido via https://app.sli.do/event/babyps9v.
Attendees will also be able to submit questions on the day via Zoom. We will cover as many as possible.
If you have any questions about the event please contact Dom (dom@ukie.org.uk) and Rosie (rosie@safeinourworld.com).
*Please note the event may be recorded.
More about Safe In Our World
The main goal of Safe In Our World is to create and foster worldwide mental health awareness within the video game industry and beyond; to eliminate the stigma surrounding mental health, to make it a natural topic of discussion, and to promote the dialogue surrounding mental health so people are not afraid to reach out for help if they need it.
More about #RaiseTheGame
The #RaiseTheGame pledge is a holistic driven initiative managed and facilitated by Ukie aimed at helping the overall UK games industry grow and improve in all areas of equality, diversity and inclusivity. From guidance and practical advice to engagement activities like events both online and in-person, the pledge is a call to action to rally the sector together and become lead examples of inclusion to other industries.
Though the pledge is managed by Ukie, any games industry company can applied to sign-up and be involved in activities surrounding the pledge, all that is asked is a strong commitment to make a positive impact, the time to listen and consider along with the effort to implement such change. Even if you're at the start of your journey or think your company too small to make a difference - all companies no matter their size or where they are in their equality, diversity & inclusion journey are welcome.