Description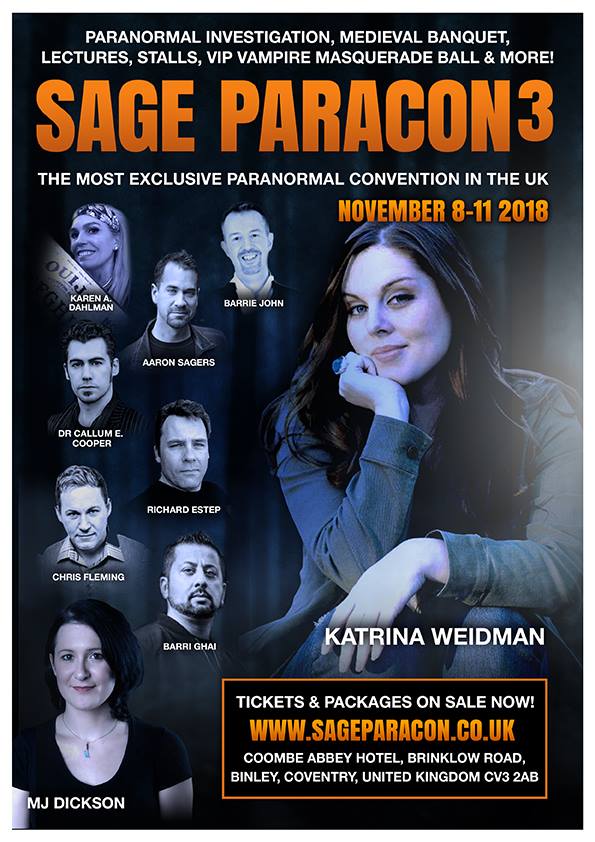 So what exactly is the Sage Paracon? It is a weekend event of all things paranormal from lectures to paranormal panel discussions, a VIP party and loads more, The Sage Paracon brings you speakers from all around the globe and gives you the opportunity to meet and hangout with well known people in the paranormal field - including those from your favourite paranormal TV shows such as 'Paranormal Lockdown', 'HELP! My House Is Haunted', 'Paranormal Investigators' , 'Haunted Case Files' , 'Dead Famous' and 'Most Haunted'.
Our speakers include Katrina Weidman from the hit television series 'Paranormal Lockdown' wich currenlty airs on Quest Red every Thursday night, Chris Fleming and Barri Ghai from the television series 'HELP! My House Is Haunted' - currently airing on Really TV every Friday night and many more!
It is the perfect weekend for those who are interested in all things strange to learn something new from the lectures, take part in the panel discussion, interact with like-minded people and meet new friends. The event is small and intimate therefore you are not competing with hundreds of attendees for a moment to chat with the speakers. You get loads of time to spark up a conversation or even sing a karaoke song with them at the Vampire Masquerade Ball.
There are stalls, a green-screen professional photo booth, SFX make-up artists to get you ready for the Vampire Masquerade Ball on Saturday night, A Mediumship Demo by Barrie John, live music and much more. We encourage members of paranormal teams to join us, network and promote your team!
The weekend is open to all - whether you have an interest in all things paranormal or you are an experienced investigator. Come along and see what it is all about, we know you will enjoy the weekend. With no other events in the UK quite like this, we are bringing a different approach to the paranormal field.
If you love ghost stories, ghost hunting tv shows, halloween and all things weird then this is the PERFECT weekend for you!
Any questions - please email mj@sageparacon.co.uk
Happy Hauntings!
MJ Dickson
www.sageparacon.co.uk