Description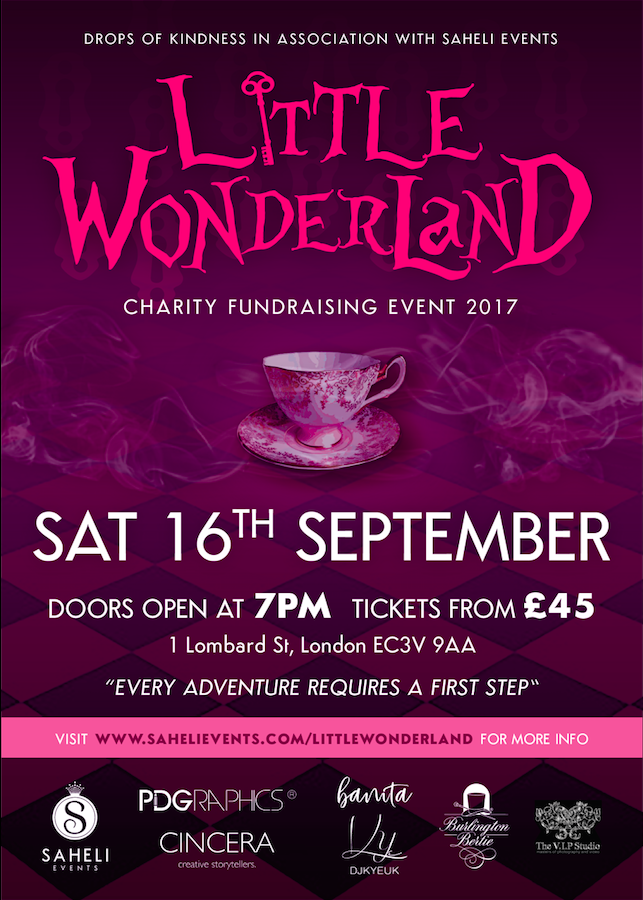 "EVERY ADVENTURE REQUIRES A FIRST STEP" - Cheshire Cat
Tumble down the rabbit hole into the magical world of Alice and her friends, as you enter our Little Wonderland. Saheli Events and Drops of Kindness have teamed up to create an event that is anything but ordinary.
Join us as we enter the delerious world of Alice at 1 Lombard Street. Ticket prices include:
Sparkling welcome drink
One complimentary drink of your choice
Canapes
Desserts
Music
Entertainment
Dress Code: Be Sure To Impress The Queen Of Hearts!
The Mad Hatter, Cheshire Cat & Alice are all attending... are you?
---
A Special Thank You To Our Sponsors:
Design & Graphics: PDGraphics (www.pdgraphics.co.uk)
Official Photographers: The VIP Studio (www.thevipstudio.co.uk)
Videographers & Promotional Video Team: Cincera (https://www.cincera.co.uk)

Official DJ: DJ Kye (https://www.facebook.com/djkyeuk/)
PR: Banita
Pick 'n' Mix Sponsor: Burlington Bestie
---
The Charity:
Drops of Kindness has teamed up with Saheli Events to raise funds for two very special causes.
Drops of Kindness (DoK):
Drops of Kindness runs a mobile clinic in the rural parts of India to provide medical aid to those who not only cannot afford it, but do not live near any healthcare organistions such as hospitals. Echoing Ghandi's words that health is the real wealth, DoK has made it their mission to bring those medical supplies and services to some of the most remote areas of India.
Alleviating the pain, suffering and distress of those less fortunate

Offering medical advice and prescibing medication entirely free of charge

Treating over 200 patients a week
Charity Number: 1150109
Little Lamps:

Little Lamps Nursery is a new nursery coming to North West London. A nursery with a difference. A value based nursery. Between the ages of 0-4, kids are more receptive to learning new things. Planting the seeds of good values and morals ensures that these children grow up with a strong moral compass and build their characters as good people. Through play and learn, the nursery kids will learn values such as:
Compassion

Trust

Sharing

Love

Peace

Courage

Empathy

Teamwork
Little Lamps is a not-for-profit nursery run under the Sadhu Vaswani Centre UK umbrella. Charity Number: 1052439
---
Don't hesitate, nor be late, for this is a very important date.
Saheli Events - Planning the moments that matter