Sailing on the Edge: The Science Behind the Sport
About this event
Registration for this event is now closed. Please click here to watch the live stream.
We will also be streaming the event with live subtitles, please click here to watch that stream.
Join us for our latest 'In Conversation' event - Sailing on the Edge: The Science Behind the Sport.
Featuring an all alumni line-up: Professional Sailor Emily Nagel will join us fresh from competing in the 2021 Ocean Race Europe, alongside former Simulator Lead at INEOS TEAM UK James Roche, and Dr Joseph Banks Lecturer in Ship Science at the University of Southampton. We are delighted this hour-long virtual event will be hosted by fellow alumnus and Sports Broadcaster John Inverdale.
Emily, James and Joseph will provide a fascinating insight into how engineering and science underpin innovation and success in world class sailing, and Southampton's impact on high-performance sport.
The event will include an audience Q&A session where you will have the opportunity to ask your own questions.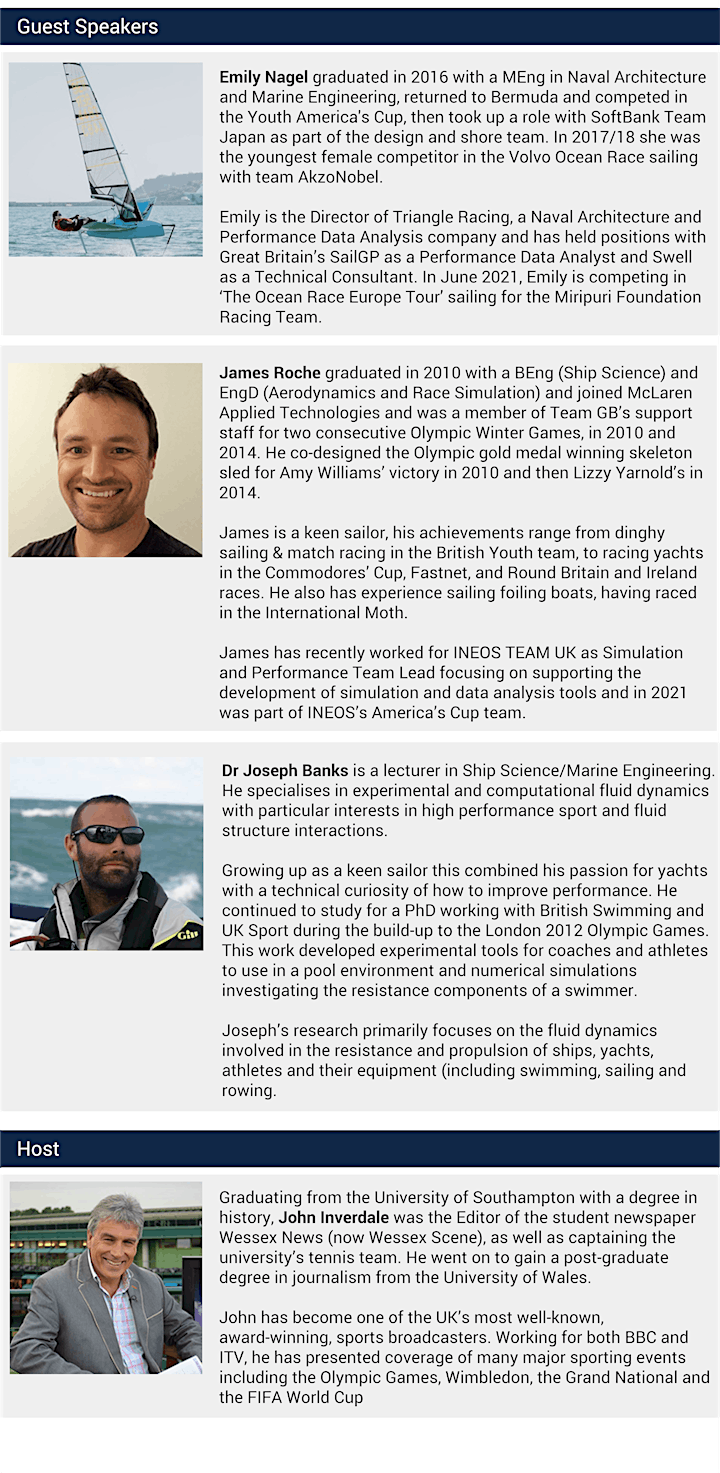 Thank you for providing your data to the University of Southampton's Development and Alumni Relations Team. We are committed to protecting your data and privacy. We collect, store and use your data to develop engaging events, services and activities, that enrich your current or future experiences with us. You can read more about what we do with your data in our privacy notice.
By providing us with your email address, we will use it to contact you in regards to this event and events of a similar subject. If you would like to receive communication for future similar events, please tick the correct box on the registration form. If you are already a subscriber to one or more of our emails, this will remain unchanged.
Organiser of Sailing on the Edge: The Science Behind the Sport