Sales Have Ended
Ticket sales have ended
Tickets are no longer on sale. For enquiries, please contact us at contact@hyperjapan.co.uk.
Sales Have Ended
Ticket sales have ended
Tickets are no longer on sale. For enquiries, please contact us at contact@hyperjapan.co.uk.
HYPER JAPAN's popular sake tasting event, SAKE EXPERIENCE, is now available online for the first time!
About this event

What is included in a tasting box?
Each tasting box includes a single bottle of each of the following sake: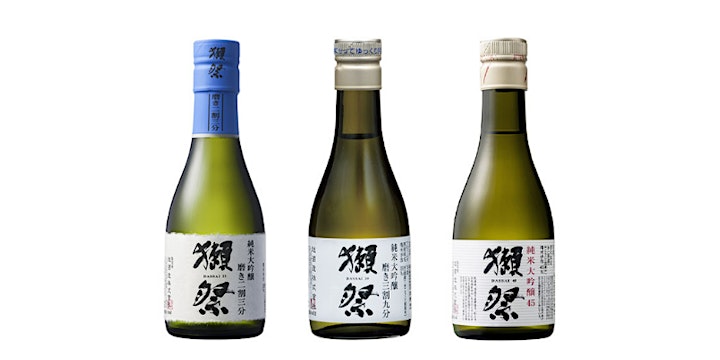 Dassai 23 Junmai Daiginjo, 180ml
Made from yamadanishiki rice polished to 23%, this sake is the signature product that has made Dassai's name known worldwide. Delivering delicate floral aromas with a palate reminiscent of honey and an elegant lasting finish. Part of the proceeds from the sale of this sake will be donated to medical professionals fighting COVID-19.
Dassai 39 Junmai Daiginjo, 180ml
39 refers to the high degree of rice polishing. Showing a luscious and juicy character with a nectar-like sweetness on the palate, followed by a long bright finale.
Dassai 45 Junmai Daiginjo, 180ml
Delivering tropical fruit aromatics and delicate sweetness recalling honeydew melon, tempered by mild acidity. Clean, soft, and beautifully balanced in both aroma and taste.
Who is Dassai, Asahi Shuzo?

Asahi Shuzo has a defining commitment to producing only premium junmai daiginjo sake using a careful combination of tradition and cutting-edge technology. Since releasing Dassai in 1990, the company has used an experience-led approach to select the best from both old and new. Asahi Shuzo aims to create the highest quality sake as a means to enhance and celebrate life, rather than mass-produced sake for getting drunk. As a quality conscious brewery, Asahi Shuzo focuses on sharing its values and products globally to enable people around the world to discover and enjoy delicious sake.
When will I receive my tasting box?
We will dispatch your tasting box about a week before the online session.
When will the online session be held?
2-3pm, Saturday 17th July 2021
What can I expect from the online session?
The session will take you through the basics of sake, introduce the sake included in your box, then take you on a virtual tour of the brewery that made it. Best of all, you'll get to share your sake drinking time with other sake lovers!
How do I join the online session?
When you buy a tasting box, we'll ask for your email address. We will then send you a link to the Zoom session a few days in advance.
Special notes
**You must be 18 years of age or over to join this event.
**We only ship tasting boxes within the UK.
**Please read our terms and conditions before you purchase. 
https://hyperjapan.co.uk/terms-and-conditions-for-cross-media-limited-event-attendees-participants/
**If you don't receive any information one day before the session, please contact us at contact@hyperjapan.co.uk
About the HYPER JAPAN Online 2021