Sales Have Ended
Ticket sales have ended
Tickets are no longer on sale. For enquiries, please contact us at contact@hyperjapan.co.uk.
Sales Have Ended
Ticket sales have ended
Tickets are no longer on sale. For enquiries, please contact us at contact@hyperjapan.co.uk.
HYPER JAPAN's popular sake tasting event, SAKE EXPERIENCE, is now available online for the first time!
About this event

What is included in a tasting box?
Each tasting box includes a single bottle of each of the following sake: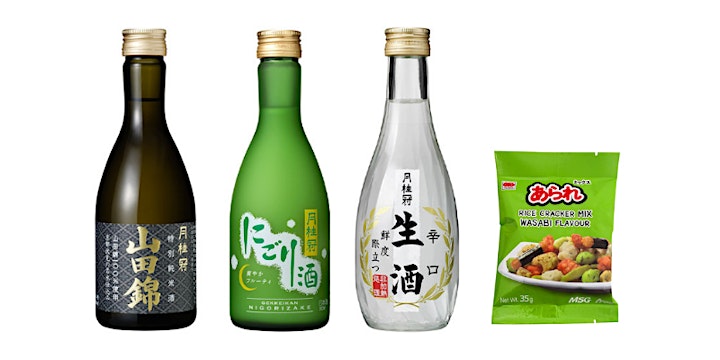 Gekkeikan Yamada Nishiki Tokubetsu Junmai, 300 ml
"Tokubetsu" means "special", and this premium tokubetsu junmai sake has been made using 100% yamadanishiki rice, used in sake for the rich flavours and aromas it imparts. This tokubetsu junmai has a delicate floral aroma, a well-rounded palate and a refreshing aftertaste. Light and versatile, it is perfectly suited to be enjoyed with meals, either chilled room temperature or warm.
Gekkeikan Namazake, 280 ml
Namazake is completely unpasteurised sake—the fresh, lively flavour can usually only be enjoyed at the brewery. Gekkeikan's Namazake uses ultra-microfiltration to remove the elements that would normally spoil unpasteurised sake, while still retaining the great taste. Yeast-derived banana aromas and fruity flavours are prominent, with a light, clean, refreshing palate. Best served well-chilled.
Gekkeikan Nigori, 300 ml
A long-time popular product from Gekkeikan, this nigori sake has a delicious balance of sweetness and acidity. Lower in ABV than other sake, it is full-bodied, sweet, and easy-drinking, as an aperitif or even served with dessert. Best served chilled, either straight or on the rocks, or even added to cocktails for a visual and textural highlight.
Thai-Nichi Arare Rice Cracker Mix, 35 g
Who is Gekkeikan Sake Company?

Established in 1637 in Fushimi, Kyoto, Gekkeikan is one of the world's oldest producers of fine quality sake, and remains a family-run company after 14 generations of sake brewing. With innovation held in the highest regard, Gekkeikan's many ground-breaking techniques have led the sake industry for over a century.
When will I receive my tasting box?
We will dispatch your tasting box about a week before the online session.
When will the online session be held?
8-9pm, Friday 9th July 2021
What can I expect from the online session?
The session will take you through the basics of sake, introduce the sake included in your box, then take you on a virtual tour of the brewery that made it. Best of all, you'll get to share your sake drinking time with other sake lovers!
How do I join the online session?
When you buy a tasting box, we'll ask for your email address. We will then send you a link to the Zoom session a few days in advance.
Special notes
**You must be 18 years of age or over to join this event.
**We only ship tasting boxes within the UK.
**Please read our terms and conditions before you purchase. 
https://hyperjapan.co.uk/terms-and-conditions-for-cross-media-limited-event-attendees-participants/
**If you don't receive any information one day before the session, please contact us at contact@hyperjapan.co.uk
About the HYPER JAPAN Online 2021