Description
Sales Confidence is unveiling the first London based world-class programme to accelerate SaaS business growth and build sales excellence.
The mission is to transfer sales innovation techniques from FTSE 100 organisations and global technology leaders to all SaaS led businesses.
Our Accelerator Programme has been created with the support of our clients and collaborators.



The Programme
Our programme allows participants to learn and apply the knowledge directly to their businesses, with exercises to help companies implement starting with Day 1.
Our unique framework, Discover – Connect – Grow, has been specifically designed for SaaS companies, and will be delivered through in-class training and in a peer-to-peer forum.
It will be held over 4 weeks and 8 workshops, Tuesdays and Thursdays evenings, perfectly organised to prevent business disruptions.

Our experts will be providing free Coaching Sessions for every participant to develop bespoke solutions.

Meet the Experts
Kelsey Joyce
Director of Sales, Mattrixx Software
Kelsey has 15+ years of experience building global teams for top technology companies including Huddle, Ariecent, and most recently Mattrixx Software.
Kelsey will lead the L2P workshops on Growing SaaS Sales teams and Performance for SaaS.

Patrick Traynor
CRO at
The Dots
Patrick has a track record of scaling companies to late VC stages. He was at LinkedIn for 7 years. He joined as their first salesperson outside the US, pioneering SaaS sales across EMEA and managing teams in the UK, Ireland and Germany.
Patrick will lead on Planning & Forecasting Toolkit workshop.
Neil Ryland
CRO at PeakOn
Neil has an impressive record of developing successful sales and renewal strategies, hiring, developing and supporting inside and field-based sales teams, working closely with marketing and exec teams to build high growth numbers.
Neil will lead on Pricing for SaaS workshop.
Ben Wright
CEO at BW Consulting

Ben has an impressive 20+ years' experience in B2B sales and marketing working for high growth start-ups, top-tier VCs, as well as category-leading multi-nationals across the UK, Europe and Silicon Valley.
Ben will lead on the Go-To-Market and SaaS Sales Cycles workshops, helping companies understand the overall framework applied.
Martin Tucker
CEO of Gener8

Martin has over 20+ years experience, currently runs Gener8 Business Limited, as sales performance consultancy.
After a number of years selling technology and software, he then ran a sales academy, developing graduates from scratch to become market-leading salespeople.
Martin will introduce participants to the techniques of Lead Generation.
James Ski
CEO of Sales Confidence
James was responsible for enterprise relationships at LinkedIn, working closely with executives at FTSE 100 and 250 companies, consulting and advising them on how to attract, hire and retain people.
James is a SaaS sales expert with a proven track record, ranking Number One in the world, 2016 and 2017, at LinkedIn on its Social Selling Index with a score of 97/100.
James will lead the Closing Sales Techniques workshop.
Flavia Richardson
Advisor of Sales Confidence

Flavia is the Portfolio Manager for London Co-Investment Fund, working closely with over 100 portfolio companies in addressing critical business areas and monitoring performance.
Flavia worked in Private Equity where, she set-up of an investment subsidiary and advised on the fund's first tech investments in the UK.
Flavia provided the research capability and insight into the creation of the accelerator programme.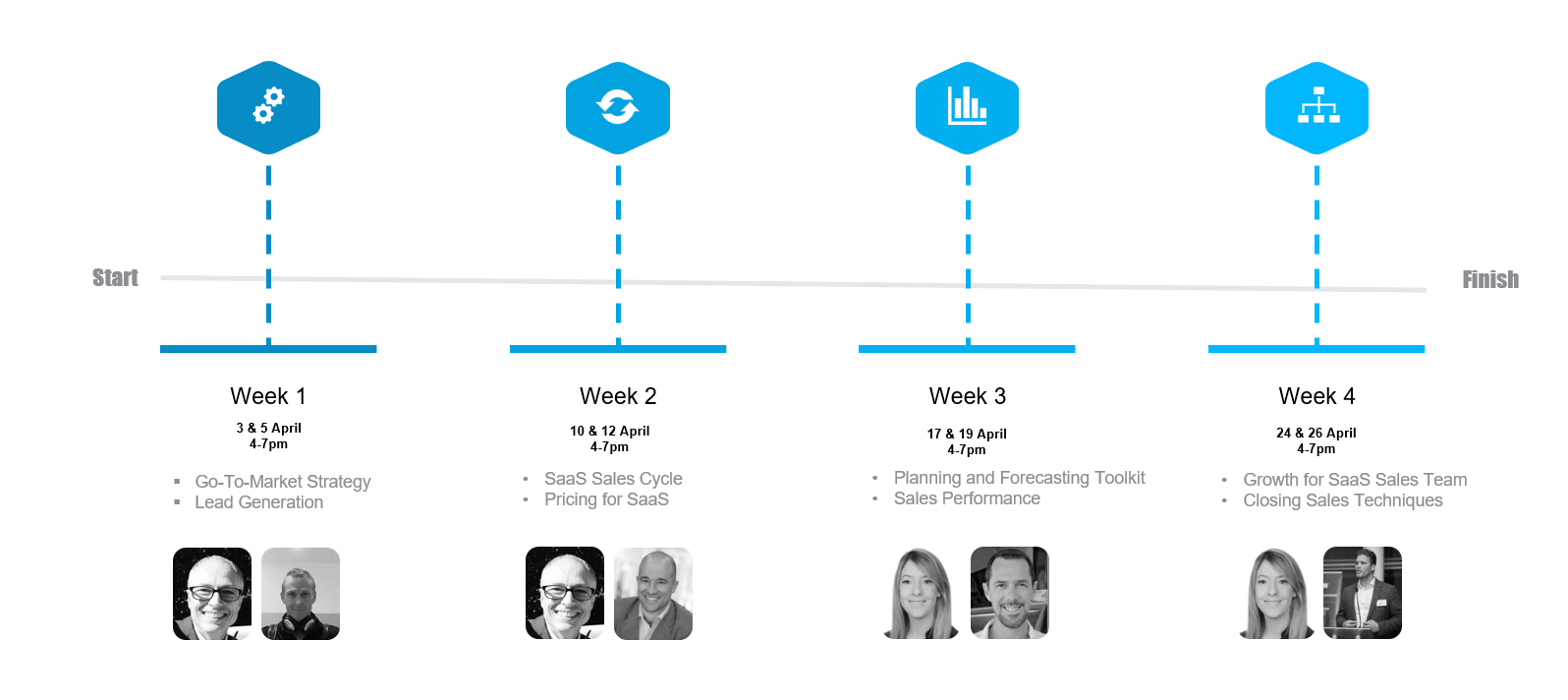 The Programme Key Activities

The programme will explore every core part of the sales process, from Go-To-Market Strategy to Pricing for SaaS to Planning & Forecasting, providing the participants with best in class practices and real examples, furthering the inwards implementation.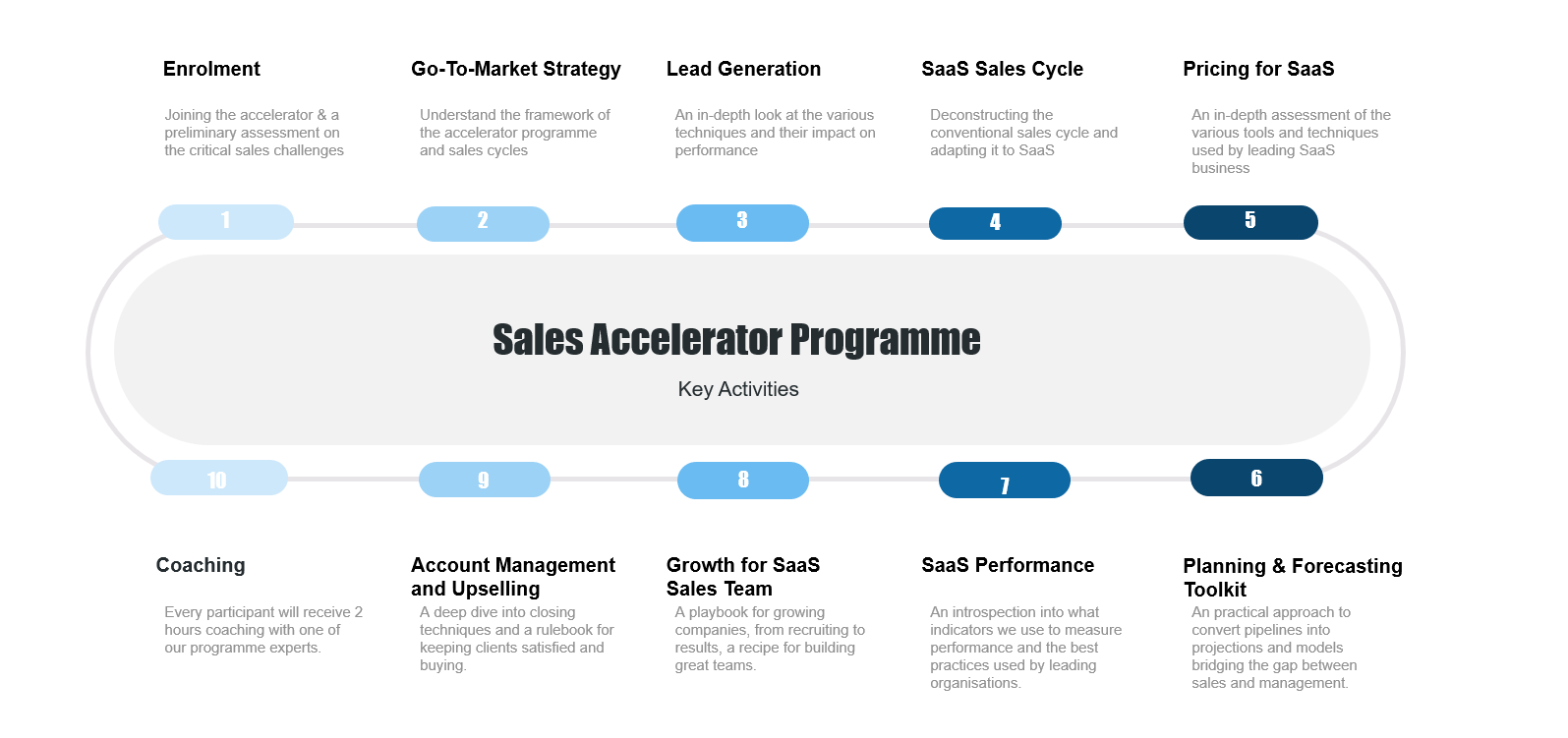 Further information
As this is our first programme we have greatly reduced the cost to participate. Many Investors, experienced founders and Sales Leaders believe that what we are charging should be at least 5x more than is advertised.
If for any reason you are not satisfied - we will get you 100% of your money back.
Sales Confidence is a fast-growing network for the UK's SaaS sales leaders and those who want to learn from them. We're championing the importance of SaaS sales, giving a voice to this community which is so vital to the growth of digital businesses and the UK economy. We're inviting sales professionals to help us accelerate this movement - to help the future generation of sales leaders and ensure London and the UK continue to compete with the best in Silicon Valley.
Join the movement at www.salesconfidence.co
For more information, please contact James.Ski@salesconfidence.co.