Sales Velocity & Effective Communications TL1 Course
Description
Communicate better, negotiate more effectively and close sales faster
You now have the opportunity to register for our widely aclaimed Sales Velocity & Effective Communications TL1 Course.
This is a value-packed and very interactive 5 hour course - we will give you a lot of unique content to help you grow your businesses. There will also be opportunity to network with other delegates.
Lunch and refreshments are included at no extra charge!
In this course you will:
• Learn how to connect faster and more easily with your prospects.
• Learn how to create larger deals.
• Discover how converting more qualified leads can be easy and simple.
• Unlock the secrets to closing sales faster.
• Learn how to increase your sales, influence, and communication ability by using the BANK® Personality Profiling System.
• Experience and compare why the connection between the Sales Velocity Equation and the BANK® system is a critical element in your success.
• Find out how to "Crack the Personality Code and take it to the BANK®!"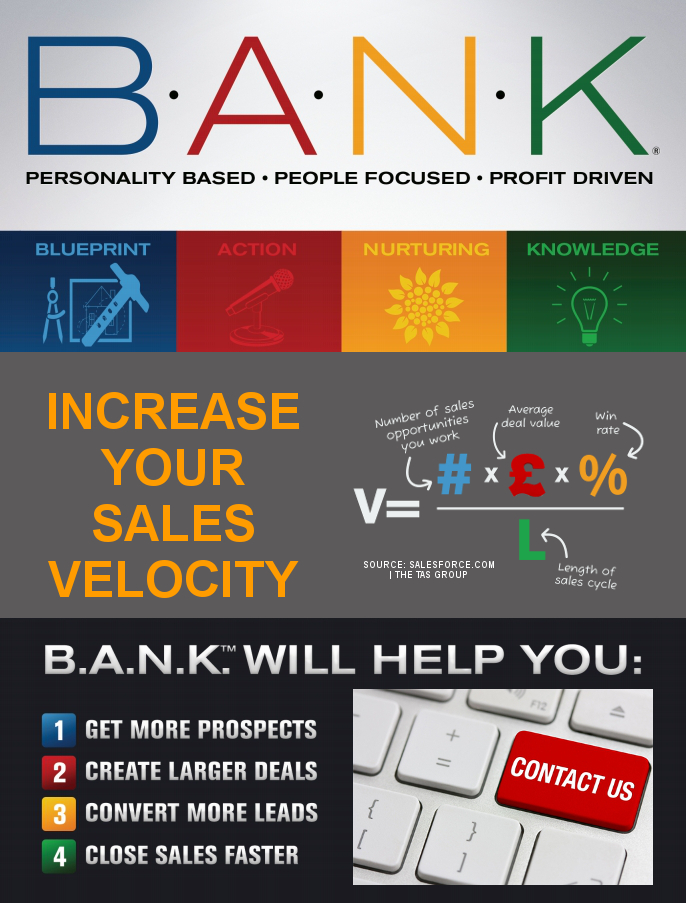 ---
Superb Added Value
All paid ticket-holders also receive:
Lunch and refreshments



1 week unlimited email support

Special one-off additional discount: cost of TL1 deductible from cost of one advanced training or boot camp.



---
Every business has two things in common: people and sales. Regardless of country, culture or language, every person in the world has a Personality Code, or what we like to call their B.A.N.K.™ Code. By understanding and applying the BANK™ methodology into your everyday communication, you are able to connect faster and easier with every single person you come into contact with, personally and professionally.

"Let your prospect determine your presentation"
~~ Anthony Robbins: Internationally acclaimed motivational speaker | Master coach | Best-selling author

More information on our website: http://SalesVelocity.Training

You will experience first-hand that by using the B.A.N.K.™ methodology you will rapidly build stronger and longer-lasting relationships, thereby creating incredible customer loyalty and value in your business. B.A.N.K.™ will teach you how to communicate effectively with all four personality types, allowing you to easily connect with anyone – opening up unlimited opportunities for you personally and professionally.

Get the results you want and deserve this year. In order to get a different result you will need to do things differently.

"B.A.N.K.™ is a game changer for every entrepreneur and sales professional! This system will strengthen your confidence, expand your selling skills and dramatically increase your income."
~~ Les Brown: World renowned motivational speaker | Award-winning coach | Best-selling author.

B.A.N.K.™ WILL TEACH YOU HOW TO
INCREASE YOUR SALES UP TO 300%

CONNECT FASTER AND EASIER WITH YOUR PROSPECTS

DELIVER POWERFUL PRESENTATIONS USING THE RIGHT SCRIPTS

ACCELERATE CUSTOMER ACQUISITION AND INCREASE RETENTION

DEVELOP A HIGHLY TRAINED SALES FORCE WITH A COMPETITIVE ADVANTAGE

CRACK THE PERSONALITY CODE AND TAKE IT TO THE BANK®


B.A.N.K.™ IS PERFECT FOR

Entrepreneurs

Sales Professionals

Business Owners

Financial Services

Real Estate / Property


Professional Services

Online Marketing

Direct Sales / Network Marketing

Project / Programme Managers

Personal Relationships

Speakers / Coaches

Marriage Counselors

Human Resource Directors

Education / Corporate Training

Non-Profits / Charities


Corporate Sales / Employees

Leadership / Executives

Anyone with Children