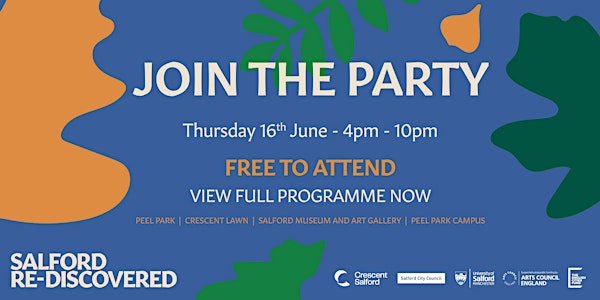 Salford Rediscovered: Join the Party!
Location
Salford Crescent
The Crescent
Salford
M5 4BR
United Kingdom
Salford Rediscovered is a celebration sprawling across the Crescent, showcasing Rediscovering Salford's artists, stories & green spaces.
About this event
Rediscovering Salford is a city-wide programme of events which highlight and celebrate Salford's green spaces. – inspired by the launch of RHS Bridgewater gardens in May 2021. Over 2020-2022, Rediscovering Salford animated the city with new commissions, exhibitions, workshops and events. As the project comes to a close, we want to gather to share and celebrate the project with a bang across Salford Museum and Art Gallery, the University of Salford campus and Peel Park.
Salford Rediscovered will include music, films, tours, performances and a joy-filled celebration of the Rediscovering Salford exhibition and commissions, including a one-time-only appearance of Madam Mort, as created by drag artist Cheddar Gorgeous. With mouth-watering street food from GRUB, this is party for anyone and everyone in Salford to enjoy. Families can enjoy workshops and fun-for-all performances from 4:00-6:30 across The Crescent with receptions, live music and a growing 'party vibe' from 7:00 onwards.
Salford Rediscovered is led by the Salford Culture and Place Partnership, the University of Salford, Solid Ground, Salford City Council, Salford Museum and Art Gallery, and RHS Garden Bridgewater. Rediscovering Salford has created fantastic engagement and original commissions with Islington Mill, Paradise Works, START Creative, The Lowry and Walk the Plank. This programme is generously supported using public funding by the National Lottery through Arts Council England, as well as contributions from all the project partners.
Salford Rediscovered - FULL PROGRAMME PUBLISHED
GRUB MCR Street Food Festival: Tuck into a selection of delicious local street food and drink to complement the live music playing throughout the evening. 4:00-10:00pm
Coalesce Dance Theatre - The Old Green Time Machine family-friendly performance: In a future where all that's left is plastic, two quirky and intrepid adventurers find themselves on an urgent mission. It's a shame their carbon-friendly time machine bicycle has seen better days! Combining dance, music, poetry and fun, this interactive show from Coalesce Dance is especially suitable for families, especially with children aged 3-8. 5:30 & 7:00pm performances
Community Growing Space Soft Launch with Marta Strzelecka (University of Salford) and Mark Frith (Growing Togetherness): Join the 'soft launch' of a new Community Growing Space on Peel Park campus – come and plant some seeds! 4:15-6:15pm
Creative Workshop with Lizzie King : Take a moment to rest on the Peel Park benches, and share your memories on You Belong Here artist Lizzie King's 'Peel Park postcards'. 6:00-6:45 pm
Creative Workshop with Lowri Evans – what do you want to bloom? In autumn, Lowri sat under trees in Salford as passers-by stopped and wrote what they wanted to let go of on a fallen leaf. It's summer now. And as the exhibition draws to a close, you are invited to breeze in, look forward and write what you want to bloom. 5:00-7:00pm
Heritage Photo Trail: Take a glimpse into the past on the Heritage Trail through the University Campus and Peel Park. A series of QR codes reveal surprising images from the University of Salford Archives and Salford Local History Library collections, showing just how much our surroundings have changed over the years.
Degree Show Exhibition Reception and Guided Tours: Join a guided tour of the 2022 Degree Show, including imation, Digital Design & Fashion. 7:00-8:30pm with tours at 7:30 & 8:00pm
DIY Theatre - Looking Back: Facing Forward: This original piece of promenade theatre incorporates live music, props, puppets, music and installations. Join DIY actors on a journey round Peel Park and take time with us to Look Back on Salford's History and Look Forward to our Futures. 6:30pm performance
Green Spaces Stories with Walk the Plank: Led by Walk the Plank and commissioned by UNBOXED festival, Green Space Dark Skies is involving thousands of people from all walks of life will become Lumenators, each carrying a light into the landscape at various outdoor venues across the UK. A critical part of Green Space Dark Skies is a citizen science project called Green Space Stories, collecting thousands of stories about people's memorable experiences in the landscape. These stories will be gathered in an online archive that anyone will be able to access to understand our connection to the landscape.
Live music in the Crescent Marquee and New Adelphi Atrium: Enjoy live music and DJ sets f in the marquee and the New Adephi Atrium, featuring some of Salford's fantastic music talent including DJ P-Ro Jones, Honey Bee Jazz, Katie Cheung and Lissy Nicholson.
Ignition Creative Workshop with Gwen Riley-Jones: Creatively explore plant-based solutions to climate change by making photographs with spinach. Come along and make your own anthotype using spinach, plants, flowers or images from University of Salford Art Collection. With artist Gwen Riley-Jones, Socially Engaged Photographer in Residence with the University of Salford Art Collection. In partnership with RHS Garden Bridgewater, Ignition and LOOK Festival / Open Eye Gallery. 4:00-5:30 pm& 6:30-7:30 pm
Jack Brown and Carole O'Reilly - artist and historian talk & tour: Cancelled
Local History Library & Salford Digital Archives open evening: Curious about archives and local history? Meet Salford Local History Librarian Duncan McCormick and University of Salford Archivist Alex Mitchell to find out more about their collections and the history of Peel Park, Salford Museums & Art Gallery, and the University campus. 4:00-6:00pm
Multi-media installations and performances at the New Adelphi: Supported by multi-media artist and choreographer Lucie Sykes, enjoy a series of immersive performances and installations created by the University of Salford's Multi-Media Performance students. From picnics to park benches, enjoy this playful and evocative work exploring Rediscovering Salford's central themes. 7:00-8:30pm
National Literary Trust Book bench activities and Salford Libraries Storytime: Join Storytime Sue for stories, fun and laughter at one of the National Literacy Trust's fabulous #SalfordBookBenches. Find out more and explore the Salford Literacy Trail this summer! Open to all and most suitable for under 8s; 4:00-6:30pm; story times at 4:15 & 5:00pm
Open [3] exhibition preview at Salford Museum & Art Gallery: Take the opportunity to get a first look at the Open [3], which will open to the public on Sat 18 June. The Open exhibition brings together artwork from artists of any age who live, work, study or were born in Salford.
Our Park- a place of love, life and possibilities: Join residents, staff and students from Salford Loaves and Fishes and the University of Salford to explore their graphic novel, created with Ziggy's Wish, and journeys of discovery about Peel Park and themselves. Developed with support from the Salford Advantage Fund and ESRC Festival of Social Science. 4:00-7:00pm
RHS Bridgewater – VR design with University of Salford Think Tank : This virtual reality experience, made prior to construction of the gardens, showed the public just what the new gardens will look like when not only constructed, but also when a significant enough time for growing has passed. Explore the vision in virtual reality in the New Adelphi atrium.
START Creative willow weaving demonstration: Join START Creative's community leaders for a hands-on demonstration of woodwork and willow weaving, joining us from their new base at the RHS Garden Bridgewater. Come along and have a go! 4:00-6:45pm
The Dispensary and Take Action Together CIC: Meet the team from Salford's zero waste shop The Dispensary, and their partner project Take Action Together which promotes green wellbeing. Find out more about their work and learn some climate friendly zero waste tips! 4.30- 7.00pm
Theirs, Yours, Ours: Exhibition and 'Meet the Curators' session at New Adelphi Gallery: Exhibition 'Theirs, Yours, Ours' includes work by four University of Salford alumni artists, who all consider queer and non-binary approaches to identity. Pop in to the gallery throughout the event or join an informal 'meet the curators' at 8:00pm.
Tour of Energy House Lab and Energy House 2.0: Tour of Energy House Lab and Energy House 2.0: Meet outside Cockcroft Building for a tour of both the original and the new research and testing facilities exploring low carbon solutions for housing. Presented as part of the LOOK Festival; Max 15 people – first come basis. 4:30pm
The Storm Cone - artist and curator tours: Join artist Laura Daly and Curator Lindsay Taylor for a guided tour of The Storm Cone digital artwork in Peel Park. 5:00 & 6:00pm
You Belong Here exhibition - Curator Tours at Salford Museum & Art Gallery: Join exhibition curator Claire Corrin for a tour of You Belong Here. Shown alongside archive material, photographs and historical artworks, the exhibition showcases work commissioned as part of Rediscovering Salford by Salford-based artists Jack Brown, Cheddar Gorgeous, Hilary Jack and Lizzie King. 4:30 & 6:30pm
Rediscovering Salford Final Party: With DJ P-Ro Jones keeping the music soulful, Salford Rediscovered ends the evening with a knees-up in the Crescent Lawn marquee. Keep an eye out for special guests! 8:30-10:00pm