About this Event
Girls on Hills Ltd is the exclusive and recommended recce provider for Skyline Scotland (www.skylinescotland.com)
We are delighted to offer this official guided recce weekend for the Salomon Glen Coe Skyline®
The weekend is open to both men and women, and will be led by a professionally qualified guide who also has first-hand experience of the event. You can therefore be assured of a safe, high quality experience with someone who is extremely knowledgeable about the event and the route. Our guided recce weekend for Salomon Glen Coe Skyline® will be led by an MIA qualified guide (minimum) with a maximum group ratio of 1:5
This recce is not a race, and the intention is to travel at a comfortable speed for the group with time for chatting with each other and the guide. Your expectation should be brisk uphill walking, jogging on the flats and downhill running. You'll need to come prepared for a big day in the hills with your own clothing, equipment and food.
You should have a vetted Glen Coe Skyline® 2019 race entry to participate in this event, and are therefore understood to have the appropriate level of experience and fitness for this weekend.
Recces of the Salomon Glen Coe Skyline® are split over two days. On the Saturday, the group meet at 07:30 at CP1 in Glen Coe and set off at 08:00 (parking is available here). This mirrors the slower schedule of runners on the course from previous years. This means that whilst getting to know the race route, you also get first-hand experience of how you are moving relative to the cut-off. The Saturday recce takes in Curved Ridge and all the summits on the south side of the iconic Glen Coe, before finishing at Loch Achtriochtan (CP9) in the late afternoon. It is a very challenging and memorable day in the mountains yet is only half the race route! We provide return transport to CP1 at the end of the day so that you are quickly returned to your vehicle.
The Sunday recce starts by meeting at Loch Achtriochtan (CP9) at 09:00 and setting off at 09:30 (parking is available here). On the second day, the recce includes the famous Aonach Eagach, before following the race route across all the summits on the northern side of Glen Coe and joining the excellent trail running on the West Highland Way descending into Kinlochleven, and a welcome break in the Ice Factor café! We provide return transport to CP9 to meet your vehicle.
For the full route visit www.skylinescotland.com/glen-coe-skyline/information/#displayTheRoute
Please note:
For convenience, the guided recce does not include the first few kilometres of the outward leg soon after the start.
The group leader has the discretion to change the route followed (like switching to the official race bad weather route) should conditions dictate.
Accommodation and food is not included.
You will be asked to read and sign a disclaimer before commencement of the day.
For more information on the race and to enter visit: www.skylinescotland.com/glen-coe-skyline/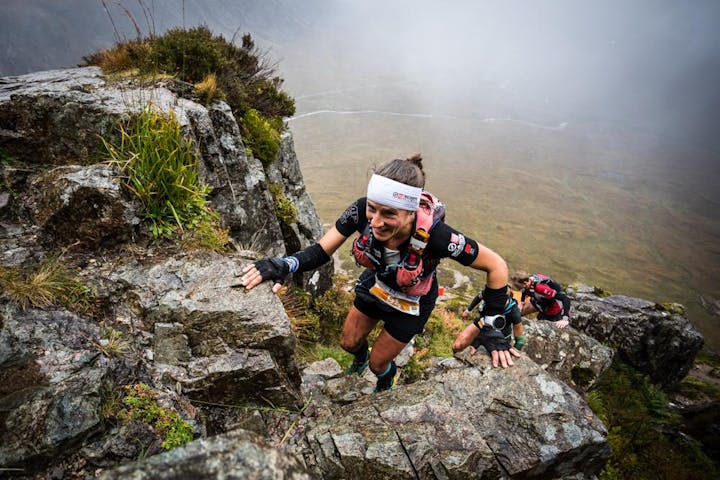 All images No Limits Photography