About this Event
Girls on Hills Ltd is the exclusive and recommended recce provider for Skyline Scotland (www.skylinescotland.com)
We are delighted to offer this official guided recce day for the Salomon Ring of Steall Skyrace™.
The recce is open to both men and women, and will be led by a professionally qualified guide who also has first-hand experience of the event. You can therefore be assured of a safe, high quality experience with someone who is extremely knowledgeable about the event and the route. Our guided recce day for Salomon Ring of Steall Skyrace™ will be led by a Summer Mountain Leader with a maximum group ratio of 1:10.
This recce is not a race, and the intention is to travel at a comfortable speed for the group with time for chatting with each other and the guide. Your expectation should be brisk uphill walking, jogging on the flats and downhill running. You'll need to come prepared for a big day in the hills with your own clothing, equipment and food.
You do not need to have an entry to participate in this event, but you do need an appropriate level of fitness.
The day will start and finish at the Ice Factor in Kinlochleven, and follow the epic race route in full over one exhilarating day: www.skylinescotland.com/ring-of-steall-skyrace/information/#displayTheRoute
The group will meet at 09:30 in the Ice Factor Café, and set off at 10:00. This schedule mirrors the exact start time of the race, which means that whilst getting to know the route, you also get first-hand experience of how you are moving relative to the 14:00 cut-off at CP5 in Glen Nevis. The group will finish back at the Ice Factor in order to give you an opportunity to satisfy cake and caffeine cravings.
Please note:
The group leader has the discretion to change the route followed (like switching to the official race bad weather route) should conditions dictate.
Accommodation and food is not included.
You will be asked to read and sign a disclaimer before commencement of the day.
For more information on the race and to enter visit: www.skylinescotland.com/ring-of-steall-skyrace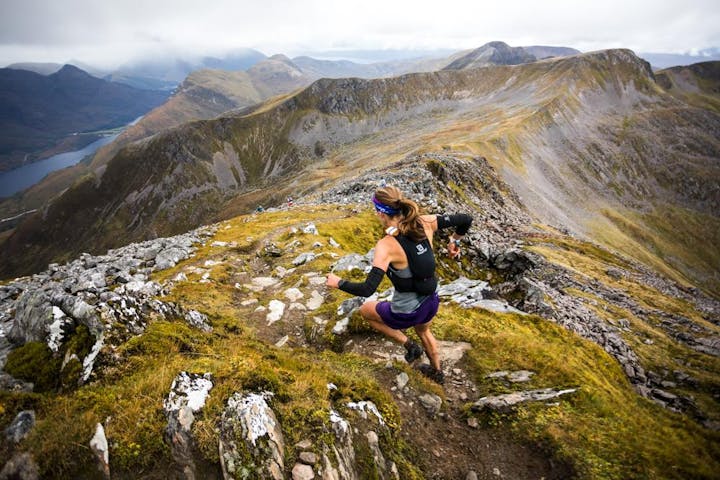 All images No Limits Photography