Bojangles invites you to their newly refurbished restaurant for a refined dining experience in Chingford. Every Tuesday from 6PM till Late.
About this event
Love Food, Love Music, Love Life
This is the motto that we here at Bojangles strive to live by. Our aim has always been to provide our patrons with supreme taste, impressive quality, outstanding service and most importantly a dining experience not to be forgotten… And now we've come back better than before. Launching on the 22nd of June, Bojangles Restaurant welcomes you back for an exciting evening with a Latin atmosphere, chilled vibes and some amazing food.
This Tuesday we offer the best food with the best salsa music you've heard. And in case you need a little help winding down after a long work day – we've got some fantastic signature cocktails to help you along.
Grab your friends, grab your kids – everyone's welcome at Bojangles Restaurant every Tuesday this June from 6PM till 11PM.
Reserve your tables by calling us on 0208 529 8181 07432 484560 07957 456339
#Tuesday #Tuesdaydinner #dining #dininginchingford #dineinatbojangles #diningexperienceinchingford #tuesdaydinein #dineinrestaurant #salsanight #salsamusic #salsaontheterrace #outdoordining #outdoor #terracedining #restaurantswithterraces #pubs #restaurantsinchingford #dineinrestaurants #foodanddrink #food #drink #dinein #dining #bojangles #foodies #buffet #alacarte #courses #lockdownlifting #postlockdown #lockdownease #opennow #chicken #roast #pudding #vegetarianfriendly #walkin #cuisine #sitat #inperson #indoorseating #seating #music #alldaybreakfast #breakfastallday #morning #evening #lunch #chingford #london #opennow #dance #soul #ska #rnb #rhythm #blues #rhythmnblues #music #pubnight #pub #night #in #chingford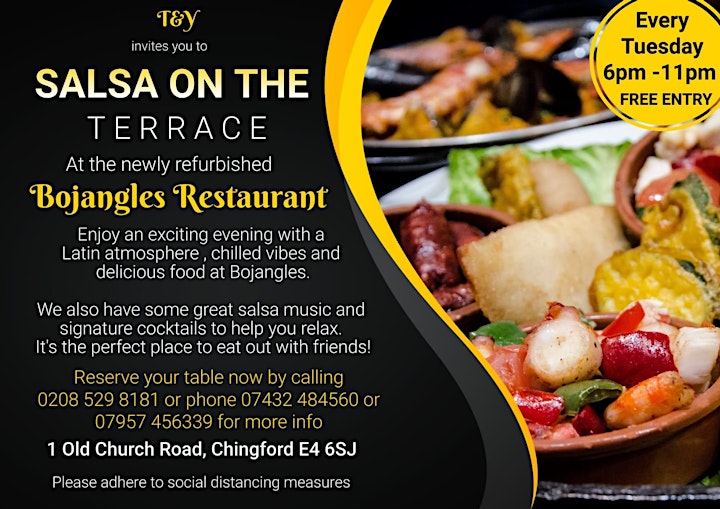 Organiser of Salsa on the Terrace–A Refined Dining Experience at Bojangles in Chingford