About this Event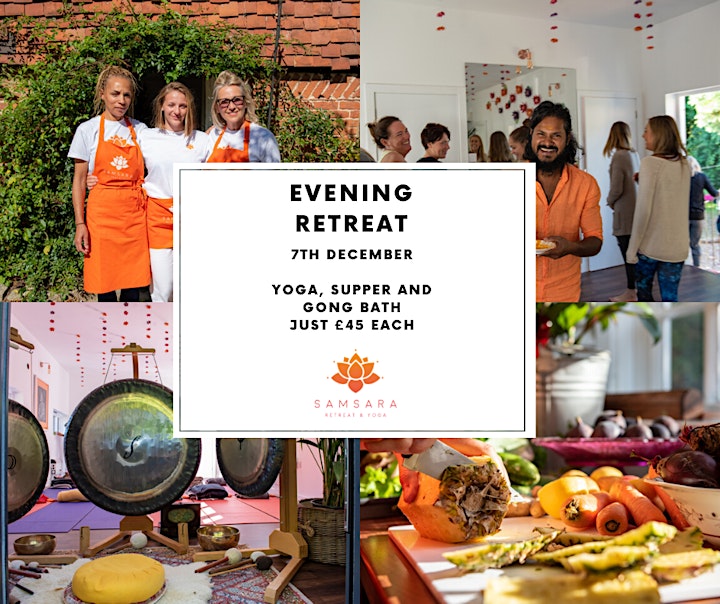 Samsara Retreat and Yoga invite you to join us for a soul nourishing evening retreat consisting of yoga, delicious food and a healing gong bath.
Our monthly retreats are held when the moon is at its fullest, to correspond with the point in the lunar cycle when people most desire some much-needed calm in their busy lives.
This mini retreat experience will leave you feeling transformed both physically and mentally.
Timetable
Saturday 7th December
6pm - Yoga
Enjoy an hour's yoga class with Samsara Co-Founder Dipu in our stunning Oast House Studio.
Dipu studied yoga in a Gurukula system and developed a strong foundation deeply rooted in the Vedic tradition. He delivers classes authentically with the confidence of two decades of knowledge. Dipu's special quality is that he makes you feel as though you are the only student in his class. You learn a little nugget of wisdom every time you are taught by Dipu.
7pm  - Sumptuous Supper
Here at Samsara we believe in serving food for the soul. Dinner will be a feast for the senses Lori and Dipu style.
All food is organic and home grown.
8pm - Gong bath with Mark Swan
Mark Swan has been a Gong Master and Reiki and Seichem Master for over 20 years and is also a certified Kundalini Yoga Teacher, teaching under his given spiritual name of Satjit Singh. Holding Gong bath events across the planet is his life's work.
Whilst having a Gong sound bath your body will naturally tune in and create a resonance with the sound. Each Gong works on a different part of yourself. Energetically, emotionally, Spiritually, and physically, there is no part that will not receive the sound. Mark will assist you to reconnect with lost and/or broken parts of yourself, to heal and reconnect with spirit and your higher self, and to cleanse and rebuild.
Tickets are just £45 per person