Sponsored by Fukushima Samurai Spirit Tourism
About this event
Date: Saturday, 10th July 2021
Time: 10:00 am - 11:00 am (BST)
Platform: Zoom webinar
We welcome special guest Tetsuro Shimaguchi, leader of Samurai artist group KAMUI and tourism ambassador for Fukushima Prefecture and Aizuwakamatsu city. The event will cover the appeal and history of Fukushima Prefecture, the samurai spirit that has been passed down the generations, behind the scenes stories from the filming of a promotional video for Fukushima Prefecture, a introduction to the KENGIDO swordsmanship method started by Shimaguchi himself, and a talk on how to draw the sword and hold it for fighting. A special event only at HYPER JAPAN ONLINE 2021!
Sessions;
1) Self-introduction by KAMUI
2) Talk session
3) Q&A
4) Introduction to the KENGIDO method of swordsmanship
You can submit questions via chat to be answered live during the event. This is a special occasion which you can ask a question to the Japanese "Last Samurai" who appeared in Kill Bill!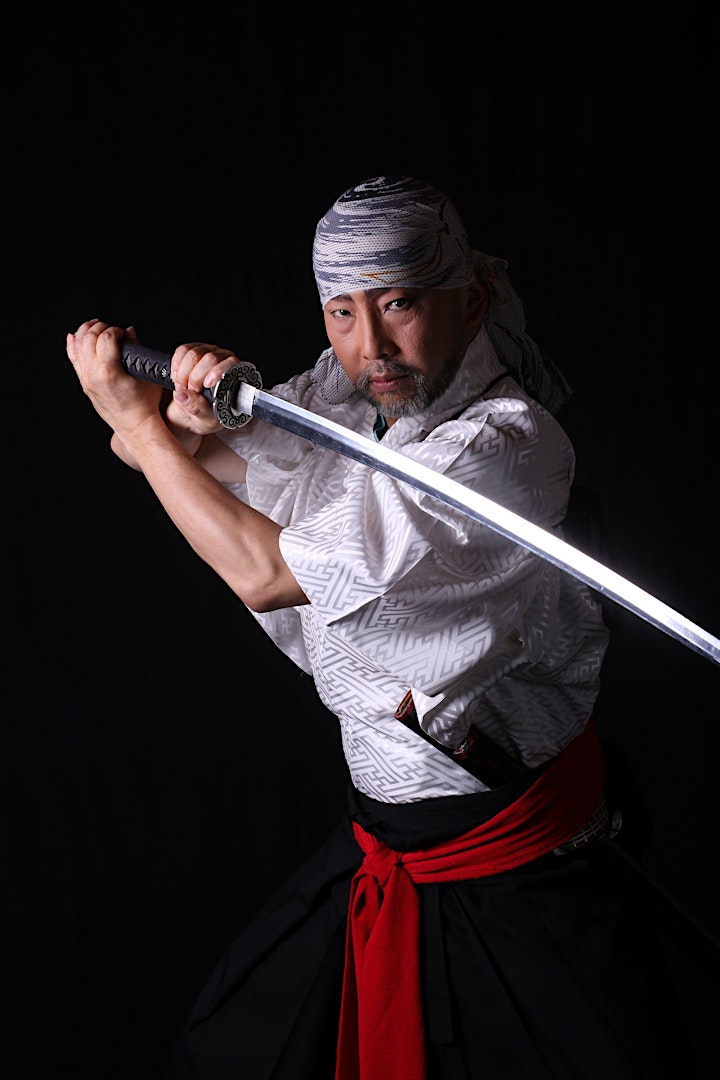 Tetsuro Shimaguchi was born in Saitama prefecture, Japan, and graduated from Nihon University College of Arts. He is a "Samurai Artist" pursuing a style of beauty in forms, acting, and martial arts combined together.
After gaining several years of experience in theatrical activities such as kabuki, he formed a samurai sword performance group ,"Kengishu KAMUI", of which he has been serving as a leader.
One of his early achievements outside of Japan was to perform "MIKI" of the Crazy 88's as well as directing the choreography in "KILL BILL Vol.1", a Hollywood film by Quentin Tarantino.
Following the success of "KILL BILL Vol.1", KAMUI has been acclaimed for his performances around the world. He has performed in venues such as Kennedy Center in the U.S. (2005), Teatro Della Pergola & Palazzo Vecchio in Italy (2010), Blue Note in Poland, Hermitage Museum in Russia (2015), Armani Hotel in Dubai (2016), etc.
In 2012, he established his original samurai dojo, "KENGIDO" which has been expanding in countries outside of Japan such as Italy, Poland, the U.S. and Republic of Lithuania. His passion for pursuit of "SAMURAI" as Japanese culture only gets stronger and he has been putting his heart and soul to promote Samurai culture actively both inside and outside of Japan.
He is the first Japanese artist to receive the Consonance award in Florence, Italy in October 2018.
In October 2019, he was appointed as a tourism ambassador for Aizuwakamatsu City and Fukushima Prefecture.
About KENGIDO:
At KENGIDO school, we teach Samurai movements and communication with others through learning moves with the joy of KENGIDO. You would learn combined movements of sword techniques of martial arts and performance techniques with the beauty of forms through which you would improve your spirit as the Way (Do-道). It is a very popular programme to experience Japanese culture around the world.