Description
This two-day workshop will take participants through the 4-Step social accounting and audit process to enable them to complete their social accounts and provide the foundations for running a more efficient and effective organisation.
It is not essential that you attended any earlier training to attend this workshop and it is also open to people who want to learn about the benefits of social accounting and audit to help others through the process.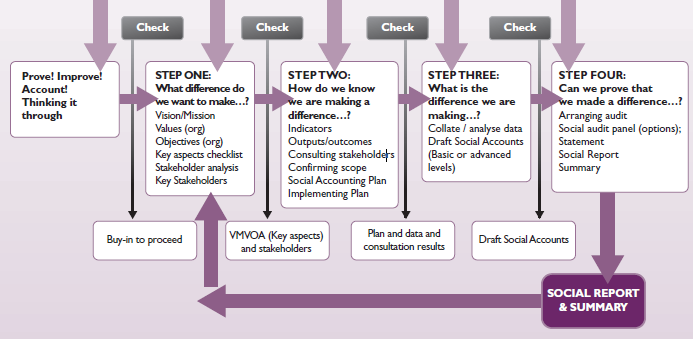 Step One: What difference do we want to make… This step is about focus.
What do you do?

Why do you do it?

Who do you work with and for?

What difference will you make?
Step Two: How do we know we are making a difference… This step is about recording and keeping relevant information.
What do you need to know to show you are making that difference?

How do you make sure you are tracking it?
Step Three: What is the difference we are making… This step is about presenting the information.
What can you say about your performance?

What impact are you making?

How do you report the information?
Step Four: Can we prove that we made a difference… This step is about verification.
How credible are your claims?

Who has checked out your draft social accounts and what did they find?
The cost includes a copy of the social accounting and audit guide & CD and one year's free access to the Social Audit Network's online Learning Platform. Lunch and refreshments are provided on both days.
If 2 people attend from the same organisation the 2nd place will be offered for £25, depending on demand. [A minimum of 6 full-fee paying people need to attend to make the event viable.]
Please contact SAN via info@socialauditnetwork.org.uk for any problems with booking - particularly the 2nd place ticket.