Sanatan Kriya encapsulates all the eight limbs of Ashtang Yog in its entirety, as prescribed by the Patanjali Yog Sutras
About this event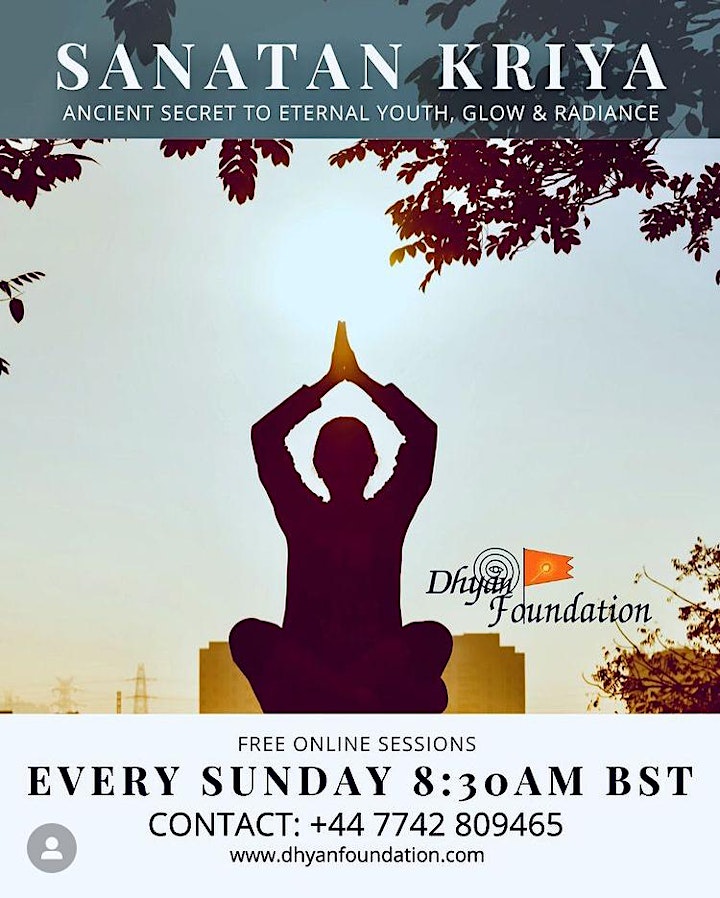 Topic: Sanatan Kriya Yoga
Day: Every Sunday
Time: 8.30 am, UK
Where: online sessions (Zoom)
"Yoga is not about standing on one's head or doing complicated asans; it is about stillness."
- Ashwini Guruji
Like everything else in Creation, our body too runs on the principle of balance & imbalance. When you are in a state of balance, you exude health, beauty, glow & radiance. You possess within you the magnetism and attraction of the entire Creation. However, whenever there is an imbalance, disease & aging set in.
Sanatan Kriya encapsulates in its entirety, all the eight limbs of Ashtang Yog as prescribed by the Patanjali Yog Sutras (over 4500 years ago). It addresses the whole body, from the core to the periphery, affecting all layers of a being. It promises no miracle cures but a healthy, happy & balanced state of being, as it is rooted in the principle of prakriti that is nature & balance, and rids one of vikriti that is imbalance, so that no negativity can enter you.
- - -
REGISTRATION
Please register your interest at http://www.dhyanfoundation.org.uk/register
- - -
FREE online (Zoom) sessions, 1 ½ hours; every Sunday, starts 8.30am GMT
dhyanfoundation.org.uk does not charge for any of their courses
dhyanfoundation - instagram
Organiser of Sanatan Kriya Yoga (online) FREE