Description




Sanctuary
Sanctuary is a word that describes a place that people shelter in to find refuge, safety and care; away from abuse, persecution and danger. What words do you use to describe your school, work place or organisation? Sanctuary isn't a word that we would immediately think of, since we tend to take for grant that our schools, businesses and public spaces are already places that are safe for, and welcoming of, all people.
In recent years, and particularly since the refugee crisis reached its peak in 2015, Cornwall has been increasingly aware of its responsibility to create an identity of welcome, by honouring its history of compassion and hospitality. Sadly, since 2016 reports have shown an increase in hate crime throughout Cornwall, in addition to many other examples of a more subtle and casual intolerance and prejudice.
This event, which has been organised in partnership with All Saints Highertown, RJ Working, Truro Diocese, Cornwall Quakers, Turning the Tide, and Cornwall Refugee Resettlement Network, seeks to create a new movement that protects Cornwall's identity of care and hospitality by supporting schools, businesses and organisations with resources to apply 'Sanctuary Principles and Values' in their place of work.
This doesn't only relate to Cornwall's response to the Refugee Crisis and our welcoming of resettled refugees, it also relates to people already in Cornwall who find themselves marginalized, isolated and/or unfairly treated due to perceived difference. Our aim is to promote a Cornwall that is confident in declaring itself as a place of Sanctuary for all people, irrespective of perceived differences, and to help create an environment of care and safety for those who especially seek refuge.
We would love for your school, business, organisation or community to declare itself a place of Sanctuary, and for you to commit to its principles. In doing so we can help Cornwall protect from harm those that might otherwise be susceptible to racial harassment, discrimination, bullying, and other forms of prejudice and abuse. Please do consider your part in making this possible.


Event Speakers

Gulwali Passarlay is an Afghan political refugee currently residing in the UK.
He is the author of 'The Lightless Sky', current Vice President of the United Afghan Peace Movement, commissioner for the Children's Society commission on child poverty, and Advisor to Refugee Rights Europe.

Manda Brookman is a social entrepreneur, lecturer, permaculturalist, disruptor & activist on climate, social justice, land, neo-liberal economists, & systems thinking. Manda is Director of Permanently Brilliant, Coast and founder of Cafe Disruptif and the Cornwall: a Million Acts of Sanctuary initiatives.
Paddy Dowling is a UK based Humanitarian Photojournalist working worldwide with recent trips in 2018 to Bangladesh, Sri Lanka, Somalia, Lebanon, Syria & Jordan. His documentary photography with Aid Agencies and NGOs focuses on refugees and IDP's across the globe. Commissioned work include projects for the EAA Qatar, SWISS FDFA, DEC, UN, ICRC, UNHCR, UNRWA, Oxfam Afghanistan and Muslim Aid. He contributes regularly writing articles for the Independent as well as the Guardian, i News, Telegraph, Times, Metro, Evening standard, BBC and Sky News.
Esme Page is founder of Cornwal Hugs (Grenfell). "'Imagine if we could put a Cornish holiday on the horizon of every Grenfell resident and firefighter family: a time to rest, a time to let our beautiful county bless these people and work its gentle magic." Esme founded Cornwall Hugs Grenfell in 2017 in the wake of the Grenfell Tower disaster.
Caroline Virgo is Project Officer for The Clewer Initiative a UK based charity that support the Church of England and other church based organisations to develop strategies for detecting modern slavery in their communities and help provide victim support and care. This is an issue which impacts lives far beyond church walls but affects our communities, workplaces and potentially our schools too. Modern slavery is hidden in plain sight on our high streets. The National Crime Agency thinks there are tens of thousands of people being exploited in the UK, forced to work long hours, for little or no pay, and under threat of violence. The Clewer intiative are promoting ways in which we can identify the signs of modern slavery in our communities.
Sara Acraman is the Diocesan Safeguarding Officer for Truro Diocese and in her role supports churches throughout Cornwall to provide a safe and nurturing environment for all visitors and members.The church, more than any organisation has had to reflect and think carefully about how it promotes safeguarding within its life. As a result, this has now become an opportunity for the church and many organisations to come together and share best practice to ensure that we create sanctuary spaces for everyone we welcome and support.
Programme



Food and Refreshments
Food and refreshments will be provided throughout the day. On registering for the event you'll be asked for any particular dietary requirements. All the catering for the day will be provided by Zaher, a recently resettled refugee from Syria. His cooking is always a delightful array of middle eastern food and will be a wonderful addition to the day. Hot and cold drinks will be available throughout the day.
All Saints Church is committed to helping thirsty people use fairly traded produce, and sustainable and recyclable containers.
Transport and Parking
Please do consider car sharing or using public transport.
The postcode for the venue (All Saints Church) is TR1 3LD
Carparking is available at front and rear of church, as shown in the image. Please note that disabled parking will be prioritised in the north carpark.
Buses T1, T2, stop immediately outside the church and PR1 (Park and Ride) stops outside the County Arms which is a 3 min walk from church.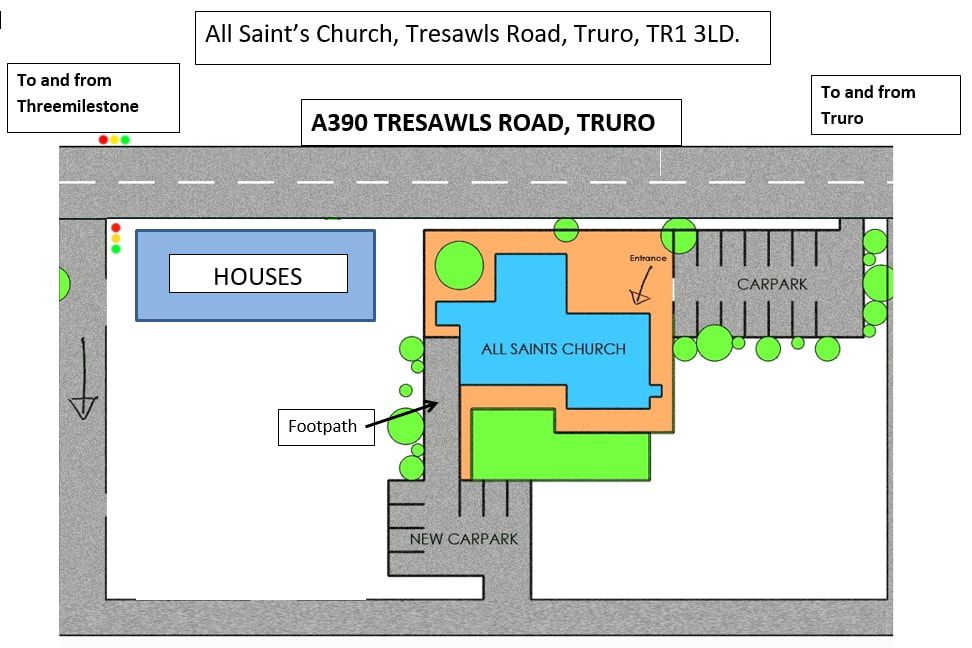 Partners
RJ Working exists to equip young people and their communities with the principles, language and confidence to build a more compassionate and more fair society. Our training-led model teaches young people the skills they need to be courageous in responding to conflict creatively and builds understanding of how perceived difference can fuel conflict and harm. Restorative Practice strengthens relationships to enable us to deal well with conflict, whether in person or online, and prevent it escalating into harm.
Turning the Tide is a social action training programme. They offer a range of workshops and resources focused on supporting nonviolent social change at grassroots. Turning the Tide have been supporting people to take nonviolent action for social change since 1994, they see their role as supporting groups to find their own creative solutions.
Organiser of Sanctuary in Cornwall Conference
The Cornwall Refugee Resettlement Network is a committed group of like-minded people who are passionate about Cornwall being a place of welcome, refuge and sanctuary. Our members have worked on a variety of different initiatives and therefore bring with them a variety of different skills and expertise; this also means we have a broad perspective on the challenges around refugee resettlement, and are well placed to help other groups interested in supporting this vision. Although the network has no specific religious affiliation, there are many faiths represented as well as those of no faith. CRRN seeks to work in support or in partnership with other like-minded networks and organisation such as Cornwall Faith Forum and START.
Our Mission​ is to show how the people of Cornwall are hospitable and welcoming to refugees.