A chilled outdoor fundraiser with a splash of the Sahara vibe, live music, short films on Western Sahara, yummy food and more.
About this event
Sandblast Garden Party Fundraiser
July 25th - 4 - 9:30pm
Scroll to the end to see programme on both days.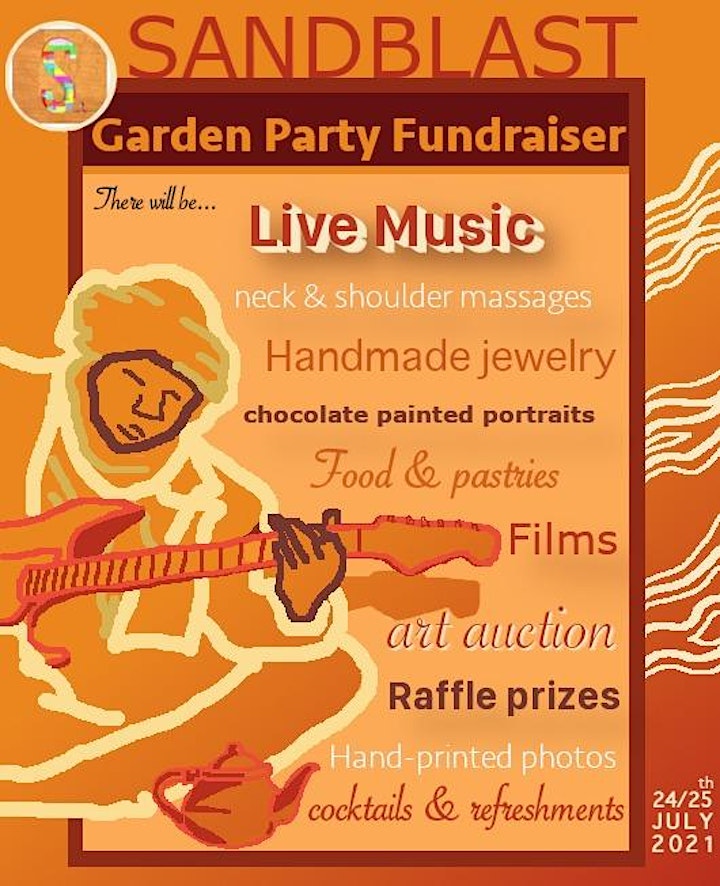 Join us in support of a great cause to give Saharawi refugee children and women, living in harsh desert camps, a chance to gain new skills in order to develop their potential, transform their lives and reach wider audiences to tell their story. Our fundraising goal is £900. Scroll further down for more details to find out what difference these funds will make.
At our heart-warming and educational fundraiser, there will be:
• Beautiful handicrafts made by the Saharawi refugees
•Bespoke jewelry that has used paleolithic arrow heads and fossils from Western.
• A silent auction of artwork by Saharawi artists and also artwork donated by the talented Dominika Masnica, who will donate 75% of the proceeds from sales(see images below). Bidding can be done through direct messaging via IG@ desertvoicebox.challenge or on the day.
• Fine hand-printed photos on sale by Danielle Smith. Prices range from £40-200.
To enhance the mood there will be a fantastic line up of musicians performing on both days.
Some of these artists will be: Karim Dellali (North African vibes), Sara McGuinness and Jimmy (Latin vibes), Chris Guard (singer-songwriter), Nicolai Mihaila (classical piano), AB Music Academy musicians for a great final jam mashup and possibly more.
SCROLL DOWN TO THE BOTTOM TO SEE THE PROGRAMME FOR BOTH DAYS.
(Header photo: By Nanna Brahim, a Saharawi who participated in a photography workshop run by Olive Branch in 2018.)
Entry
To come along you must book your ticket in advance, which is free. At the door we are suggesting a £5-10 donation to enjoy the live music and films. We will accept cash, card or paypal payments. ALSO we would greatly appreciate it everyone took a lateral flow test to make this a Covid safe event for all of us!
During the event, there will be a number of opportunities to support us further through treating yourself to North African food, refreshments, cocktails, having your portrait painted with chocolate, getting a neck and shoulder massage or buying raffle tickets to win up to 40 prizes.
If you can't come along for whatever reason but would still like to show your support for this fundraiser you can make a DONATION by copying and pasting the link below, or donate through Instagram @desertvoicebox.challenge or facebook @sandblastcharity. We will hugely appreciate your generosity!
http://www.justgiving.com/campaign/desertvoicebox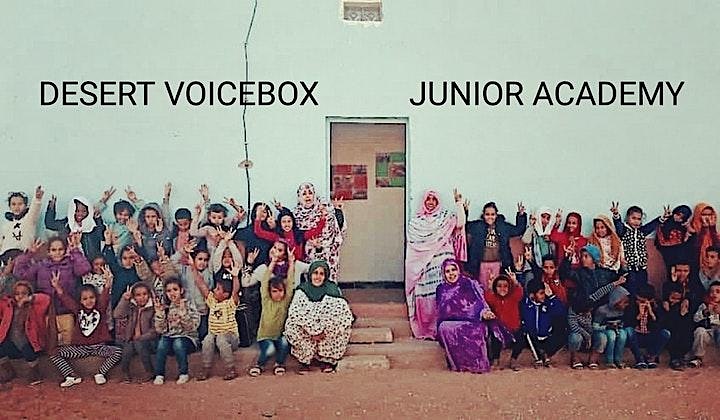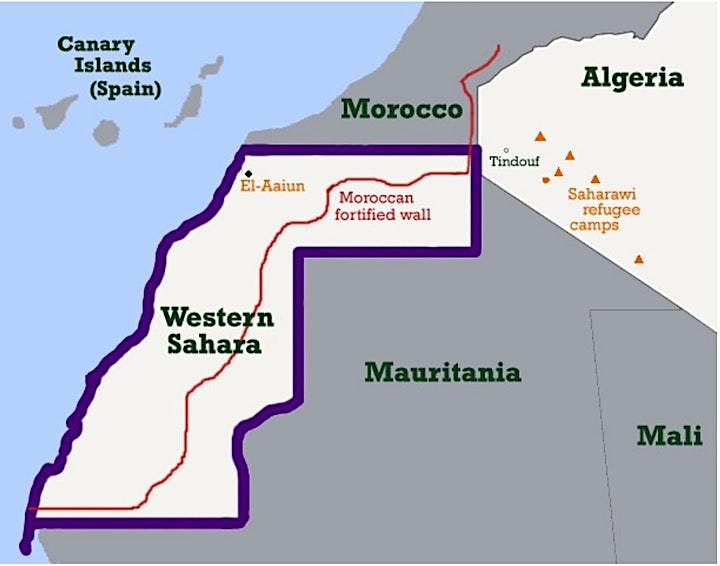 Our fundraising goal
Desert Voicebox uniquely offers an opportunity for over 60 children to access English and music education in an after school programme. Currently, there are virtually no extra-curricular activities available for children in the camps to learn and grow outside the classroom in a fun and stimulating way. The Desert Voicebox project spans four years of primary school and trains local Saharawi women to teach and run the programme.
The Desert Voicebox project is based in the refugee camp of Boujdour, one of 5 camps which altogether house over170,000 Saharawis in the Algerian Sahara.
We aim to raise £900. This will enable us to sponsor:
• the living costs of two qualified volunteers to stay in the camps for one month to train the teachers and run a special workshop for the children (£560),
•a local Saharawi artist to run a creative workshop with the children to paint a beautiful mural for our Desert Voicebox centre (£200)
• purchase stationary for over 60 children for the rest of the year (£140).
Find out more
To learn more about Desert Voicebox please visit:
http://www.sandblast-arts.org/desert-voicebox
Click the short video to hear the experience of one of our volunteers in early 2020.
Please don't forget to follow us too!
Instagram: @desertvoicebox.challenge
Twitter: @sandblastarts
Facebook: @sandblastcharity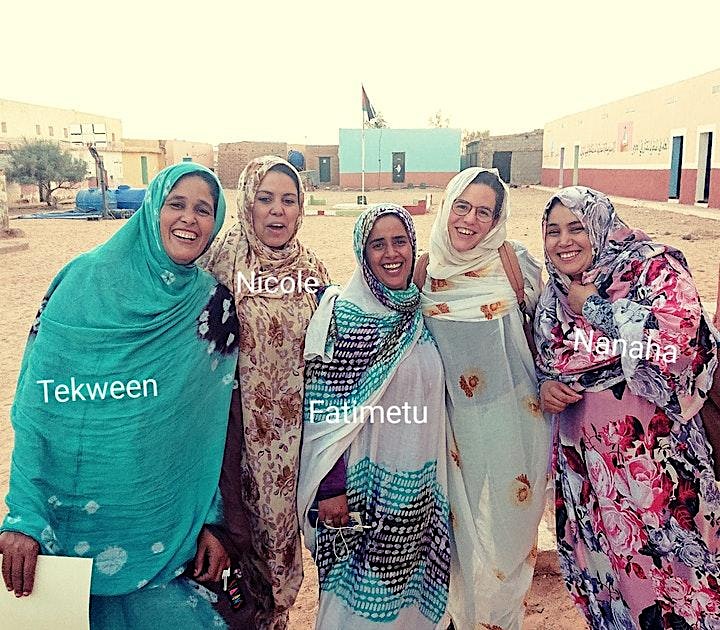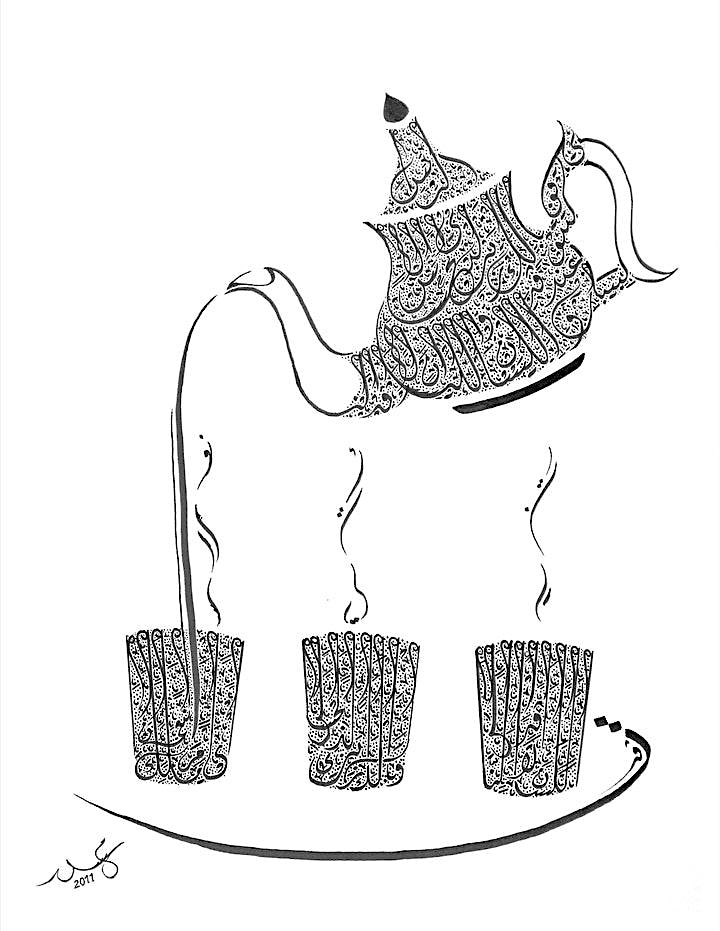 Programme
SATURDAY 24th July 13:30 - 17:30
1:30-Entrance and mingling
2-3pm- Live Latin Vibes (Sarabanda)
3:05pm- Welcome and intro
3:30-5pm Film showings of
'Looking for a Homeland'
5-5:30pm-winding down
The screening of the 25 min film will take place 3 times in small groups due to COVID regulations.
Artwork for silent auction!
Pieces 1-3 by Dominica Masnica, London based Polish artist. Self Esteem SerieS. Etchings on Somerset black paper in sanguine red with hand applied gold leaf - 47cmx 34cm. Starting bid £200.
Piece 4 by Saharawi artist Ismail, based in Boujdour camp. Acrylic painting of Saharawi women in the desert wearing colourful milfas - Unframed 48cm x 35cm framed. Bidding starts at £175
Pieces 5 and 6 by Saharawi artist. Mohamed Sulaiman based in Smara camp. Two original ink calligraphy artworks of portrait of a poetess and camel desert scene. Framed: 33cm x 44cm. Bidding starts from £75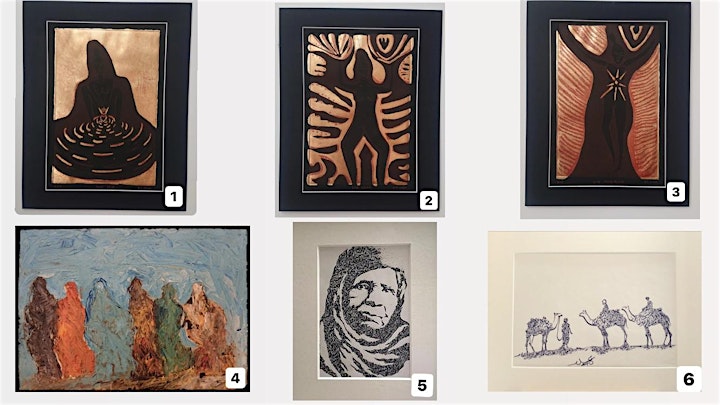 Sunday 25th July 16:00 - 21:30
4:00pm- Arrive and mingle
4:30-5:10- Classical Music
5:15-Welcome and intro
5:30-6:00- Chris Guard singer/songwriter
6:00-7pm - Dinner
6:30-7:10- North African fusion during dinner
7:45-8:20 Screening of 'Al Khadra: poet of the Desert'
830-9:30pm AB Music Academy
We look forward to seeing you there!
Organiser of Sandblast Garden Party Fundraiser
Sandblast is a UK human rights charity promoting the voices and visions of the indigenous Saharawi from Western Sahara through the arts. The protracted conflict, in Africa's last colony, has turned the majority of the Saharawi population into refugees and threatens the survival of their cultural identity.
We believe in the right of individuals and communities to enjoy culture, celebrate the arts and promote their own traditions. Bolstering the cultural heritage of the Saharawi and raising awareness of their overlooked plight are important to our mission.
Since 2005, Sandblast has created platforms in the UK to promote Saharawi arts and culture and undertaken projects in the refugee camps to strengthen artistic expression.Studio-Live, our current project, aims to equip the refugees with the skills and material resources to build their own music industry from scratch in the camps.
If you want to get involved or have any questions regarding our organisations and/or events, please contact us on info@sandblast-arts.org or visit www.sandblast-arts.org. We look forward to hearing from you!