Sands Bereavement Care Training for Doulas, London, 2nd July 2019
Description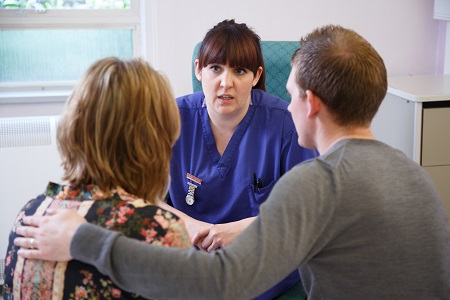 Aim of the workshop
To enable doulas to develop the
knowledge
,
insight
and
skills
to provide
high quality
,
sensitive support
to parents who experience the death of a baby, before, during or shortly after birth.
Learning outcomes
At the end of this session participants will be able to:
Identify the unique impact of grief on bereaved parents in relation to pregnancy loss and the death of a baby.

Identify, develop and use techniques to communicate sensitively and effectively with bereaved parents

Understand the choices available to parents after the death of their baby and support them in making their decisions
About the workshop
Each workshop is run by a skilled facilitator who uses film, audio clips, presentation, discussion, reflection and group exercises to enable participants to develop the knowledge, insight and skills to provide high quality, sensitive care to parents whose baby dies, either before, during or shortly after birth.
For more information on our training for professionals, please click here.
Registration starts at 9:15 and the workshop begins at 9:30
Feedback from previous workshop participants
"I really cannot speak highly enough of this workshop. It's left me feeling pretty emotionally "full", which I expected, but it surpassed my expectations in terms of the content, the mix of media and learning tools, and Lisa's truly excellent and professional facilitation. I feel privileged to have attended and will most certainly recommend this training to all of my colleagues who work in birth." Ly, Doula workshop participant, Cardiff
"The day was exceptional and will change the way I support all families, not only grieving ones." Doula workshop participant
Further information
The course has limited availability, so please book early to avoid disappointment
Lunch and refreshments will be provided to all participants. If you have any dietary requirements please contact us beforehand on the email below
Student Midwives please bring your Student ID along with you to the training day
Course fees are not refundable for cancellations within 30 days of the workshop. If you have to cancel more than 30 days in advance, we will refund your booking fee OR give you a place on a future course.You may nominate another person to take your place.
Please contact training.professionals@uk-sands.org for any further assistance