Sands Enhanced Bereavement Care Training Workshop, Manchester, 13th Decembe...
Description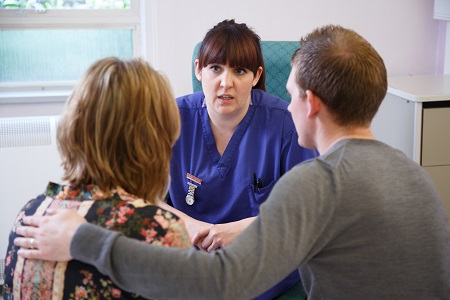 Aim of the workshop
To enable healthcare professionals (including student midwives) who have previously attended Sands bereavement care training, to further develop and embed their knowledge and skills in order to provide excellent bereavement care for parents who experience the death of a baby before, during or shortly after birth.
This training is for participants who have previously attended a Sands bereavement care training workshop or course.
Learning outcomes
At the end of this session participants will be able to:
• Demonstrate the vital skills needed to communicate sensitively and effectively with bereaved parents and apply best practice when delivering difficult news and when communicating via an interpreter.
• Apply enhanced knowledge and understanding when enabling parents to make informed decisions after the death of their baby (including decisions about memory making and post mortem examination).
• Understand the purpose of the National Bereavement Care Pathway and the expectations it places on healthcare professionals to ensure that all bereaved parents receive consistently high-quality bereavement care.
• Provide specialist care for bereaved parents in subsequent pregnancies and births based on an understanding of:

how grief can affect parents' long-term wellbeing

the potential impact of grief on mental health.
• Reflect on the personal impact of providing bereavement care after pregnancy loss or the death of a baby, and be able to identify and apply self-care strategies.
• Recognise the importance of holding a review after the death of a baby and of offering parents the opportunity to be involved.
• Refresh and embed learning from previous bereavement care training, and gain greater insight into the experiences of parents and families.
About the workshop
Each workshop is run by a skilled facilitator who uses film, audio clips, presentation, discussion, reflection and group exercises to enable participants to develop the knowledge, insight and skills to provide high quality, sensitive care to parents whose baby dies, either before, during or shortly after birth.
For more information on our training for professionals, please click here.
Registration starts at 9:15 and the workshop begins at 9:30
Further information
The course has limited availability, so please book early to avoid disappointment

Lunch and refreshments will be provided to all participants. If you have any dietary requirements please contact us beforehand on the email below

Student Midwives please bring your Student ID along with you to the training day
Course fees are not refundable for cancellations within 7 days of the workshop. If you have to cancel more than 7 days in advance, we will refund your booking fee OR give you a place on a future course.You may nominate another person to take your place.
Please contact training.professionals@uk-sands.org for any further assistance