Description
WE ARE EXCITED TO ANNOUNCE THAT WE ARE ALREADY SOLD OUT OF CAPACITY. MANY THANKS FOR YOUR INTEREST!!!
Come along to the celebration of Sant Joan in Cambridge! We offer fire, forest elves and fairies, and of course, some Catalan food and great company. What else do you need for a good Sant Joan?
As this year it falls on a Sunday, we've decided to start earlier at 3 pm to welcome the Summer weather :) ! Also, after stuffing ourselves with enough food and drinks, we will hold the first ever competition of Catalan improvised singing of Cambridge, with the popular "corrandes", "garrotins", and "nyacres".
***
Veniu a celebrar la revetlla de Sant Joan a Cambridge! Us oferim foc, follets i fades, i evdientment, pa amb tomàquet i bona companyia. Cal res més per un bon Sant Joan?
Com que aquest any la revetlla cau en diumenge, hem decidit avançar-la a les 3 de la tarda per donar la benvinguda a l'estiu :) ! A més, després d'atipar-nos amb prou menjar i begudes per aclarir-nos la gola, celebrarem la primera competició de cant improvisat de Cambridge, amb les populars corrandes, garrotins i nyacres!
***

Please register in advance and specify any dietary needs.
Tickets are to be paid in cash at the time of arrival at the event.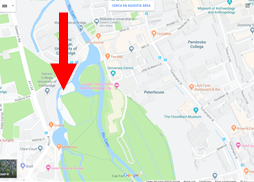 If you want to become a member of Cambridge University Catalan Society, please contact us at:
https://cucatsoc.wordpress.com/contact/