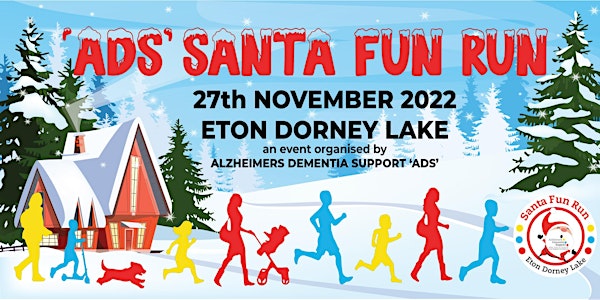 Santa Fun Run 27th November 2022 by Alzheimers Dementia Support 'ADS'
Location
Eton College Dorney Lake
Court Lane, Off Lake End Road
Dorney
SL4 6FJ
United Kingdom
About this event
🎅 Fun for all the Family! Put on your FREE Santa suit included in your registration pack and join hundreds of other Santas running a 5k course to raise money for the LOCAL People with Dementia, their Carers & Families in Windsor, Ascot, Maidenhead, Slough, Langley & all points between.
After completing the race, everyone who made a voluntary donation in exchange for a registration pack will receive a special 📜FREE Certificate and a well-deserved 🏅FREE medal!
🎄 What is the 'ADS' SANTA FUN RUN?
'ADS' Santa Fun is an annual event 'Run for Fun in a Santa Suit' to raise money for Alzheimers Dementia Support 'ADS' Charity.
It's a 5k Run or walk / wheel / jog (approx 3.1 miles) once around Dorney Lake.
Dogs on leads, children on scooters / in pushchairs and wheelchair participants are all welcome.
📅 Agenda for the event day, 27th November 2022:
10.30 a.m. - Gates open from
11 a.m. - The FUN begins
11.10 a.m. - Dog & Wheels judging
11.20 a.m. - Official Opening & Welcome 11.20 a.m.
11.35 a.m. - Pre-race warm-up
11.45 a.m. - Santas are off & running
1 p.m. - Presentation Ceremony & Prize Giving
2 p.m. - The event closes
Our event will be opened by an array of local dignitaries and special guests who will be joining in the fun!
💰 Voluntary donations for a registration pack:
We are pleased to announce that our entrance voluntary donations remain the same as those of 2021.
The voluntary donations for getting a registration pack in return can be made on Eventbrite until 23.11.2022. After this date, they can be done on Friday, 25th November at Lok'nStore, 10 a.m. - 2 p.m. or at the venue on the day of the event.
No Refund Policy: All registration fees are non-refundable or transferable.
Cancellation: The organisers reserve the right to cancel the event in exceptional circumstances… e.g. Met Office severe weather warning or conditions arising which impact H&S. Regrettably, no refunds can be given due to costs incurred to the Charity
📦 Registration Packs delivery:
The registration packs will be available for pick-up from:

the 'ADS' Charity Shop (with prior agreement)
Lok'n'Store Maidenhead (you will receive an email about the schedule, closer to the event)

This year, we offer the possibility of receiving the registration packs straight to your door through Royal Mail if you are happy to cover the costs. Please check the ticket options and choose the one which includes package & postage.
❤️ Sponsorship:
The profit from this event comes from the amazing donations and sponsorship support that 'ADS' receives.
Please set up your JustGiving page HERE and get your friends, family, co-workers involved.
If you are unable to set up a JustGiving page, please download this sponsorship form HERE.
🛍️ Your registration package contains the following:
FREE full Santa suit - all you need to become a real Santa
Event pack - detailed Event Agenda, a special Race Number, our monthly Newsletter and other important documents
Exclusive 'ADS' Supporter Drawstring Bag
Refillable Water Bottle kindly donated by Craufurd Hale (there will be water refill stations on-site)
FREE Santa hat
Event pack - detailed Event Agenda, a special Race Number, our monthly Newsletter and other important for parents
Exclusive 'ADS' Supporter Drawstring Bag
Refillable Water Bottle kindly donated by Craufurd Hale (there will be water refill stations on-site)
🎁 Winning categories - prizes will be awarded for the following:
Adults: 1st, 2nd & 3rd place
Children: 1st, 2nd & 3rd place (can be on a scooter)
Best dressed wheels - we welcome any wheelchairs, pushchairs, scooters
Best dressed dog
Best dressed team/group - get creative and you'll be rewarded
Best school - the school with the most participants wins a £500 cheque sponsored by Craufurd Hale!
🏆 Winners are invited to stay for our official award ceremony at 1 p.m. Prizes will be awarded upstairs in the Boat House. Please be aware that Best Dressed Dog will be awarded earlier, downstairs.
💷 Just Giving 'ADS Santa Fun Run' fundraising pages with donations over £50 will be entered into a free Prize Draw! CLICK HERE for our guide on how to set up your JustGiving page.
👪 What else is happening on the day?
✔️ Flash mob dance warm-up
✔️ S-elfie spot with our 4m inflatable Santa
✔️ Meeting the 'ADS' Santa & taking a picture with him
✔️ Christmas songs, friendly people and much more!
All activities will be held outdoors prior to the run.
🏫 Schools, Organisations & Running Clubs:
Are you connected to a local school? We have a special package for schools to participate on their own grounds. Click HERE for more information.
Could you influence your co-workers to form a team and set up your own JustGiving page? Click HERE for more information.
Or maybe, you are part of a running club; we would really appreciate it if you could promote our Santa Fun Run on your event list. We will have a timing clock at the start / finish line, plus prizes for the fastest runners.
Where Does the Money you Raise on the 'ADS' Santa Fun Run Go?
'ADS' is a local and independent Charity that assists, guides and actively supports people living with Dementia, their Carers and Families in our local area.  Our Services provide engaging, meaningful interactions and activities with advice and a 'someone ready to listen'.  Many of the Services do not need to be pre-booked.
Your amazing support and all of the funds raised by 'ADS' are solely used to support local People.
We work closely with other Agencies to signpost our Members for additional support and information. Visit our website to find more about us: www.adscharity.com.
👉 Santa's rules to keep us safe:
We are sorry, but no bikes or powered transportation allowed (eg. electric scooter/wheelchair)
Please make sure that dogs remain on a lead and any fouling is removed
Please keep a safe distance from the water and don't walk on the pontoons
Please carefully read the full T&Cs and follow the instructions given by our Team
🙏Our sincere thanks to Craufurd Hale LLP, our Main Sponsor, who are generously donated towards the expenses for this event as well as the school's prize.
Also, we would like to thank all our other supporters for offering us significant discounts and donations and making this event possible.
 💛💙❤️
For more information about the 'ADS' Santa Fun Run 2022 (including FAQ and T&C), please visit our website: www.adscharity.com. Please click HERE for our current Privacy Notice.
📧 Further enquiries to: santa@alzheimersdementiasupport.co.uk 
🎅 We Ho-Ho-Hope to see you there!🤶