Santa Fun Run Colchester Hospitals Charity

Sunday, December 9, 2012 from 9:00 AM to 12:00 PM (GMT)
Event Details
RUN, JOG, STROLL 3 or 5 km for
Colchester Hospitals Charity
Cancer Centre Appeal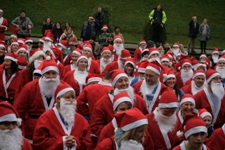 INTRODUCTION
The Colchester Hospitals Charity Santa Run is a 3km or 5km run taking place in Castle Park, Colchester. Around 600 people are expected to take part raising funds for Colchester Hospitals Charity and now this is your chance to join them!
No previous experience is required and with a bit of training both the 3km or 5k distances should easily be within your capabilities. The spirit of the event is 'taking part' not 'winning' so you can run, jog or walk - you decide! 
We are asking everyone to make the most of this opportunity and try to raise as much as possible for Colchester Hospitals Charity. 
 YOUR QUESTIONS ANSWERED
 When and where?
The 2011 Colchester Hospitals Charity 3km or 5km Santa Run will take place in Castle Park, Colchester on Sunday, 9 December 2012 at 10:00. Castle Park is a beautiful venue offering the perfect setting for you to enjoy your festive 3km run on behalf of Colchester Hospitals Charity!
 Registration and starting line will be near the Bandstand just below the Castle.
 9.00 – 9.45 Registration is open to collect your Santa Suit
9.45 – 9.55 Group warm up
10.00 5km run starts
10.05 3km run starts
How fit do I need to be?
Thousands of people take part in 3km and 5km runs every year - many of them for the first time. It's therefore perfectly achievable for the 'average' person to take part in this event.  However it is perfectly possible to walk the course in a reasonable time.  If you are going to run or jog though you DO need to train - and that means more than just a couple of jogs in the park! There are lots of training guides available on the internet depending on your fitness level and how long you have got available to train.
 What kit will I need?
Make sure that you have got good running trainers and wear something comfortable – you will be wearing a santa suit over your normal sports clothes! You may want to bring a belt or elastic to keep those Santa trousers up!  They are one size with draw string waists.
When will I get my Santa Suit?
Free Santa Suits will be provided for all adult runners on the day Santa hats will be provided for under 16's!
Cancer Centre Appeal
Colchester Hospital University NHS Foundation Trust is building a new Radiiotherapy Centre at Colchester General Hospital, we want to try to help make it one of the best cancer centres in the UK, with cutting edge equipment and technology, alongside a holistic range of therapies, information and advice for patients and thier loved ones.  Further information can be found here www.cohoc.org.uk/appeals 
 How can I raise sponsorship money?
Every penny you raise will be going to the Cancer Centre Appeal so please make the most of this opportunity and raise as much as you can.  You can use the enclosed sponsorship form and also set up an online sponsorship page at www.justgiving.com/cohoc  then click on 'Make my Page', then 'Organised Event' and then 'Santa Fun Run'.  It's as easy as that. 
 How much do I have to raise?
There is no minimum sponsorship but if everyone taking part raises £50 we will soon reach our £20,000 target for the Santa Fun Run.  That means that you just have to ask 10 people to sponsor you £5. Anyone raising £50 or more in sponsorship for Colchester Hospitals Charity will be eligible for a refund of their entry fee.
 What do I need to do next?
Pay your registration fee and an information pack with joining instructions will be sent to you via email.
And please raise as much sponsorship as you can! Every runner receives a free goody bag at the end of the run
When & Where

Castle Park
Colchester



Sunday, December 9, 2012 from 9:00 AM to 12:00 PM (GMT)
Add to my calendar
Organizer
CoHoC helps Colchester Hospital University NHS Foundation Trust (the Trust) do more for the patients cared for by its staff. Often, there is a new piece of equipment, more up-to-date technologies, and newer fixtures and fittings that will improve the patients' environment. It's these extras – some small, some large – which are above and beyond the scope of the NHS budget that really make a difference to patients and the care that our staff can deliver.